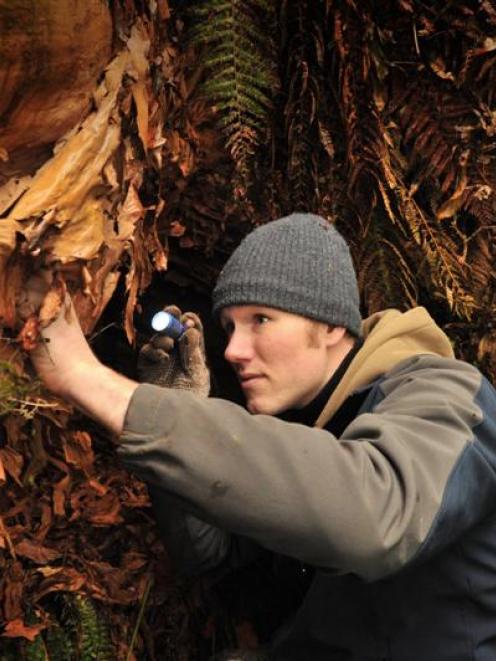 The range of a rare carnivorous worm within Dunedin city limits has been described as "miraculous" by a University of Otago masters student who is studying the elusive creatures.
American Dan Barrett, of Oregon, who is researching the range of the peripatus worm as part of a masters degree in wildlife management, was "surprised" by how widespread it was in Dunedin.
The peripatus is a 500-million-year-old species often called a "living fossil" and the "missing link" between worms and legged arthropods.
The worm, which has an average length of 30mm, kills its prey by rearing up on its haunches and shooting a stream of a glue-like substance which disables its victim. It then injects saliva to dissolve its prey's innards and sucks out the resulting meal, which it feeds on at its leisure.
Based on about 250 hours of field work and maps of housing density and soil type, Mr Barrett had concluded it was likely the worm was "pretty widespread" throughout the city's green belt and in moist areas where there was a thick canopy of trees, which had not been logged in the recent past. It was even possible for them to be found in backyards close to forested areas.
"It's pretty miraculous, because in the scientific literature on these things there is only one other report of peripatus being found anywhere near city limits, near Puerto Vallarta, in Mexico," he said.
The worms were so rare that many people who studied them had never seen one in the wild, Mr Barrett said.
Dunedin was "very lucky" to be home to the worm and it was important that their habitat was looked after because they were "really sensitive" to habitat disturbance.
One of the reasons why the worms may have continued to live in Dunedin was because unlike in many other cities rotting logs, which are a perfect environment for the worms, were not removed from council-owned forests.
"The moral is to keep the green belt pretty wild, don't go in to try and clean it up too much with all the rotten logs and stuff," he said.
Mr Barrett was also keen to remind people not to destroy logs or disturb the worms potential environment in an attempt to find one.
"It's really interesting to know that they could be there, but the actual process of finding them ... will make it so they won't want to come back again."
The peripatus first gained attention last year when it was reported that a New Zealand Transport Agency (NZTA) project to widen the Caversham highway to four lanes threatened some of the worm's habitat.
NZTA alleviated concerns about the project by coming up with a relocation plan.