The technology those involved in operations to locate missing people have at their disposal has come a long way from search and rescue pigeons. Reporter Emma Perry takes a closer look at what happens behind the scenes of Dunedin Land Search and Rescue.
They could be called the guardians of those in the great outdoors.
Providing support for people lost, missing and injured, about 60 volunteers come from all walks of life to make up the Dunedin Land Search and Rescue team.
Made up of hunters, trampers and those experienced in the outdoors, they give up their time to help when things go awry.
Rescues are co-ordinated by two agencies: police and the Rescue Co-ordination Centre.
LandSAR provides trained volunteers to support the agencies for land-based operations.
Search and rescue constable Matthew Sheat said Dunedin received 80 to 100 jobs for land or water rescues each year, and about one third of those became search and rescue operations.
He is one of 10 Dunedin police officers who take part in search and rescue operations.
A search manager decided which tools to use and groups to call on at a specific time, Const Sheat said.
"Previously, a search base was set up nearby to set up good communication links.
"Now, through a cellphone, people are informed of what is happening and immediately spring into action."
A recent example was when a 14-year-old boy went missing after jumping off a cliff.
When Const Sheat was informed of the incident, he was able to put the call out to various rescue agencies for assistance even as he was driving to Christchurch.
Technology had improved over the last few years and the development of the mobile app SARTrack meant teams could manage searches more efficiently and safely.
Const Sheat said people heading into wilderness areas should take beacons with them, because they emitted a satellite signal.
"You can't rely on cellphones."
Senior Sergeant Brian Benn, who has been involved in search and rescue operations for decades, said that when a job was activated for a missing person or people, an indication of where to begin searching was given based on research.
The missing person's potential activity could be determined based on age, gender, fitness and where they were last seen or heard from.
His motto when it came to rescue operations was "nobody dies after I get started".
It was all about looking in the right area, with the right resources, to get the right result, he said.
Dunedin Search and Rescue chairman Ben Mulvey said training was an important part of the job.
"We like to keep it fun and interesting with relevant situations all around the city and surrounding areas to practise core skills.
"Like any voluntary group, the people within the group and social connections is what keeps you coming back."
Dogs were one of the volunteer resources available and trained with their handlers every other day.
Mr Mulvey said LandSAR responded to a vast range of scenarios, urban, rural and wilderness.
"Mental health is an increasingly common element of our work."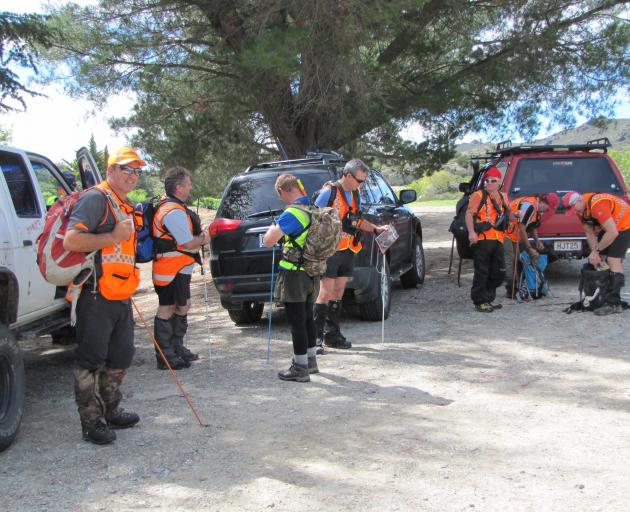 Search and rescue operations were made possible by generous funding attained through grant applications and the "many fantastic employers of our volunteers who allow us to assist the families of those in need".
An annual intake was run each year in March; volunteers were expected to have skills such as bush craft and navigation.
"We provide the training regarding the specifics of search and rescue," Mr Mulvey said.
"We are looking for people who like to be out doing it, who have experience and confidence in the outdoors."