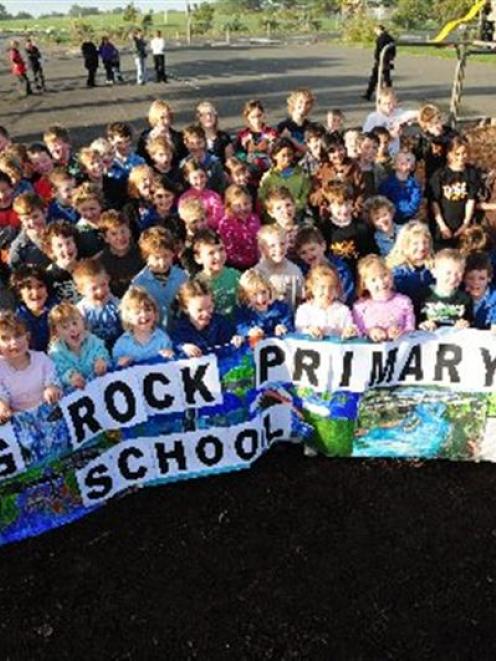 "We rock", "let's rock" and 'we're rockin' around the clock" are just some of the slogans Brighton and Ocean View school children hope to capitalise on now their Brighton-based school has been renamed Big Rock Primary School.
Principal David Grant said the new name was one of 40 suggested by members of the community and was picked unanimously by the schools' merger board in preparation for the merger of Brighton and Ocean View Schools next term.
"There was much discussion and debate about the names, but Big Rock Primary School was the unanimous favourite. Big Rock is an iconic landmark which both Brighton and Ocean View share."
Mr Grant said there would be 76 pupils at the new school and, for the first time since 1999, the school's three empty classrooms would be full again.
He was looking forward to beginning a new era and the atmosphere that would come with it.
There was already a "buzz of expectation" within both schools, he said.
"But we need to remember, the school cannot be just two schools coming together. It's greater than that.
"The merger needs to be greater than the sum of all its parts. I'm certain we can make that happen.
"It will be a fully functional 21st-century school."
While the pupils approve of the new name, it has been met with mixed emotions from the Brighton and Ocean View communities.
Brighton Caravan Park owners Graham and Eunice Lee were critical of the new name because they believed it did not reflect the community.
"How many people from outside Brighton know where Big Rock is? Why didn't they just leave it as Brighton School? Or even Brighton View School," Mrs Lee said.
Ocean View Dairy manager Angela Moore was also concerned about the potential nicknames, but conceded the name was better than some of the other suggestions.
Despite the concerns, both believed it would take time to get used to the new name.
Mr Grant said it would not be long before it was rolling off everybody's tongues.
"I hope in a year's time, people will wonder what all the fuss was about."