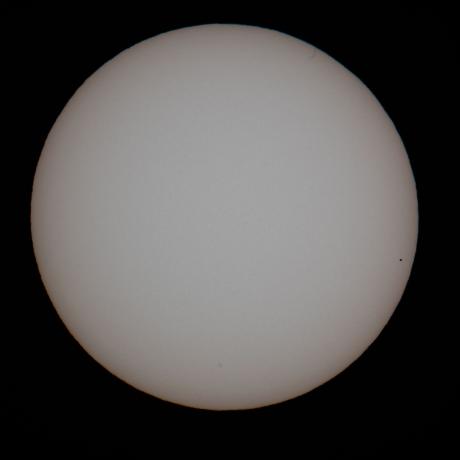 Overnight clouds cleared and Otago Museum director Dr Ian Griffin and interested members of the public enjoyed clear viewing of the transit of Mercury at Mercury Bay early yesterday.
''It was fantastic. It was a really good morning,'' Dr Griffin, who is also an astronomer, said yesterday.
''It's been a real honour to be part of it,'' he added.
Dr Griffin and a five-strong team of Otago Museum science communicators travelled to Mercury Bay, on the Coromandel Peninsula, to help the public observe the transit of the planet Mercury, which could be seen from about 6.30am to 7am.
The event also marked the 250th anniversary of observations of the transit by astronomer Charles Green and Captain James Cook at the bay on November 10, 1769.
The museum had gained two grants, totalling $350,000, from the Lottery Tuia Encounters 250 Committee to undertake a national programme of ''inspirational science activities'', marking the first onshore meetings between Maori and Europeans in this country.
Dr Griffin said the museum had contributed a ''very successful project'' to the overall national commemoration programme, and had delivered effectively at the national level.
Tens of thousands of people had engaged with the museum's programme, which had included a series of top public speakers giving talks last week in Dunedin, Christchurch, Wellington and Auckland, as well as through online links.
The programme was strongly bicultural and involved not only science and humanities elements, but also clearly acknowledged Maori astronomical knowledge and its use in voyaging.