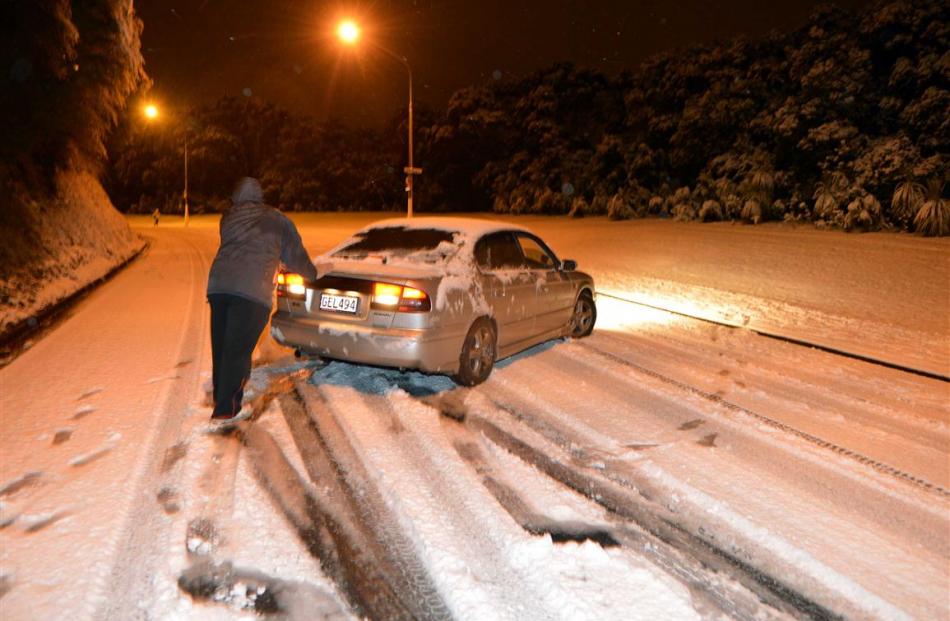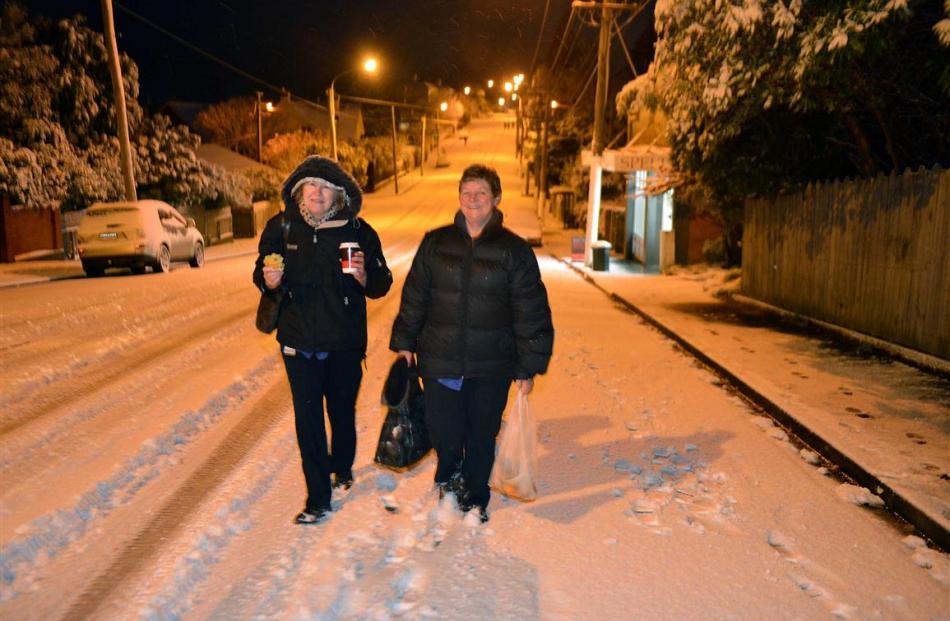 The Northern Motorway is now open as Dunedin continues to shiver in a polar blast which has shut down schools, stopped the mail across Otago and caused widespread transport disruption.
The motorway, which was closed this morning after police responded to multiple calls, is now open to cars. Restrictions for heavy vehicles are expected to be lifted by 4.30.
Dunedin Airport is still operating but flights have been cancelled at Queenstown Airport.
Leith Valley Road, Waitati Valley Road, George King Memorial Drive, Three Mile Hill, Blueskin Road and Mount Cargill, are closed.
Reader Lee Paterson sent in a photo of near misses (above) and said he made it into town from Waitati but only in a 4WD with chains.
The Southern Motorway is now open and Stuart St has also reopened.  
The Dunedin City Council says there is widespread snow and treacherous conditions on city roads.
Police said a number of minor crashes had been reported on the hill suburbs.
"People need to use their common sense and weigh up the need to drive with the possibility of not making it to their destination due to the road conditions," Senior Sergeant Phil McDouall.
All Dunedin secondary schools are closed. All primary, intermediate schools and kindergartens between Mosgiel to Port Chalmers to Waikouaiti are closed.
Dunedin city bus services  are running on the flat but not in the hill suburbs.  Timetables will be disrupted, the Otago Regional Council says.
The Concord-University service was due to start at 1.30pm. Port Chalmers and Otago Peninsula services are operating to schedule.
The Southern District Health Board has advised that this morning's 4th Floor Outpatients clinic and the Frederick Street Outpatients clinic have both been cancelled due to the weather conditions.
Flights have been cancelled at Queenstown Airport but the terminal is open.
Passengers have been advised to check airline websites and the movement of later flights is dependent on weather conditions.
Snow and icy road conditions have prevented mail deliveries across most of Otago today.
There will be no postal deliveries in Dunedin, Queenstown and Alexandra.
Deliveries are being attempted in Cromwell and Wanaka, spokesman Michael Tull said.
"Customers can rest assured that their mail is safe, and that New Zealand Post will put a priority on delivering it promptly once the weather improves," Michael Tull said.
Elsewhere Queenstown and Central Otago have also been hit by snow with State Highway 8 between Roxburgh and Alexandra closed earlier this morning but now open again with a caution in place. 
Snow has closed Danseys Pass and it will remain closed over night.
Chains are essential on Moa Flat Rd and on State Highway 8, between Roxburgh and Alexandra.
Apart from those, all Central Otago roads are now open with extreme care required.
Because low temperatures are forecast overnight, roading authorities are warning motorists to be cautious tomorrow as well, because icy roads are likely to be a problem.
Queenstown Lakes District Council is urging extreme care on roads in the Lakes District.
State Highway 93 between Clinton and Mataura has reopened after being closed because of snow.
For latest highway conditions click here
Emergency services were called to a crash on SH93 near Clinton shortly after 6am as a truck lost traction in the snow and jack-knifed. The driver was uninjured.
The Papatowai Highway from Warnock Road (about 10km south of Owaka) to the Clutha/Southland boundary is impassable due to extremely icy conditions and  Mt Stuart Road, between Waitahuna and Hillend, is impassable along the top adjacent to the Mt Stuart Windfarm.
Bull Creek Road, east of Milton, is also impassable. 
The Clutha District Council is urging motorists to take caution in the snow and treacherous conditions.
Snow is particularly heavy in and around Owaka, the Owaka Valley and the Slopedown area south of Clinton. 
Crews are currently out inspecting local roads and further updates will be provided as they come to hand.
Central and south Otago, Milford and Queenstown have all had 2-7cm of snow overnight, with parts of the central North Island also affected by snowfall, said MetService duty forecaster Liz Walsh.
McLean Road, in Northern Southland, is closed after trees weighted down by snow fell on the road. Contractors clearing the trees were pulled out for safety reasons after more trees started falling. Work will start again in the morning depending on conditions. 
In the North Island, snow was falling on the Desert Rd and near Wellington a dusting fell on Rimutaka Hill Rd as the cold snap set in.
Auckland was in for its coldest day of the year today as the wintry blast moves up the country.
Places exposed to southwesterly winds, such as Manukau Heads, could see gales of up to 110km/h, said MetService forecaster Leigh Matheson.
The temperature would reach just 13C today - the city's coldest day of the year so far. Ms Matheson said with the strong southwesterlies it would feel more like 10C.
"Auckland is going to really notice the strong winds and the showers. It's going to seem like a very blustery day."
Canterbury would be largely sheltered, with only small snow flurries about the hills and Banks Peninsula. Sleety showers could strike this afternoon, limiting the day's high to 7C.
Invercargill was facing a brisk 24 hours, with an overnight low of 1C and a daytime high of just 4C.
Wellington would also "cop it a bit" with cold southerlies, sleet and 8C today, Ms Matheson said.
Conditions were expected to clear towards the evening in the South Island but cold conditions were likely to continue for longer in the north.
---
Winter driving
You can check road conditions on the Dunedin City Council website. -
• Road conditions from Hyde to Waikouaiti regularly updated.
• Includes live webcams from throughout region, including Highgate bridge cam.
• Council home page details if buses are running, libraries are open and whether rubbish will be collected.
Tips for winter travelling
• Windows should be cleared before starting journey.
• Headlights should be turned on.
• People should drive slower and allow more travel time.
• In wet, icy or snowy weather, allow greater distances between travelling vehicles.
• Main roads should be used because they are more likely to be gritted or treated.
• Cyclists should wear high-visibility clothing.
• Cycles should have lights.
• Pedestrians should wear high-visibility clothing.
• Pedestrians should take care as footpaths are neither gritted nor treated.
• More winter driving tips at www.dunedin.govt.nz/winter-drivingSource: Dunedin City Council
---