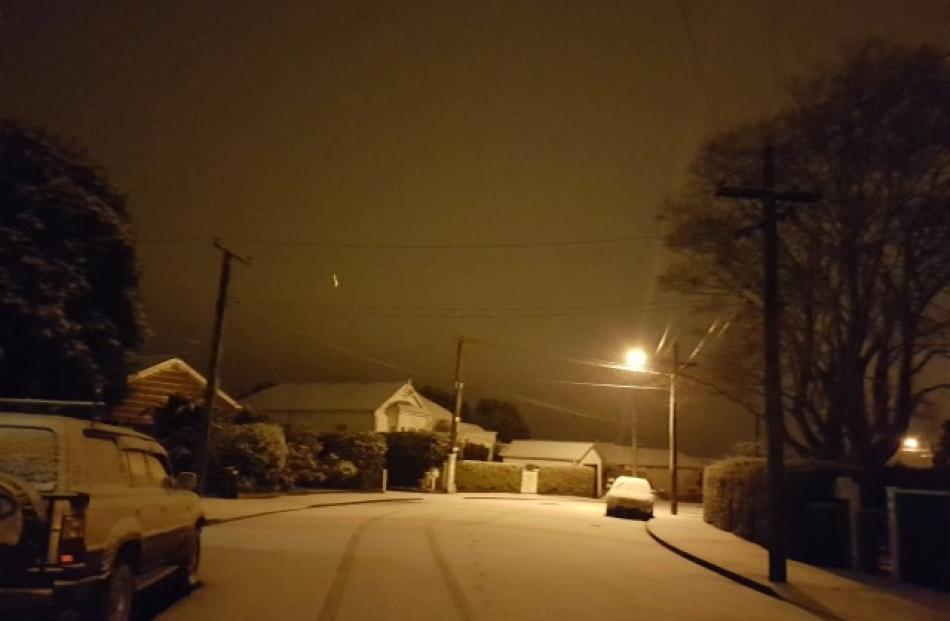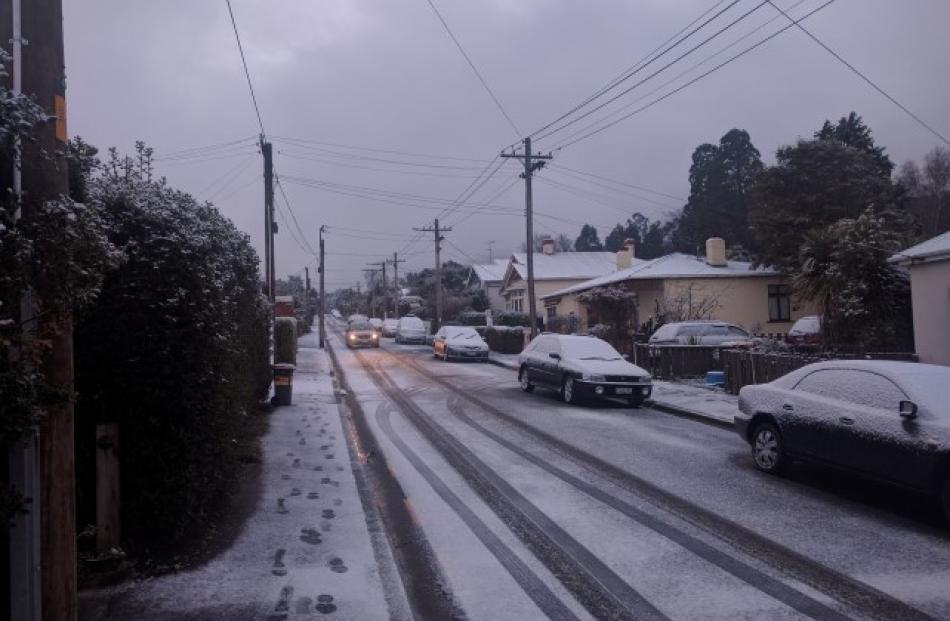 The snow that forced the closure of many Dunedin schools today is moving up the country, but bitter cold is expected in its wake. 
All Dunedin primary and intermediate schools are closed, and nearly all the city's high schools opted to shut as well.
Snow and ice also affected roads in the city - the Northern Motorway has reopened but Mt Cargill and Three Mile Hill remain closed. 
The Otago Regional Council advises that all buses are now running to schedule. 
Dunedin Airport spokeswoman Megan Crawford said a flight from Auckland to Dunedin diverted to Christchurch this morning due to the weather conditions. As a result,  a Dunedin-Auckland flight was cancelled. 
Police said Dunedin and the wider Otago coastal area had experienced a heavy frost overnight on top of intermittent snowfalls. There was black ice on many of the city's streets early on and caution was advised. 
Forecasters are saying that the worst of the weather is now shifting north, leaving bitterly cold temperatures in its wake.
MetService said there would be sub-zero temperatures in the South Island on Saturday night and low single-digit temperatures across the North Island.
Alexandra is expected to drop to -11C and Ashburton to -6C.
Meanwhile, MetService has issued a swathe of road snowfall warnings for the North Island as snow falls on the main route connecting Wellington with the Wairarapa.
As much as 6cm of snow would fall on the summit highway, mostly this afternoon.
A further 1-2cm dusting was likely early tomorrow.
Other roads impacted by the coming blizzard include the Desert Road where up to 15 cm of snow was expected from this afternoon until early Sunday.
The Napier-Taupo road was also expected to be affected by snowfall this evening with up to 60cm falling above 400 m from this evening until Sunday and lesser amounts down to 200 m.
The bad weather has prompted the cancellation of most rugby games in Dunedin over the weekend, and King's High School postponed its open night in Dunedin last night for fear the weather would be too dangerous for staff, prospective pupils and parents to travel in.
Rector Dan Reddiex was not upset by the disruption.
"We decided to postpone it, based on the weather forecast we had at our disposal [on Wednesday]. That was for snow to low levels today [Thursday], and with the probability that it might have frozen, we just decided it was probably logical to postpone it."
The open night will now be held next Thursday (August 11).
Football South is holding off on the decision to cancel football games this weekend.
"We've been caught out before when it hasn't snowed, so we'll make our decision at the last minute [on Friday night]," Football South game development manager Tracy Fleet said.
MetService communications meteorologist Lisa Murray said there would be a southeast flow during the next few days, which may bring scattered showers to coastal areas and some snow down to 100m inland.
"It's going to be really cold, colder than we've already had.
"You'll see frosts in the city on Saturday into Sunday. It may get down to -2degC. But inland areas, even Dunedin Airport, may get down to -8degC on Saturday night."
She warned of patches of black ice on roads in the area.
"It's gradually getting colder and colder as this air mass moves in.
"If a shower goes over, it's going to fall with snow.
"But there won't be a massive dump of snow. It's not a front moving over."
On Sunday, the weather was expected to be mostly fine, with showers later in the day.