Snow has begun to settle in Dunedin's hill suburbs and roads are closing elsewhere in the South as forecast snow sweeps into the region this evening.
Heavy snow has been reported around Queenstown, and in parts of Southland, and the Crown Range and Milford roads are both closed for the night.
Snow was also settling in Dunedin's hill suburbs this evening.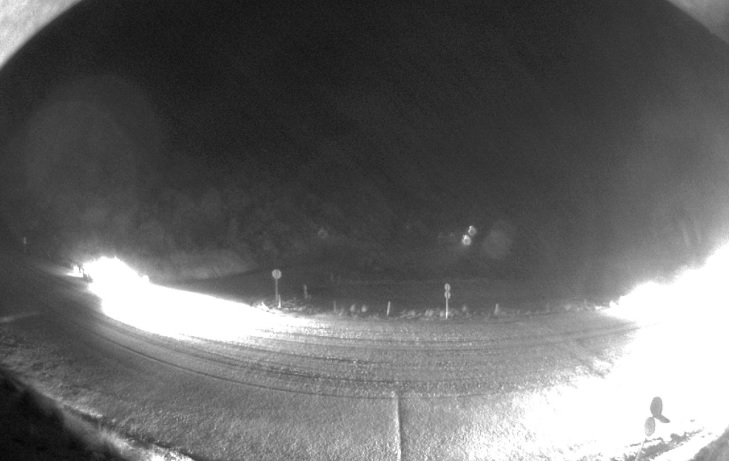 A road snowfall warning has been issued for Dunedin's Northern Motorway as a southerly blast is expected to bring significant quantities of the white stuff to the area. Around 8.40pm the MetService webcam on the Leith Saddle showed snow settling on the road and at 9.15pm a webcam image snow had settled on Highgate. 
Images shared on social media showed snow had settled in some of Dunedin's hill suburbs, including Brockville, Carlton Hill and Mornington.
MetService has issued a severe weather watch for heavy snow from most of the South Island from Canterbury southwards, and the front was already beginning make its presence felt with light flurries from 2pm in Alexandra.
Snow was this afternoon settling next to the Milford Rd, which closed at 4pm, and this evening in Shotover country around Queenstown
The NZ Transport Agency this evening issued fresh snow warnings for several southern highways, including State Highway 1, Gore to Invercargill. 
Snow is expected to fall to 200m across inland Otago, the Southern Lakes, Southland and Fiordland with heavy falls expected above 400m.
A watch was no longer in place severe-gale force winds for Dunedin and Coastal Clutha, but strong winds were still expected in exposed places.
MetService's meteorologist Kyle Lee said snow could fall as low as 100m in some localised areas, but was generally expected to fall to about 200m across Otago and Southland.
The worst of the snowfalls would happen overnight and tomorrow morning, but there could be some snow showers later tomorrow, Mr Lee said.
Accumulations of snow could reach warning criteria above 400m, which was 10cm within six hours.
Just after 1pm MetService added a warning for Dunedin's Northern Motorway (SH1) from Dunedin to Waitati, saying between 1 and 2cm of snow was expecting to accumulate near the summit of the road between 6pm today and 6am tomorrow.
In Central Otago, there was another hard frost and patches of thick fog.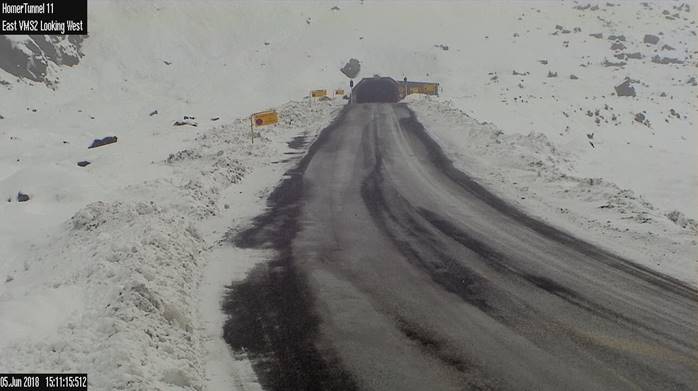 The Queenstown Lakes District Council said ice was expected on the Crown Range, Fernhill, Queenstown Hill, Glenorchy Road, around Arrowtown, and Cardrona Valley Rd.
The Milford Rd closed at 4pm today with forecast widespread snow down to 300 metres. More show was expected on Wednesday down to 500 metres, the Milford Road Alliance advised. 
It was expected to reopen at 10am tomorrow.
An ice warning was in place for State Highway 6 Mount Aspiring to Makarora, NZTA advised.
Alpine passes
Travel on some alpine roads could be disrupted.
Between 3cm and 6cm of snow is expected to settle on the Crown Range and Lindis Pass above 500m and lesser amounts to 300m this afternoon and early tomorrow morning.
More snow is expected to fall tomorrow afternoon and evening.
MetService meteorologist Melissa Oosterwijk said the cold front would move over the southern part of the South Island from this afternoon, dumping snow as it continued north over the island.
Nowhere would be spared from the bitterly cold weather.
While it was unlikely areas right on the coast would see snow, it would still be wet and very cold, she said.
"Because it's a cold front approaching from the south it will be chilly, to say the least, even without the snow.''
While the southerly would mean an end to the still conditions and sub-zero temperatures inland during the last week, it would still be very cold in Central Otago and the Southern lakes, Ms Oosterwijk said.
Low cloud which had been hanging around in some valleys causing hoar frosts would disperse but would be replaced with snow and rain.
"There will be cloud, there will be snow and if you're not getting snow you're getting rain, which might wash out some of the low cloud which has been hanging around.''
Before the snow, some areas could expect heavy rain and possibly thunderstorms, she said.
Heavy rain was likely to fall in the southern fiords, Southland and Clutha, where there was also a moderate risk of thunderstorms.
There was also a low risk of thunderstorms over the remainder of Fiordland and Otago.