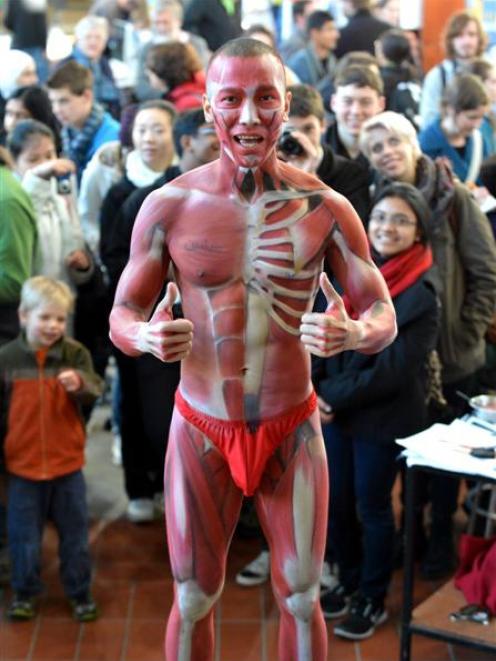 You could forgive Zin Aung for feeling a little stripped back.
The University of Otago anatomy masters student had many of the body's more than 600 muscles painted on him yesterday, while Prof Mark Stringer, of the anatomy department, used the 16 muscles in his tongue to talk about them.
The event was part of a university science expo run as part of the New Zealand International Science Festival.
Prof Stringer said it was designed to "make muscles exciting, especially for the young people in the audience".
He told the more than 60 gathered that the fastest muscles were in our eyes, the strongest was in our jaw, the longest was in our thigh, the most flexible was in our tongue and one of the hardest working was our heart.
"It pumps about 5 litres of blood a minute. That's enough to fill an Olympic swimming pool in a year," he said.
Mr Aung volunteered his body as a canvas because "not a lot of people can say they've been body-painted in the life".
He liked how it looked - "almost like my skin is coming off" and said he learned a few things from the talk, including that it took 12 muscles to smile.
Special effects artist Nicole Heydenrijk, of Wellington, started working on Mr Aung about 7.30am and used a fan heater to keep him warm.
"It was a good fun project and it looks quite cool," she said.
The expo attracted more than 4000 people over two days.
The science festival continues until Sunday.