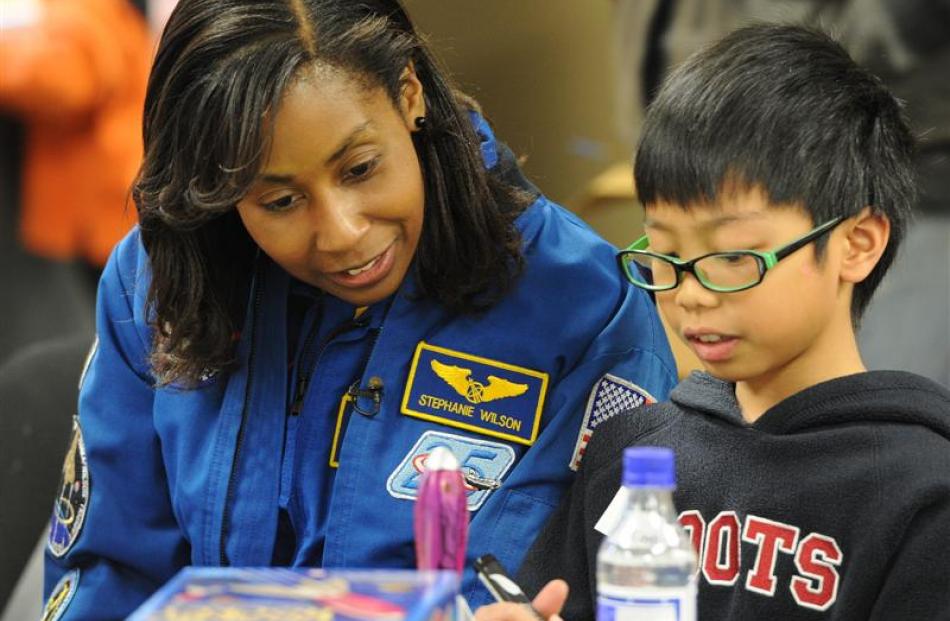 Give children the opportunity to question an astronaut, and the issue of going to the toilet is bound to come up.
But Digby Langdon (5) yesterday had a more burning query for Nasa astronaut Stephanie Wilson.
Had she seen any aliens? When she answered "no", he pushed on.
"But why?"
"We have not been able to find a place to go where aliens are," the veteran of three space flights replied.
The mission specialist was the standout star at the New Zealand International Science Festival's rocket-building workshop, attended by 19 children at Mitre 10 Mega in Dunedin yesterday.
After the children built their rockets, they were able to ask her a range of questions.
They learnt being in space "almost felt like you are in a pool", astronauts ate a variety of vegetables and dried fruit while on missions, and the meals usually involved a sauce to make meat "more tender".
She also told them the view from space was "very special".
"Colours are very vivid, the oceans are very blue and the deserts are very red.
"The view is spectacular."
She also provided an answer on the business of the toilet.
"It's very similar to the toilets you have in your home but it does not run by running water; it works on a vacuum system so it's all sucked away.
"It's very neat, very clean," she said.
The science festival runs until Sunday.