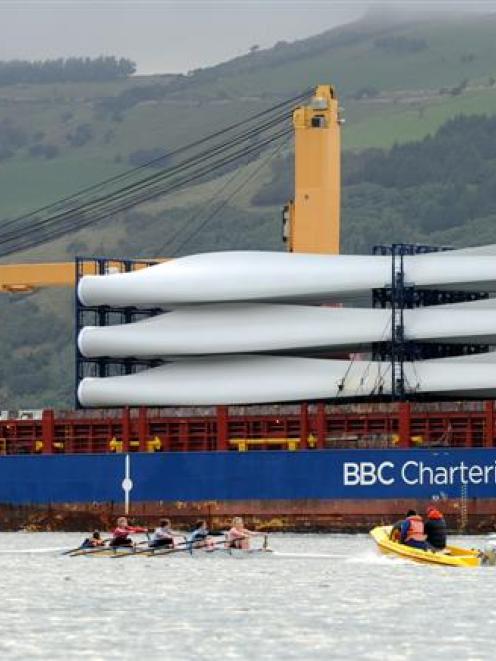 They are designed to generate electricity, but for the moment the turbine blades for the Mahinerangi wind farm in Dunedin are generating curiosity.
So much so, TrustPower has decided to hold an open day for residents so they can get a closer look at the 83-tonne behemoths.
The first shipment of blades, nacelles (the generator and gearbox) and hubs, which attach the blades to the nacelles, arrived at Leith wharf yesterday morning from Nakskov, Denmark.
The towers that support the turbines arrived from Vietnam last year and have been erected on the site.
TrustPower community relations co-ordinator Pip Tschudin said the 45m-long blades and the 83-tonne nacelles and hubs (which are the size of a small bus) would be transported by trucks to the wind farm as early as Saturday.
It was hoped the first turbine would be completed and producing electricity next month, and all 12 turbines would be fully commissioned by May.
Mrs Tschudin said the turbines had generated much curiosity and Otago residents would be able to have a close look at the components of a turbine during an open day in Dunedin next month.
The open day would be held in Fryatt St on February 5, between 10am and 3pm.
A gold-coin donation was requested and all money raised would be given to Lee Stream School, she said.