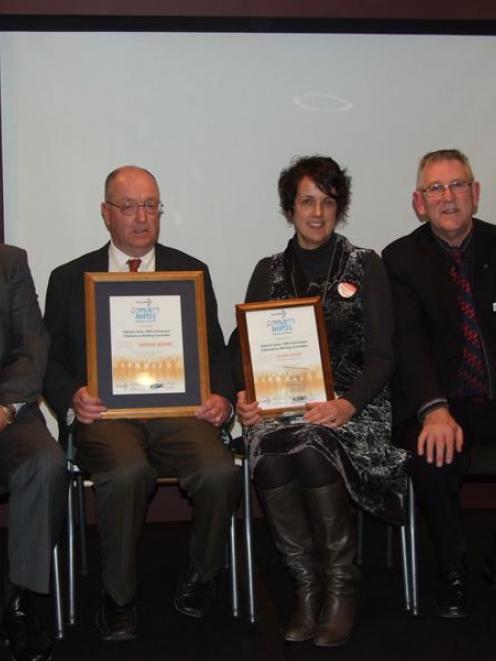 The Gabriel's Gully Goldrush 150th committee has won top honours at this year's TrustPower Clutha District community awards.
About 100 people attended the awards ceremony last night at the Rosebank Lodge in Balclutha.
As supreme winner, the committee received $1500, a framed certificate, and a trophy, and will represent the district at the 2011 TrustPower National Community Awards in Ashburton next March.
Gabriel's Gully Goldrush 150th committee co-chairwoman Gaye Cowie said the group was surprised and pleased to have won the award.
"It was a great event and I'd love to thank the rest of the committee and our many supporters."
TrustPower community relations representative Jess Somerville said the group showed the true meaning of community spirit through their organising of the event.
"This team did a magnificent job in putting this once gold-rich region back on the map and taking their visitors on a journey worth remembering," she said.
Hundreds flocked to Lawrence for the celebrations held during Otago Anniversary weekend in March to enjoy four days of festivities commemorating the discovery of gold in Gabriel's Gully.
Events included theatrical performances, gold panning competition, live music, beer tasting and number of history-based exhibits. The committee was formed in September 2007, at a public meeting in Lawrence, to develop a programme of events to mark 150 years since the discovery of the first payable goldfield in New Zealand.
More than 20 groups were nominated for the awards.
Full list of recipients:Heritage and environment: Gabriel's Gully Goldrush 150th committee (winner); Tuapeka Lawrence Community Company (runner-up).
Health and wellbeing: Clutha Budget Advisory Service (winner); Kaka Point Ramblers (runner-up); Diabetes New Zealand South Otago (commendation).
Arts and culture: South Otago Theatrical Society Inc (winner).
Sport and leisure: Kaka Point Surf Life Saving Club (winner); Tapanui Rubgy Club (runner-up).
Education and child-youth development: Kaitangata Black Gold Kai Club (winner); South Otago Woodcraft Inc (runner-up).
Supreme winner: Gabriel's Gully Goldrush 150th committee.
Civic awards for individuals: Anne Brown, of Owaka; Michael Catherwood, of Balclutha; Kirsty Garner, of Lawrence; and Tania McKenzie, of Clinton.