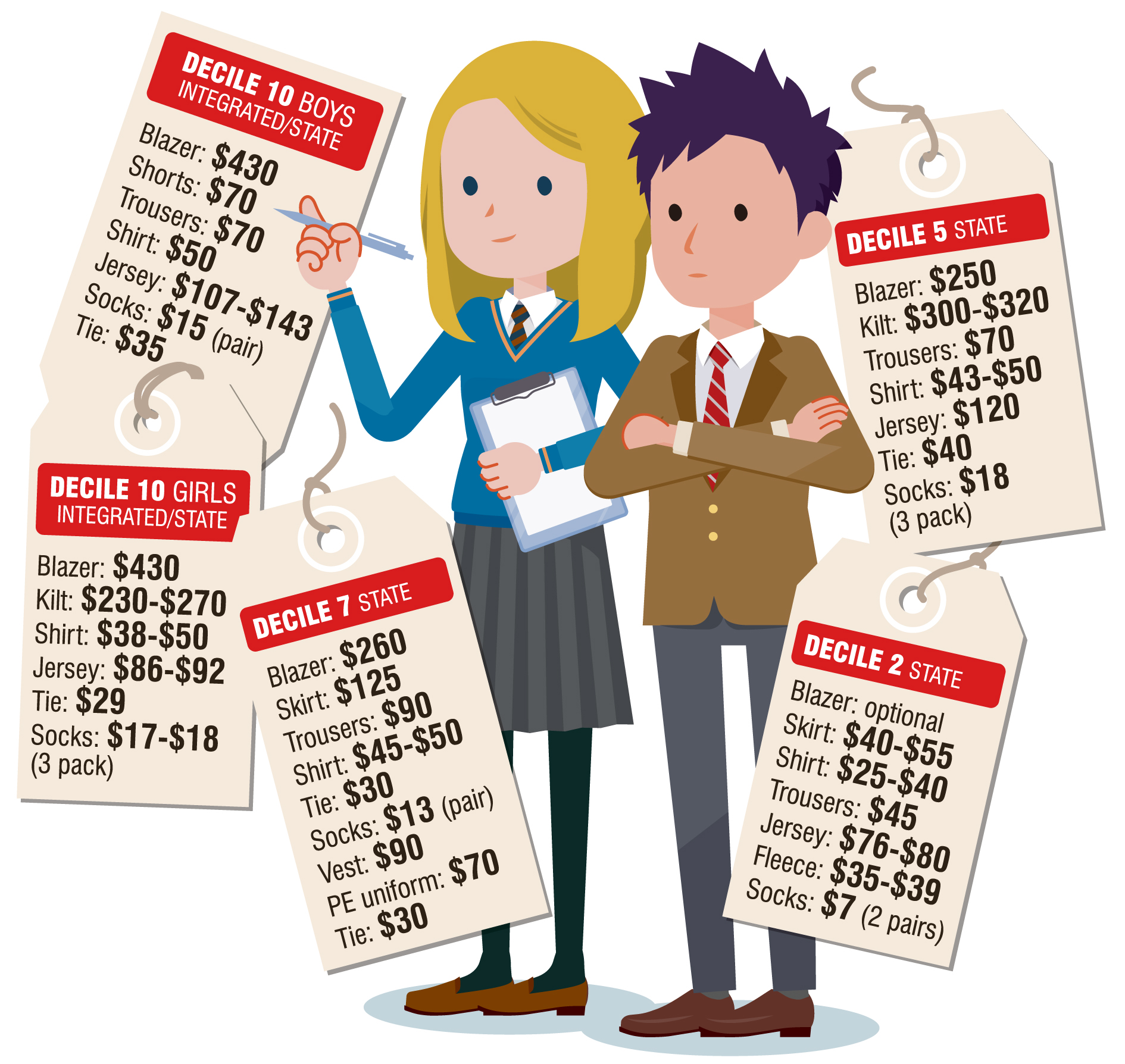 Collectively, the caregivers of Otago schoolchildren will spend millions on school uniforms this year. Emma Perry looks at the cost of sending children back to school.
Parents are sacrificing basic necessities to put their children in the correct uniform, which can cost $1000 in some cases.
Twenty-eight high schools across Otago and Southland educate more than 22,000 uniform-wearing pupils.
The expectations vary from school to school. Some expect a shirt, shorts or skirt and jumper; others require a blazer, jersey, kilt, shirt, monogrammed socks, tie and specific outfits for physical education and travelling.
Prices are not uniform — the required pieces can cost from $250 to more than $800.
There are options for caregivers who are keen to avoid spending big money on the items.
A Dunedin Facebook group, in which people can buy, sell or swap uniforms, has more than 4600 members.
Items on the page average less than one-third of the original price. For instance, a skirt normally priced at $300 went for $100.
Uniform retailers do a roaring trade at this time of year.
It is the busiest time of the year for Tudor Clothing Schoolwear, a Dunedin-owned and operated business which has 15 staff working flat out manufacturing school uniforms.
Owner and manager Simon Jones said the firm produced uniforms for many South Island schools.
In some instances Tudor dealt directly with schools and, in others, went through shops such as H&J Smith.
Material was sourced through suppliers and manufacturers from New Zealand, Australia and the UK before being cut in the factory, sewn by machinists, and pressed locally.
Mr Jones said the price of a uniform was not unreasonable when the cost of fabrics, labour, overheads, electricity, ACC, wages and a profit margin were considered.
"A school blazer that has braid takes about four hours to make.
"There's a high labour content and it is expensive, valuable and high-end material. It's 100% a high quality.
"A girl's winter kilt can go through two, if not three, generations of schooling. The performance and quality of the kilt is incredible."
Tudor invoiced retailers, which decided on their own prices.
A survey released yesterday by Postie, a large national retailer of school uniforms, found Otago parents were struggling with the cost of uniforms.
Fifty-one percent of parents surveyed in the region were worried, exhausted or overwhelmed at the thought of getting children back to school, compared with the national average of 42%.
In Otago, 72% of parents felt unsure, worried or confused about the money they needed to save for school uniforms, compared with 63% nationally.
Dunedin Budget Advisory Service manager Andrew Henderson said the organisation was already busy, but expected a further increase in people later in February and March.
He said people often relied on credit or loans to deal with expenses in the immediate, but later found themselves in trouble.
"People spend money at the start of the year, and then realise they're in trouble."
He said the best time to think about a budget was sooner rather than later.
Specific ways people could budget for a uniform included talking with the school at the end of the year, in order to work out how much needed to be put aside each week or each pay so the money would be there when needed.
"The sooner you start saving the less it is going to cost you each week."
Salvation Army Dunedin community ministries manager David McKenzie said the start of
the school year was a time of high pressure for low-income families.
He said people should contact social agencies such as the Salvation Army, Presbyterian Support or St Vincent de Paul if they felt unable to cope with their costs.
In the Southern region last year, the Ministry of Social Development provided 793 hardship assistance grants for school education costs.
These equated to $170,771, and covered school administration and examination fees, and school stationery and uniforms costs.
Ministry of Social Development regional director Sue Rissman said it saw an increase in people coming to them for help covering back-to-school costs.
Those struggling with costs were encouraged to contact the MSD about options including hardship assistance, a budgeting referral, or connecting them with community services in Dunedin.