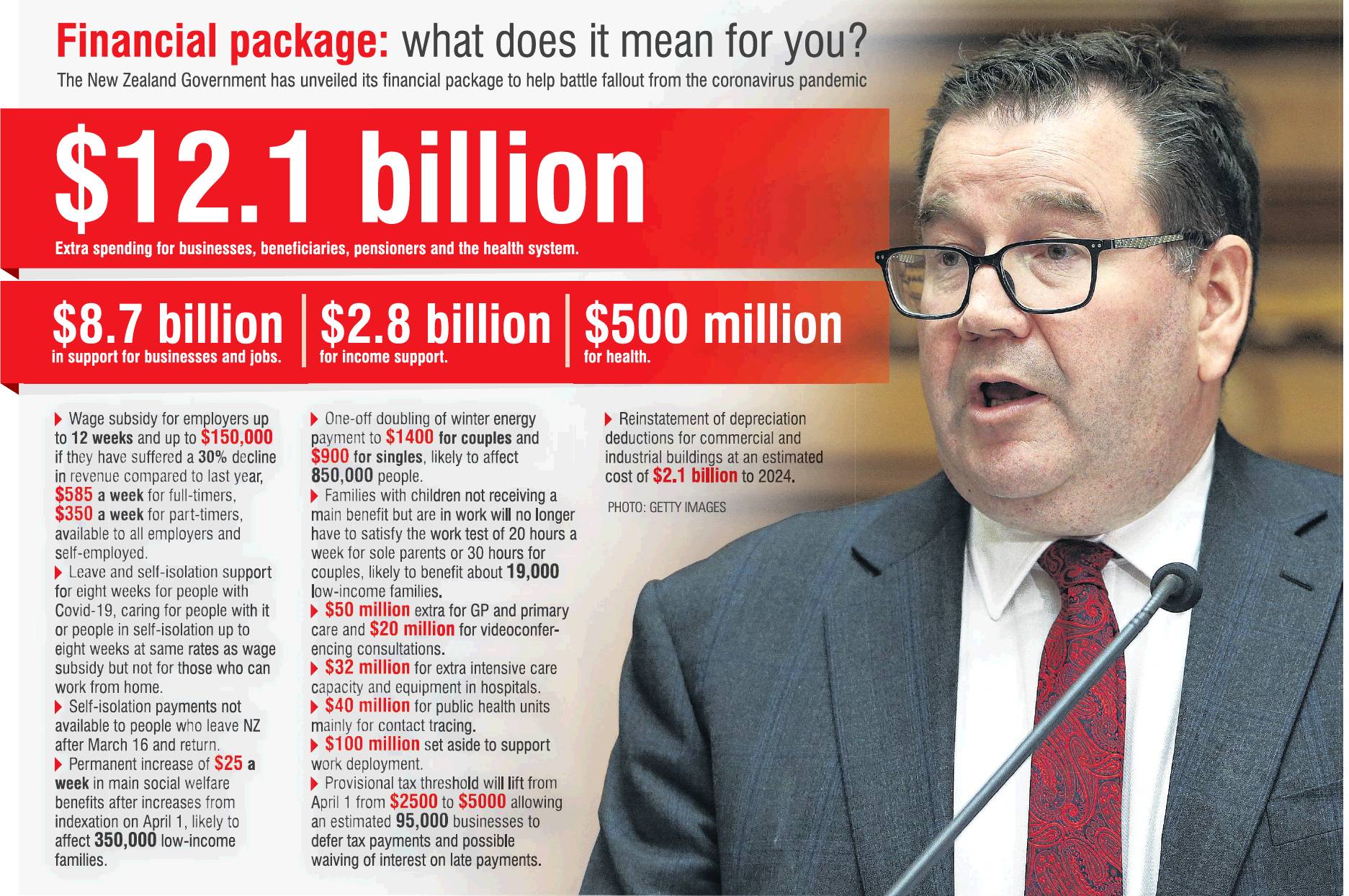 Many businesses in the South say the Government's decision to pump $12.1billion into the economy — with significant wage support — gives them a lifeline.
Finance Minister Grant Robertson announced the Government would step in to try to prop up businesses affected by the Covid-19 pandemic that threatens to tip the world into a protracted recession.
As part of the package, $5.1billion is set aside for wage subsidies and $126million of that is to be used to cover leave and isolation support related to Covid-19.
To get access to wage subsidies, businesses will have to be able to show a 30% drop in revenue in any month between January and June this year.
They could get $585.80 per week in pre-tax support for full-time employees in a lump sum of $7029.60 or $350 per week for part-time employees (under 20 hours) in a lump sum of $4200.
The maximum payment for any business is capped at $150,000.
Otago Chamber of Commerce chief executive Dougal McGowan described it as a far-reaching programme.
''The biggest question we've been fielding for the last couple of days is the self-isolation and understanding that.
''That's going to really help businesses knowing there is support in that space for wage relief which will be fantastic. It allows a bit of breathing space.''
Otago Southland Employers Association chief executive Virginia Nicholls said she was particularly pleased the Government indicated the package was not just a one-off.
''[It] gives businesses an opportunity to provide feedback to Government where they may need further support
going ahead.''
For some businesses, it would still not be enough, she said.
Larnach Castle director Norcombe Barker said his organisation faced some difficult decisions.
''I've been here 30-odd years and the company business is 50-odd years and it could be lost, just like that.
''It's pretty scary, it's bizarre and it's pretty grim, too.''
He was grateful for the wage subsidies and said they would help their business continue to operate.
''It is quite a positive package.
''The wage subsidy — that's the one most relevant to us because we're going to get hit really hard with the loss of income, without doubt.''
Queenstown businesses welcomed the announcement.
From the hospitality, catering, cleaning and laundry industries, most expected their businesses would be eligible for wage subsidies, which would give them the ability to keep staff on for at least the next three months.
Queenstown Lakes Mayor Jim Boult congratulated the Government for its ''swift intervention'', and was pleased the measures targeted small businesses, including the many in the district that supported the tourism industry.
Southland Chamber of Commerce chief executive Sheree Carey welcomed a collaborative approach.
While she was encouraged the overall package would help smaller businesses she noted larger ones could be left out of pocket. — Additional reporting BusinessDesk