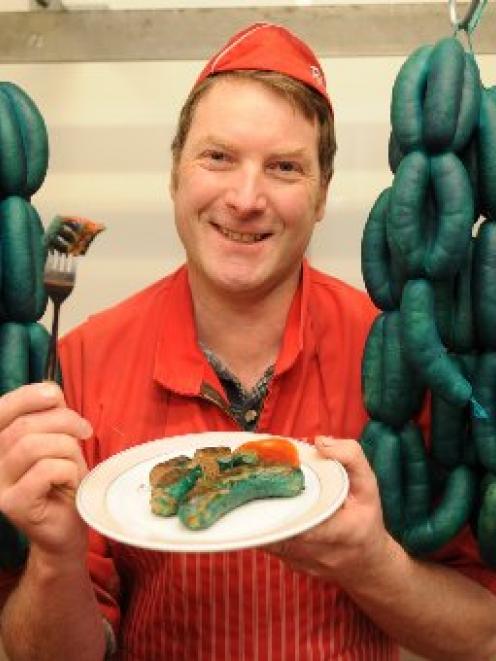 The Robertson family of Robertson Meat Ltd have spent decades making sausages for Dunedin people - pork ones, beef ones and now blue ones.
The business was approached by Placemakers Dunedin, a Prostate Cancer Foundation sponsor, to create the alternative sausages for Blue Friday, the national awareness day for the disease.
Co-owner Shayne Robertson said getting the colour right was "a challenge".
Colouring the sausages was by trial and error, with the addition of blue food-colouring to the recipe ruled out so as not to affect the taste, he said.
In the end, spraying blue food-colouring mixed with water on to freshly cooked sausages worked a treat.
Placemakers Dunedin retail manager Richard Jopson said the sausages were a "novel" idea to support the foundation.
They will be barbecued at an event in the Octagon today.
Six hundred blue crosses will be hung around the upper Octagon, representing the number of New Zealand men who die each year from the disease.
The Robbie Burns statue will be wrapped in a blue scarf and sport a blue hat, and a silent auction will be held to raise funds for the foundation.