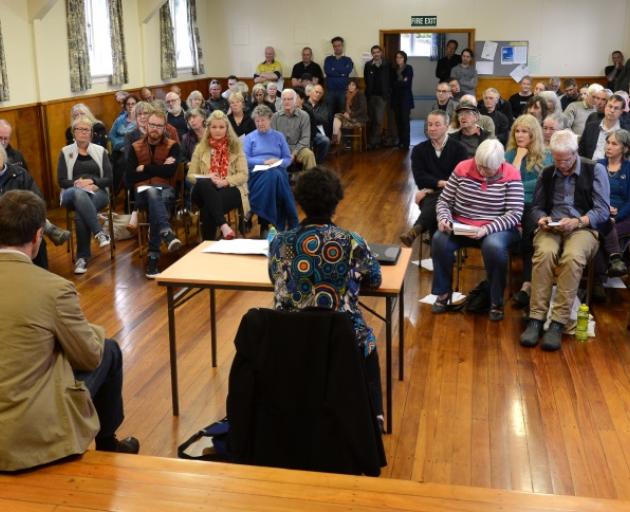 The winds of change were met by local turbulence at a meeting on the proposed Porteous Hill wind farm.
About 70 people attended the meeting in Warrington organised by the Porteous Hill Landscape protection group last night and growing applause greeted each dissenting voice heard towards the end of the two-hour session.
Affected residents pointed to the three-turbine farm's potential effect on local birds, the Waitati landscape and farmland when speaking of their opposition to the proposed $5million-$6million project.
Resident Lyndon Clayton described the proposed site as ''bloody fragile''.
''It's not Taieri land, it's not Central Otago land, this is movement land,'' he said.
''I'm dismayed this is even being proposed on that site.''
Murray Cumming said the turbines could affect the viability of farming on the hill.
Springs and waterways on the hill were used for stock and household supply and any interference ''wrecks the resilience of the community instead of increasing it'', he said.
Another resident, Jamie Pickford, said he chose to live in the area because of its beauty and the potential visual impact of the wind farm was concerning.
''What's it going to be like with those three turbines up there?'' he asked.
Jennifer Ashby said her concern lay with the wildlife in the area.
''I'm a bird lover and we live on a hill where you see falcons regularly,'' she said.
''I don't want you to kill them with these turbines.
''If you try and put those turbines up there, I will tie myself to them.''
Earlier, Blueskin Energy project manager Scott Willis attempted to quell some of the concerns of residents, but he conceded he could not provide all the answers to the questions posed because of commercial sensitivities.
He told the audience Blueskin Energy was already in contact with a potential buyer for the energy produced by the farm and any profits generated would be reinvested into the community in a similar manner to the Central Lakes Trust.
Only three turbines would ever be built on the site under the proposed consent conditions, he said.
Submissions on the proposed wind farm close on December 2.