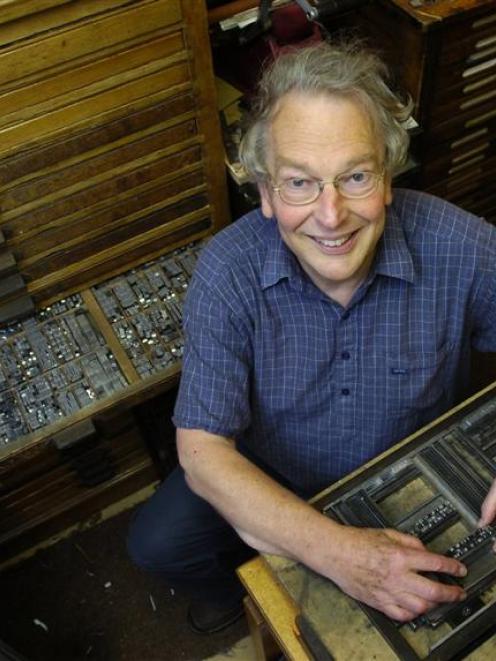 Words might mean hard work for John Holmes, but it is not hard to tell he loves them.
He peppers an interview about his life as a hobbyist printer with quotes, delivered with relish, either from works he has printed or about the craft of printing.
He appreciates not everyone understands printers' enthusiasm, chuckling about the way printers are described in The Times 2001 obituary of printing guru John Ryder which began: "With news of the death of John Ryder, blinds will be lowered in a host of back kitchens and basements, garages and converted sheds. Inky-fingered persons in striped aprons will hunt out a case of Black Letter and set up memorial notices to their patron, whose Printing for Pleasure was handbook and inspiration to generations of amateur Caxtons''.
He is one such amateur Caxton. Armed with Ryder's book and a small Adana printing press and letters given to him by an uncle, the Yorkshireman has been happily inky-fingered since he was a medical student in Edinburgh in the 1960s.
He is fond of saying every author should have to set up a page of type, picking out each letter and the spaces required, because it would make them very conscious of the words they used - "it doesn't encourage verbosity''.
Far from being fed up with words as he hand-sets hundreds of pieces of metal in order to print one page, he finds time setting words leads to a greater appreciation of what they say.
He said he is not usually tempted to edit works he is setting, that is not the printer's job, but he did have to confess to Vincent O'Sullivan once that he had changed some words around in a piece of his so they made sense.
Dr Holmes is used to people wondering why letterpress printers like him bother in the push-button era. It is hardly glamorous or speedy work and, at the end of it you might find a mistake (as he did when printing one page of Twelve Poems by Hone Tuwhare after he had run off 100 copies).
But for Dr Holmes it is immensely satisfying. There is the challenge of starting with a blank page, designing what is going to go on it, physically placing all the elements of that design and then printing the result.
Mistakes are just part of the challenge to do better next time.
In the past five or six years, he has been involved with several projects in which poets and artists have been involved. Working with artists has opened up a whole new insight into printing, he said.
He is working on a book of eight Brian Turner poems Under the Hawkduns with accompanying prints by eight artists: Toni Walker, Allanah Brown, Lynn Taylor, Olav Neilson, Pauline Bellamy, Manu Berry, Inge Doesburg and a photograph by Grahame Sydney.
One edition of the book, hand-bound by David Stedman, will be published for auction on May 17 for funds for the Otago Community Hospice.
He enjoys working with poetry. As a doctor whose day job is as Otago Southland medical officer of health, he was particularly taken with poet Rachel Bush's collection All Patients Report Here, written when she was poet in residence at Wellington Hospital. He printed six of the poems to hang in the hospital.
His public health persona was present on that occasion when he suggested a poem, The Plot, which featured cigarette butts, might be printed in the shape of a coffin.
Dr Holmes, who prints under the name Frayed Frisket Press, initially made small items such as wedding invitations, including his own, 42 years ago, and Christmas cards.
When he and his wife, Anna, moved to New Zealand in 1967, the press came too, settling in Hamilton briefly before being taken to the Chatham Islands in 1969 when he was the doctor there.
He believes it was the first time anyone had printed anything using traditional techniques
on the island.
Stints in Edinburgh and Tanzania followed before the family came back to Lincoln in 1975, eventually settling in Dunedin in 1999.
Dr Holmes was never without a press on his travels and now has several, including one situated in the bibliography room in the University of Otago library, where he has worked on occasions when he has been printer in residence. He has also served as printer in residence at Victoria
University.
Mostly, he works from his built-in workshop at his St Leonards home, something he hopes to be doing as long as he can.
You need to be able to see well for the work and he does find six-point type a "bit tedious'' to deal with. He is never short of ideas for new projects.
He finds it hard to estimate how long he spends on his hobby. Once he starts a project, time flies, something best explained perhaps in his beautifully printed version of an 1861 Edwin Roffe poem he printed as a tribute to John Ryder: "I must confess, I love my press; For when
I print, I know no stint of Joy''.
- A frisket is a thin metal frame for keeping the paper in position during printing. A frayed frisket gives a poor impression.