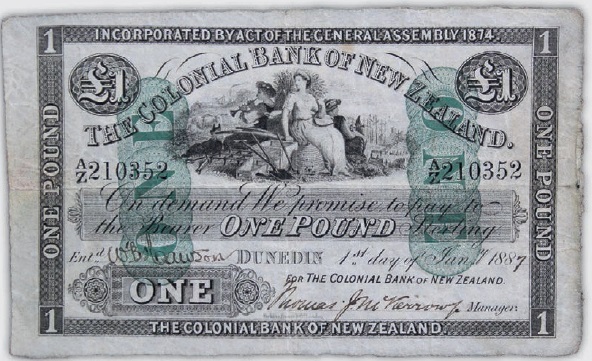 Money isn't everything, but it can certainly make you popular — even if you only have small change.
Banknote collectors around New Zealand and Australia are clamouring to get their hands on an extremely rare Colonial Bank of New Zealand £1 note, which has been valued at $NZ15,000.
It is up for sale at Mowbray Collectables coin and banknote auction in Wellington, on Friday.
Mowbray Collectables coins, banknotes and medals director David Galt said the banknote was printed in London in 1887 and issued by the bank which was headquartered in Dunedin from 1873 to 1895.
The Colonial Bank was absorbed into the Bank of New Zealand (BNZ) in 1895 following a major financial slump in 1893.
Mr Galt said the £1 note came from the collection of former BNZ deputy general manager Gordon Webster, and is believed to be one of only four of its type held privately.
''Most people won't have a chance to see one of these. It's pretty rare.
''Notes from the Colonial Bank have always been known as just about the hardest ones to get . . . because the bank got into financial difficulty, partly through lending money to people like William Larnach [who built Larnach Castle] and J. G. Ward [the Colonial treasurer].
''The last thing people wanted to do was to hang on to their notes when there was a chance of getting them redeemed in 1895. They went out of circulation pretty fast.''
So when a Colonial Bank of New Zealand £1 note turned up on Mr Galt's desk for the first time in his more than 50-year career, he was very excited.
''I don't know if this should be printed, but I said 'yippee'.
''I was absolutely stunned to see a banknote like this, because to be honest, I never thought I would see one.''
Other notes up for auction on Friday include a BNZ £10 note from October 1, 1921, estimated at $6000; and an early £50 note, estimated at $7000.