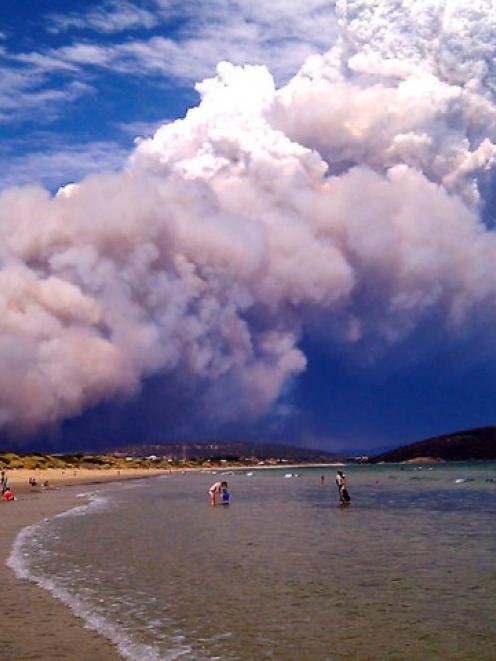 New Zealand firefighters are heading to Tasmania to help crews battle wild fires, while New South Wales faces some of the worst fire conditions in the state's history.
As the temperature began its steady climb this morning there were 100 fires burning in NSW.
NSW Rural Fire Service Commissioner Shane Fitzsimmons said 21 of these blazes were uncontained.
"Fortunately none of these fires are posing any immediate threat," he said.
"But clearly, under today's conditions, we are concerned with those and we will be monitoring them very carefully."
More than 1500 firefighters worked overnight to control the blazes.
There it a total fire ban on the entire state with temperatures in the state's far west predicted to hit 45 degrees Celsius, while in Sydney the mercury is forecast to climb to 43C - making it the third highest temperature on record.
A total fire ban in also in place across the Australian Capital Territory.
Australia's Bureau of Meteorology has fire weather warnings in place in parts of New South Wales, ACT, Western Australia, Victoria, and South Australia. The agency is warning of "catastrophic fire danger" in Shoalhaven, the Illawarra and the southern ranges of NSW.
BoM is also advising of extreme fire danger in the Greater Sydney region, the Manaro Alpine, the Central Ranges, the Lower Central West Plains, the Southern Slopes, Southern Riverina and Northern Riverina in New South Wales, the Gascoyne Coast in Western Australia, Mallee, Wimmera, Northern Country and North East in Victoria, all of ACT, and North West Pastoral, North East Pastoral, West Coast, Flinders, Mid North, Riverland and Murraylands in South Australia.
The bureau is forecasting Sydney will reach a high of 43C today, while Newcastle will hit 40C, and Gosford and Wollongong will reach 43C.
If Sydney reaches the forecasted high, it will be the city's third highest ever recorded temperature, after 45.3C in 1939 and 44.2C in 2006.
"We are shaping up for one of the worst fire danger days on record," Fitzsimmons said this morning.
"You don't get conditions worse than this, we are at the catastrophic level and clearly in those areas leaving early is your safest option."
Overnight more than a million people were called by telephone or by text to reinforce the leave early message.
Fitzsimmons said all precautions had been taken.
"Literally, thousands and thousands of firefighters will be on standby today, the aircraft availability will be up around 100 and they will all be at the ready to deal with any new outbreak of fire," he said.
Meanwhile, a team of New Zealand firefighters will head to Australia to help Tasmanians battling bush fires caused by extreme heat in the island state.
A formal request was received last night to help the firefighting efforts and 12 Kiwi firemen will leave Auckland tomorrow for Australia, a National Rural Fire Authority spokeswoman said.
NSW Salvation Army director of emergency services Norm Archer said the organisation had mobilised its resources overnight and had 87 teams on standby across the state.
"The next few days are looking ominous," he said in a statement.
"Many communities may need support should fires occur and we are poised and ready to provide assistance if the need should arise."
Mr Archer urged people in fire danger areas to follow the directions provided by authorities about protection from hot weather and getting out early.
"The Salvation Army would ask people to pay particular attention to their elderly relatives who are living alone and those suffering sickness at this time," he said.
"It's important regular contact be maintained as we move through this difficult period."
Mr Archer said children were also at risk.
"Don't just assume people are OK, check on them and make contact," he added.
- additional reporting NZ Herald, AAP