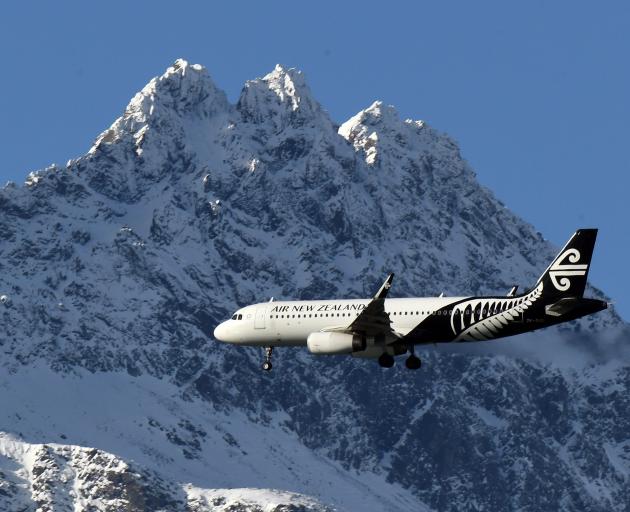 Air New Zealand says staff have been "run off their feet" as thousands of Kiwis snap up Australian airfares with the launch of the transtasman travel bubble on April 19.
Prime Minister Jacinda Ardern confirmed this afternoon that all the conditions for the bubble have been met.
"The Director-General of Health (Dr Ashley Bloomfield) considers the risk of transmission of Covid-19 from Australia to New Zealand is low and that quarantine free travel is safe to commence," Ardern said.
Air New Zealand chief executive Greg Foran said the three most popular destinations were Brisbane, Sydney and Melbourne, but fares were also flying out the door for the likes of Perth, Hobart and the Sunshine Coast.
"We're pumped, isn't it terrific news for Air NZ? It's been a long time coming," Foran told Newstalk ZB's Heather du Plessis-Allan. "There is plenty of demand, plenty of places to go, it's terrific."
Foran himself was booking a flight to Sydney to see his three children, including NRL rugby league star Kieran, who plays for Manly.
One-way Air New Zealand fares between Auckland and Sydney from April 19 are selling for as low as $282, for a seat only and no luggage. A return flight a week later is selling for $355 on the same terms.
Foran said the airline was providing about 50% of pre-Covid capacity, and hoped that might soon get closer to 100 per cent. "We're ready to fly when our customers are ready to fly."
In a statement this afternoon, Air New Zealand said that from April 19 the airline would be ramping up flights between Auckland, Wellington, Christchurch and Queenstown and eight of its Australian ports.
Foran said the airline was "incredibly excited to have the border reopen to our Aussie neighbours".
"This is terrific news. I know Kiwis and Australians have been wanting to reconnect with whānau and friends for a year now and we're incredibly excited to be playing a part in those reunions."
The schedule is as follows: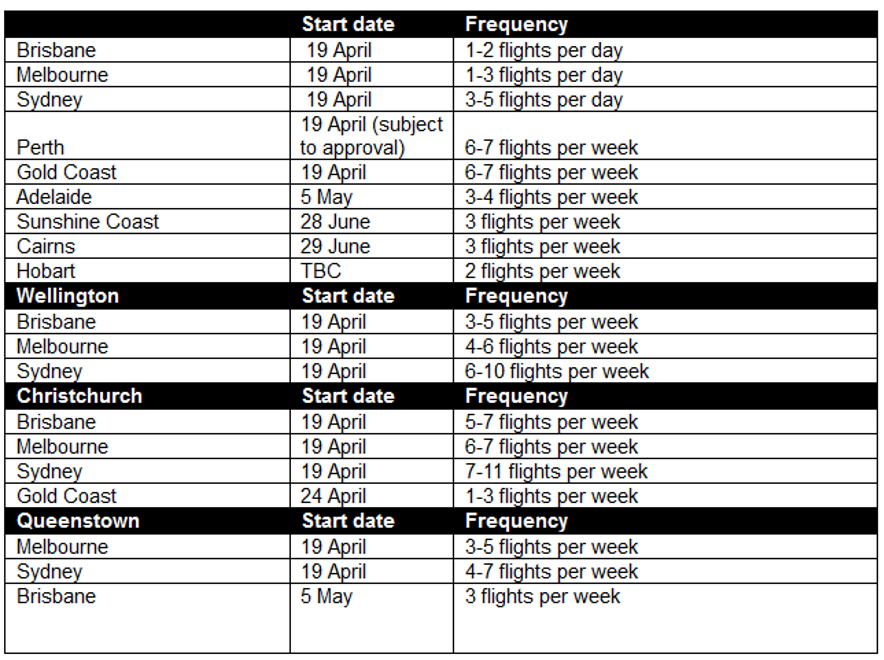 Air New Zealand had been preparing for a trans-Tasman bubble for a few months now, bringing furloughed crew back onboard and ensuring they were up to speed with training, along with making sure its international airports and lounges are ready for the influx of customers. 
"Our people have shown incredible agility of the past 12 months as things have changed at an unbelievable pace. I've spoken to several our front-line staff who are thrilled to show our customers the world-class Air New Zealand customer service once again," Foran said.
"We'd like to say a huge thanks to New Zealanders for standing by us while we've mainly been a domestic business for the past year. I'm extremely proud to say that we've got one of the most robust domestic businesses of any airline around the world. We look forward to being able to extend that across the Tasman.
"Pre-Covid-19, Australia was the largest tourism market for both our airline and New Zealand. We know a lot of tourism operators have been feeling the lack of international visitors so we're looking forward to playing a role in New Zealand's recovery."
Airlines will need flights for quarantine-free travellers only, who will then need to pass through an airport without mixing with transit passengers or returnees heading for managed isolation and quarantine facilities.
Dedicated airline and airport staff for quarantine-free travel will also need to be kept from mixing with other airline and airport staff.
- NZ Herald and ODT Online