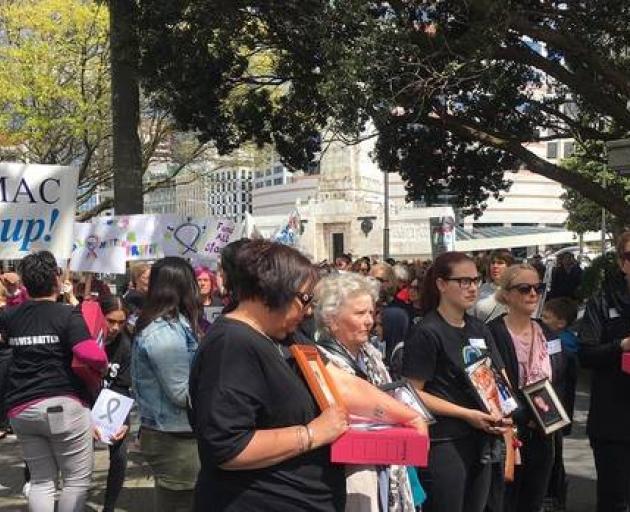 A group of women with advanced breast cancer and their supporters marched on Parliament today to present petitions calling for funding of life-extending medicines.
The lack of funding for cancer medicines Ibrance and Kadcyla, hailed as game-changers for women with advanced breast cancer, has been labelled "the height of cruelty" by Breast Cancer Foundation NZ's chief executive Evangelia Henderson.
The medicines are said to extend lives by years.
"Why do people have to set up a Givealittle page, or worse, sell their house, to access these drugs?" Henderson said.
Henderson said she couldn't imagine the distress felt by women faced with having to fund the drugs themselves at the expense of their own family's future.
"This is an opportunity to have a longer life, yet it's out of reach for our women. The fact that game-changing drugs exist, yet are not available, is the height of cruelty.
"And the fact that some people can pay for their own drugs while others can't, widens the disparity within New Zealand.
"Meanwhile, the gap between Kiwi women's survival with advanced breast cancer and that of women with advanced breast cancer overseas remains shocking.
"As our ABC report, 'I'm still here,' identified, average survival in NZ is just 16 months, compared with two to three years or more in countries like Australia, Germany and France.
"This has to change. Not next year, not tomorrow, but right now. Funding these drugs is the only humane thing to do."
About 200 people attended the march from 12.30pm in Wellington, many holding signs reading "Pharmac, cough up" and "Our lives matter".
One teenager held a sign that reads "Please save my mum," as a woman stands next to her with a hand on her shoulder.
People also carried framed photos of loved ones, and a small bouquet of flowers has been laid on the steps to Parliament, with a sign that reads "In loving memory of the 155 lives needlessly lost in 2018".
The women would deliver a 32,000-signature petition calling for Ibrance to be funded, and a second petition to fund Kadcyla.
Petition organiser Terre Nicholson said women around the country were dying early, "losing precious time they could spend with their families and to prepare their little ones for being without their mother".
The women behind the march are known as Metavivors and have the support of the Breast Cancer Aotearoa Coalition, which represents more than 30 breast cancer organisations.
Chairwoman Libby Burgess said people should not have to go to politicians begging for their lives.
"It's tragic that our vulnerable women have to march on Parliament to call for access to treatments that they would get as a matter of course in other developed countries. All people in New Zealand should have the medicines they need," she said.
"We believe New Zealanders are compassionate people. We should not be denying people medicines that give them more time with their families and in their communities, and ease their suffering.
"We are not a third world country but our medicines funding is heading that way. New Zealand ranks 19th out of 20 OECD countries for access to new medicines and that's shocking."
A key reason these drugs are not funded is New Zealand's outdated model for medicines funding, which has not kept pace with advances in medicines, she said.
"We believe Pharmac needs to be entirely reformed so that the focus is firmly on improving people's lives. It needs to have greater transparency, faster decision making and significantly more funding.
"Pharmac currently has a spending cap which comparable countries don't have, and of 30 OECD countries only Mexico spends less than New Zealand on medicines. Countries like Canada, UK and Australia also have fast access schemes, where decision making is streamlined for drugs with immediate proven benefit."