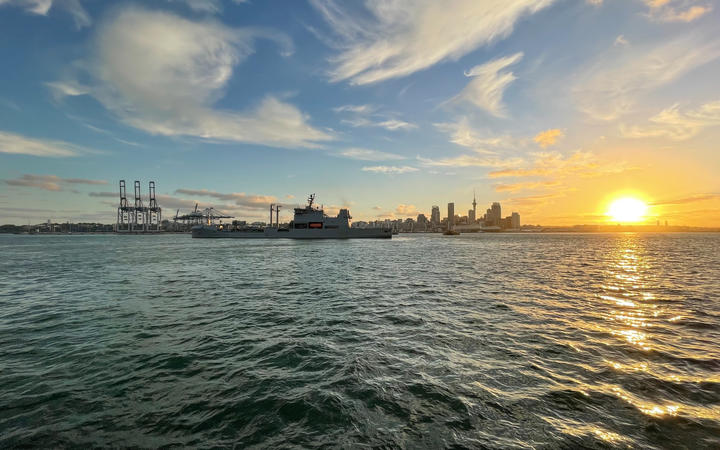 A third navy ship will be sent to sent to Tonga tomorrow to aid in the relief efforts following the weekend's eruption of the Hunga-Tonga-Hunga-Ha'apai volcano.
HMNZS Canterbury will leave on Saturday with two NH90 helicopters on board.
Offshore patrol vessel HMNZS Wellington is expected to arrive in Tonga later today.
"The Wellington's first task will be to check shipping channels and wharf approaches to Tonga's port to ensure vessels can go alongside, and check the structural integrity of the wharf," Minister of Defence Peeni Henare said.
The ship is carrying hydrographic and dive personnel and also has a seasprite helicopter to assist with supply delivery.
A Royal New Zealand Air Force C-130 Hercules is due to arrive at 4pm today.
Late last night WHO liaison officer in Tonga Dr Yutaro Setoya, who is in Nuku'alofa, confirmed the Fua'amotu International Airport runway had been cleared of ash.
"The aircraft is carrying humanitarian aid and disaster relief supplies, including water containers, kits for temporary shelters, generators, hygiene and family kits, and communications equipment," Minister of Foreign Affairs Nanaia Mahuta said.
Arriving tomorrow is HMNZS Aotearoa, which has bulk water supplies on board, as well as other supplies.
"Water is among the highest priorities for Tonga, and the Aotearoa can carry 250,000 litres, and produce 70,000 litres per day through a desalination plant," Mahuta said.
"We are talking to Tonga about what more they need from us and we can assure them of our ongoing support."