More than 100,000 Aucklanders look set to welcome home the victorious Team New Zealand on the waterfront next Thursday, possibly on both sides of the harbour.
Brett O'Riley, chief executive of Auckland Tourism, Events and Economic Development, says details will be announced tomorrow once Team NZ confirms when its 71-strong team will return, but current planning is based on most members getting home on Wednesday and Thursday.
A parade up Queen St has been ruled out because of city rail link construction, so the most likely route is on land along the waterfront to Viaduct Harbour and then possibly sailing across the harbour to Devonport.
``It will certainly include parts of Quay St,'' O'Riley said.
``We can accommodate more than 100,000 people in that whole area. We are just looking at how we configure buses, how people are going to go into the city, and how much movement are people able to have in that area.
``If we can include a North Shore component at Devonport, that will provide an alternative spot for people from the North Shore to watch it rather than having to come into the city.''
He said schools were keen to bring their students in to the event, which is likely to be on the last teaching day of the term before most schools hold teacher-only days next Friday.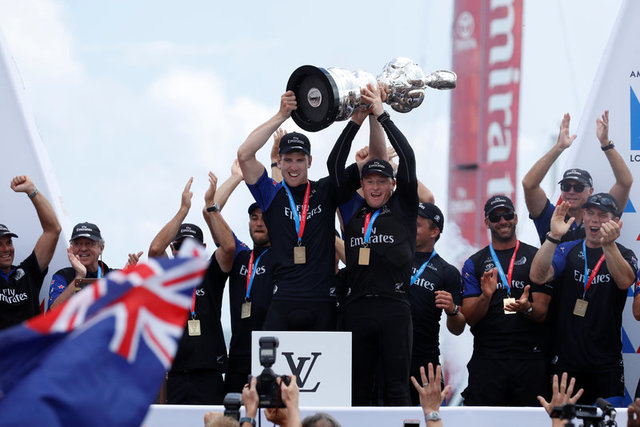 ``We have had some interest from schools that would like to release students to attend with their families,'' he said.
The Lions fan zone on Queens Wharf is expected to be available for viewing the events on both land and water, as Lions fans are not expected to be back in the city until Thursday night.
O'Riley is also negotiating to have the event screened live on a free-to-air TV channel.
``We believe the combination of what we are looking at will create plenty of viewing opportunities, as well as people will be able to use their mobile devices,'' he said.
Team NZ boss Grant Dalton said the plan was for the team to leave Bermuda on Sunday and fly to Dubai, the base of major sponsor Emirates, and then arrive back in New Zealand next Wednesday.
``We just can't wait to get home,'' Dalton said.
In 1995, the streets were lined with thousands of fans holding cardboard red socks and flags. Many waited for hours on rooftops and bus shelters for the parade down Queen St, armed with 300,000 rolls of ticker tape.


Skipper Russell Coutts and Team NZ boss Peter Blake carried the trophy up the stairs of the Aotea Centre before Auckland soprano Fiona Ferens led the crowd in singing the national anthem.
In 2000 after Coutts and Blake's successful defence of the cup in Auckland some 300,000 people lined the streets, armed with 100,000 rolls of ticker tape.
Confetti cannons were also placed on several buildings to celebrate the boys in black as they rolled down Queen St on the back of flat-deck utes, led by brass, pipe and artillery bands. Stilt-walkers, roaming entertainers and cheerleaders also took part.
Tauranga's mayor Greg Brownless is also planning a welcome-home parade for the America's Cup, with Team NZ helmsman Peter Burling hailing from the city.
Brownless is liaising with Burling's family to find a suitable date, and hopes he can persuade the rest of TNZ to join the parade through the city centre.