There were nine new cases of Covid-19 in the South as the New Zealand total passed the 1000 mark yesterday.
Prime Minister Jacinda Ardern took a cautiously optimistic view of the results at a media briefing, saying the country's cases appear to have stabilised.
But she sharply criticised those "idiots" still breaching lockdown rules.
A further 89 confirmed and probable cases took New Zealand's total number of cases to 1039.
The Southern District Health Board remains the area with the most cases, at 160.
Of the nine new southern cases, four were in the Queenstown Lakes area, two were in Southland, two were in Invercargill, and one was in Clutha.
There were 58 cases linked to the Bluff wedding cluster, and 32 to the World Hereford Conference in Queenstown.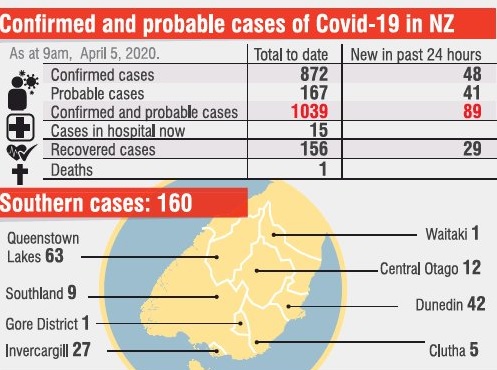 Fifteen people were in hospitals around the country, including one in the SDHB area.
Ms Ardern cited Google figures which showed changes in the number of visits and the length of stays at different kinds of locations, such as retail and parks, compared with a normal baseline.
The significant drops, such as a 78% drop in visits to parks, showed most people were sticking to the rules, she said.
Its figures for Otago show a 95% drop in retail and recreation visits, a 62% drop in supermarkets and pharmacies, and an 82% drop in visits to parks.
Ms Ardern said she did not want to draw "too many conclusions" but the number of cases in New Zealand had not grown exponentially as in other countries.
"That is a good thing."
However, no decisions had been made about extending the lockdown.
The Prime Minister also hit out at those still flouting the rules.
Over Friday and Saturday, police had carried out 795 prevention patrols and 990 reassurance checks at essential services.
Ms Ardern said there were "still some people I would charitably describe as idiots".
That included a Christchurch man who was arrested after filming himself coughing on people over the weekend.
He has been charged and will appear in court today.
In Warkworth, a 45-year-old woman has been charged with common assault after allegedly punching a supermarket manager in the face.
WellSouth chief executive Andrew Swanson-Dobbs said there was still good capacity for testing around the South.
As of yesterday, 2984 Covid-19 assessments had been done by primary care staff in the South, he said.
Of those, 1525 were done at community-based assessment centres (CBAC), and 1459 at general practices.
There were three CBACs in the South, in Dunedin, Invercargill, and Queenstown, and 81 GPs who were able to do testing.
Six GPs had also agreed to become designated practices, which meant they would assess patients who were not enrolled with a GP.
"There is a lot of room to move. We just need to keep monitoring what the case definition is," Mr Swanson-Dobbs said.