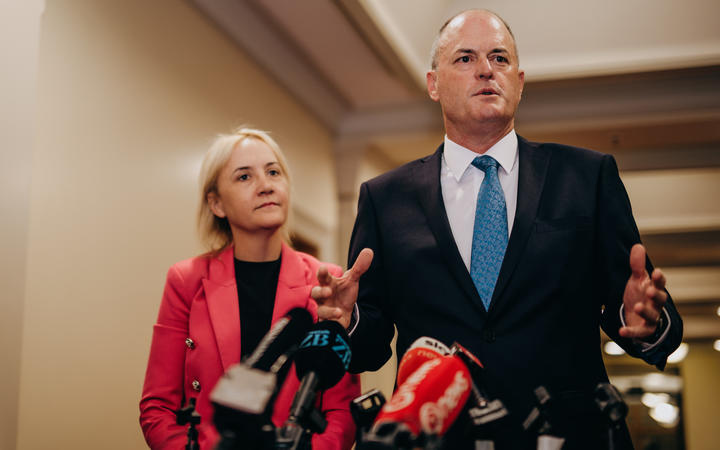 New National leader Todd Muller is backing his front bench, saying he chose the shadow Cabinet line-up on merit and talent.
While three out of National's top four ranked MPs are women, there are no Māori MPs on the front bench, or of any other ethnicity.
Māori Party founder Dame Tariana Turia told RNZ she was "gobsmacked" by National's new line-up given her experience working closely with the party in government.
"Here is a political party that I thought valued the Māori voice... It's very disappointing to now see that in 2020 there is no Māori voice on the front bench."
However, Muller told Morning Report he went with who he believes are his best MPs.
"I looked at it through the lens of my shadow Cabinet and I looked at it through the lens of the talent that I have at my disposal which is quite extraordinary in terms of my 55 MPs and the third thing I did, which is different to what has happened in the past, is rather than loading up the shadow Cabinet with all the portfolios, I spread the critical and substantive portfolios across the whole team, including Dan Bidois for example who has Workplace Relations and Safety.
"When I put it (party list) forward I didn't rank it and I also said this isn't our final list ranking."
Muller pointed out that his shadow Cabinet does contain Māori MPs.
"From my perspective the shadow Cabinet is what counts," he said.
"In that shadow Cabinet I have Dr Shane Reti who I brought beside me when I won the leadership as someone who I rate highly and think is already a huge contributor to the National Party and the country and will be a substantive senior minister in my government, and of course Paula Bennett ... then beyond that a caucus with Māori representation that is connected hugely in the Māori community."
Dame Tariana also acknowledged the likes of Reti, ranked 17, and Harete Hipango, ranked 39, and believes they deserve a promotion.
"One thing I know about politics - everything is about votes. And if they think that the Māori vote is not going to go their way, are they going to choose any Māori people to be in their top 10? Doesn't look like it."
There was also confusion at yesterday's announcement when Finance spokesperson Paul Goldsmith was declared Māori by deputy leader Nikki Kaye.
Muller said he didn't consider Goldsmith Māori when sorting out his front bench.
"That was an error and we admitted that yesterday," he said.
"She (Nikki Kaye) obviously wasn't 100 percent clear on his whakapapa. Mistakes happen and that was acknowledged at the time.
"Certainly from my perspective I am very comfortable with the team we have, I think it is remarkable talent.
"I think my shadow Cabinet bests this government's Cabinet in terms of person for person contribution, capacity life experience, lived experience and the ability to help frame up with the wider team a recovery plan for this country that will have substance."
Muller's front bench was not only criticised by those outside his party but inside as well.
National list MP and Māori development spokesperson Jo Hayes publicly critiqued Muller's front bench on Radio Waatea.
"This is not good. We need to remedy this or you need to front it and take it head on and say why. You need to give a better explanation," she said.
Muller wouldn't say whether he was happy with Hayes voicing her concerns but said he had a conversation with her last night about the issue.
"She was passionate and she obviously shared a view and we talked about it."
Muller wouldn't disclose if he told her not to speak about the issues in the future.
"But the core thing here is she understands, as I do, that actually what counts here, what's important for the National Party is to focus on the key job at hand, which is how do we build back as a country from the greatest economic crisis."
The National Party had struggled since the departure of former leaders John Key and Bill English, Dame Tariana said.
"We already have significant issues of inequity right across every sector, and here they are just continuing it by refusing to acknowledge the importance of having a Māori voice."
Speaking to RNZ, former National Cabinet minister Dame Georgina te Heuheu said she had long fought to promote Māori in all forums including Parliament.
"My whole life has been about ensuring Māori representation at all levels," she said.
"But I leave it to those who are in Parliament. I leave it to Todd ... only they know the things that are important for what they want to do - which is pull the National Party vote back."
Te Heuheu was the first Māori woman elected as a National Party MP and, in 2004, was demoted by then-leader Don Brash after she criticised his controversial Orewa speech.