Former prime minister Bill English has signed off from his 27 year political career this afternoon in front of a public gallery stacked with family and former colleagues.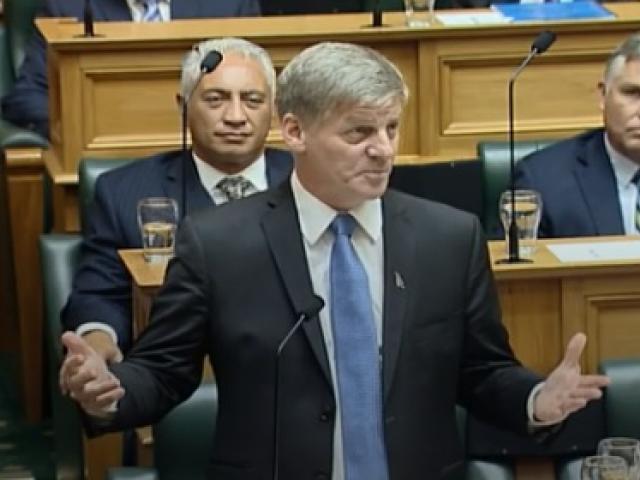 English delivered his valedictory after announcing a fortnight ago that he was leaving Parliament.
It spanned a career he has described as containing more than the usual amount of highs and lows.
English said politics had taught him humility, because sometimes politicians can get it wrong and Parliament is a very public place to screw up.
But when asked what his biggest regret was, English said he had none except not getting the chance to get the work done he'd hoped to if he won the 2017 election.
English's wife Mary was in the Gallery as well as all of English's children.
All but one of English's six children were born while he was in Parliament.
"It's a bit like fish who don't know they're in water. As a family we'll have to learn what it's like out side public life."
Former MPs Roger Sowry, Simon Upton, Te Ururoa Flavell and John Carter were also there to watch, as well as former staff and government department officials, including former Reserve Bank Governor Graham Wheeler.
The long-serving MP said he was hugely looking forward to living a life without a diary.
"I've had a diary with fixed events and obligations for 27 years and I think I'll manage fine without one, but I want to see what it's like."
English said he knew his family wouldn't have always agreed with his actions while in politics, but he like to think when he was at his best, he represented the best of them.
English said the Raurimu shooting taught him Government could do harm if it didn't act with sensitivity on important issues.
English says his 2002 Fight for Life boxing experience was one he enjoyed greatly - even though one of his sons gave him flak for being a "skinny old white guy" when he saw the fight on TV.
"He was almost as good as he said he was some days" - English paid lighthearted respect to his predecessor John Key.
Because it is such a small country, New Zealand needed to tell a "positive story" to the world, to secure and maintain financial relationships with bigger countries, English said.
A pragmatic and practical solution to treaty settlements was the most efficient process English said he was part of in his political career.
The country's experience grappling with cultural differences put it in a better position than much older nations when adapting to new challenges faced by multiculturalism and social difference, he said.
Catholic values were about "the utter integrity of the individual person", English said.
English said he wanted to leave behind "the dangerous complacency of good intentions, of which there's too much in New Zealand."
"Social investment will roll on becuase ideas are powerful. Knowledge is powerful, more powerful than Government."
He thanked the public servants who helped him in drafting social investment policy.
"I just want to finish with a few remarks, particularly acknowledging my family who are here today, this has been our adventure," English said, choking up.
Politicians, including Prime Minister Jacinda Ardern, shook English's hand and embraced him before a waiata was performed.