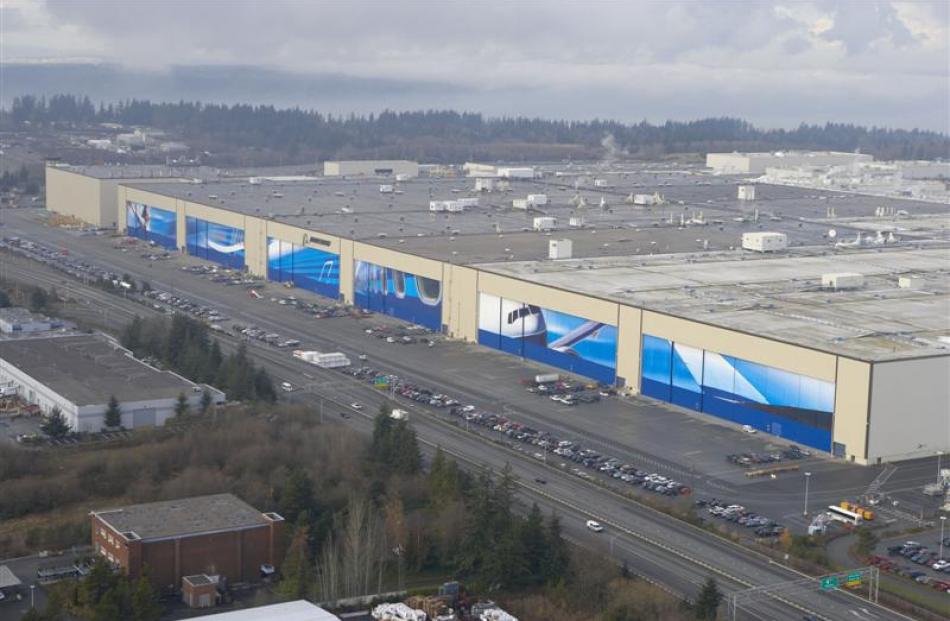 When people who have been to Boeing's factory at Everett, north of Seattle, say it is big, and then continue to go on about how big it is, that is because it is stupendously large.
Aircraft non-aficionado Debbie Porteous was a bit bewildered after a recent visit to the 39ha factory.
It is easy to imagine some visitors to Boeing's Everett factory spending a substantial part of their visit gazing up with their gobs open, maybe dribbling a little. They might even appear as if the 1 million overhead light bulbs have somehow stupefied them.
That is because of the size of the place and the things in it.
Boeing had to install an air circulation system to prevent clouds from forming up by the ceiling - it's that large.
This shed has to be big, because inside it big things are built. Here, the Boeing 747s, 777s and the company's latest aircraft, the 787 Dreamliners, are assembled. Military 767s are assembled here too, but visitors aren't allowed to see those.
Oddly, one of the first facts visitors to the factory learn is there is a Tully's coffee shop at the back of the 777 line that is the national chain's top-selling store.
Assembling planes is clearly thirsty work.
But it is only one of a steady stream of facts from the big world of the Boeing factory 26km north of Seattle, where a group of New Zealand media was brought by Air New Zealand recently to inspect the new 787-9 Dreamliners - the company will be the first airline to put a ''Dash-9'' into commercial service later this year - being put together.
About 35,000 work in this factory every day, all helping to produce the two to five completed aircraft that roll on to the tarmac (through one of six rugby-field sized doors) each week.
Even with three shifts, employees have to leave in staggered waves to avoid completely swamping the local roads.
The majority of these employees are employed to shuffle parts around the building. That is because there are a lot of parts. A 777 has three million. A 747 has six million.
You start to see how a visitor can be overwhelmed.
Luckily, we have long-time Boeing tour guide Wes Bare, a former airliner pilot, to keep us moving lest we freeze, forever looking up in amazement.
Before we even set off around the floor of the factory in an electric vehicle, Wes bamboozles us with the fact the building is so big, you could drop Disneyland, Buckingham Palace or the Taj Mahal inside it. London's Olympic Stadium would fit in there three times over.
Headsets on and we are whizzing past the 1500th Boeing 747 in production. The first one was built in 1966.
We hit the 1km-long indoor road that runs from one end of the building to the other, giving way to some of the 2000 bicycles used by staff to get around the building.
We pass giant tumblers where fuselage pieces are rolled back and forward so they can be joined with relative ease, then come to the 777 assembly line.
We stop at a 777 engine. It is enormous. It costs $23 million ($NZ26.7 million). It has about 90,000 pounds of thrust. Wes takes our photo with it.
Back to the area where the aircraft wings are put together (not the Dreamliner wings, which are flown fully assembled to Seattle in the cargo aircraft called Dreamlifters) and past some passenger seats labelled with a warning to ''treat as Lamborghini''.
Each seat is worth $270,000, you see. Finally, we come to the 787 production line, where we get off and walk among the staff milling around the plane bodies.
Teams of engineers roll their desks and chairs into small clusters when a plane comes to their station, and out again as the plane - which is winched between the various construction stations at a speed of 10cm per minute - moves on to the next.
They are super-sensitive about the information on the floor, whether they are more worried about the competition or terrorism is unclear, and our group is approached three times by staff worried that we are taking photos.
As we progress down the line the planes become more finished. Close to the end is the 177th Dreamliner to be built. It is nearly ready to be rolled off in an overnight mission to be painted in another enormous hangar across the road.
It is out of one of those hangars that Air New Zealand's black-painted Dash-9 was rolled last week, to great fanfare.
The cabins will be fitted out, and flight tests and certification completed before Air New Zealand takes delivery in July.
By March 122 Dash-8 Dreamliners had been delivered since they entered service in 2011.
Popular because their composite fuselage makes them lighter, therefore cheaper to run, Boeing has just over 1000 orders on its books for the three types in the family, the 787-8, 787-9 and 787-10.
Issues with the new technology caused initial production and delivery delays, but 787s are now being produced at a rate of 10 a month out of Everett and Boeing's factory in South Carolina.
Before our factory floor tour George S. Alabi, the regional director of product marketing, explained to us the selling points of a Dreamliner.
He said passengers enjoyed moister air at a lower altitude cabin pressure, meaning less chance of dehydration, with irritants such as perfume and alcohol fumes removed, so they arrived feeling fresher.
People tended to think the planes were bigger than a 747 inside because of their bigger windows (60% bigger than in comparable passenger craft), dynamic LED lighting, wider aisles and higher ceilings.
The windows could be darkened at the touch of a button rather than with a shutter and even people in the middle seats can see some sort of horizon from their rows.
They offer a less bumpy flight, too, as computers sense oncoming turbulence and command wing control surfaces to counter it, smoothing out the ride.
Airlines like Dreamliners because composite fuselage is light, resulting in about 20% lower fuel consumption. They have 30% lower maintenance requirements, a big range, and more cargo capacity so companies can take advantage of that side of business.
They are also 60% quieter than similar-sized craft, allowing them to land at more noise-sensitive airports.
The Dash-9 is longer, can carry more passengers and fly further than the Dash-8, which is already in service.
Air New Zealand will take delivery of its first of three $250 million 787-9s in the middle of this year.
A further two are due later in 2014. They are part of a major fleet renewal for the company, that includes a total of 10 new planes and the retirement of its two 747-400s and five 767-300ERs, which will be phased out as the newer aircraft arrive.
The 787-9s will be fitted with 302 seats with 18 lie-flat seats in the business premier cabin, 21 new design seats in premium economy and 263 in the two economy cabins, and are expected to enter service in 2015, firstly on transtasman routes and then on the haul to China and Japan.
The writer travelled to Seattle as a guest of Air New Zealand.
---
The Boeing Everett factory
• 39ha size of factory (98 acres).
• 13.3 million cu m (biggest building by volume in the world).
• 1 million light bulbs used to illuminate the building 24 hours a day.
• 1km long main corridor.
• 3.5km perimeter.
• 19 cafeterias, which pump out 17,000 meals per day.
• 35,000 employees (in the factory itself) working in three shifts per day.
• 57 rugby fields would fit inside the building.
• You can have your teeth whitened or your body massaged.
• 17 days for a plane to be constructed from start to finish.
• 10cm per minute is speed planes move from station to station on production line.
---
The 787-9 Dreamliner
Passengers: 300
Range: up to 15,200 km
Wingspan: 60m
Length: 63m
Height: 17m
Cruise speed: Mach 0.85/1041.3kmh
Maximum takeoff weight: 250,836kg
---