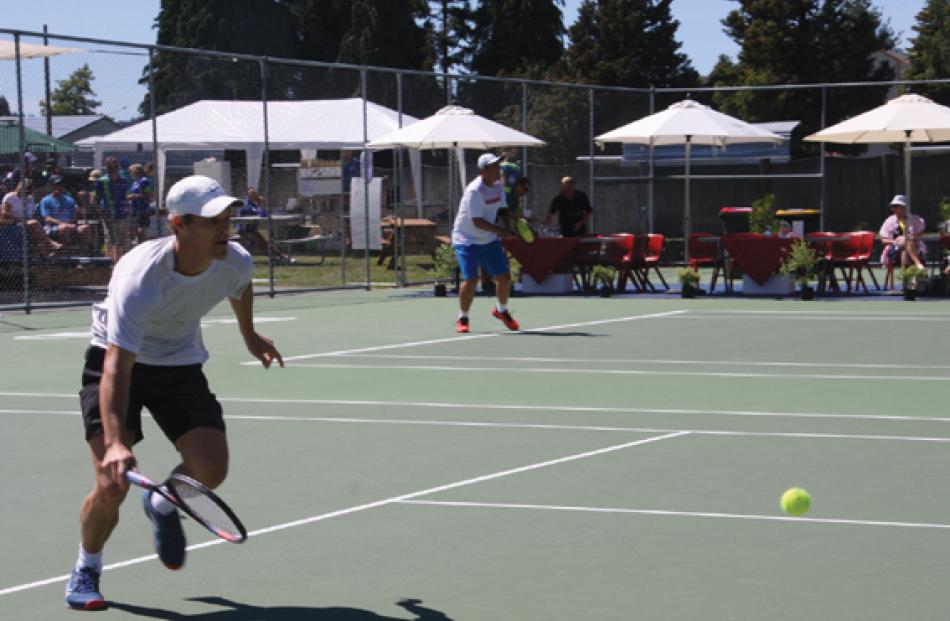 The 6th Distinction Hotels Te Anau Tennis Invitational showcases some of New Zealand's strongest male tennis players over two days (28/29 December 2018) of action.
It is now home to some of NZ's best tennis at the friendly and casual atmosphere of Te Anau's outdoor tennis arena and the players and the spectators enjoy this experience. The attendance at the event was slightly up on previous years with more demand on courtside tables.
The Invitational featured eight of New Zealand's top male tennis players, Rubin Statham, Ajeet Rai, Finn Tearney, Wesley Whitehouse, Olly Sadler, James Meredith, Issac Becroft and Kiranpal Pannu, with prize money at $20,000 - $8000 to the winner at the two-day tournament and was played in brilliant weather. The large crowd enjoyed the quality of the matches and competiveness of the games which was a real highlight throughout the tournament.
Event Organiser Greg Sheppard said "The success of our previous tournaments has meant that we have the probably strongest field in the six-year history of the tournament".
Aucklander Rubin Statham, New Zealand's number-one ranked player beat the country's number-two seed Ajeet Rai in a three set thriller in the final, taking out the coveted Willans Trophy!
Everyone was sitting on the edge of their seats in this final with Ajeet Rai of Taranaki, 6-4 in a close finish. Score 6-3 4-6, 6-4.
An exciting finish to the 2-day event, with Ajeet Rai getting closer to the coveted prize, after being placed fifth last year. Ajeet at 18 years old has had a cracking year, which has seen his ATP World ranking drop 893 places to where he sits now at 695. In October he won his 1st ITF Futures title in Thailand and Ajeet finished Runner-Up in the Wither Hills Westend Cup, beaten in the final by Statham.
It was Rubin's fourth Te Anau Tennis Invitational crown with wins in 2014, 2016 and 2017.
Statham was in good form having won the Wellington Open and the Westend Cup in Auckland, prior to the Invitational.
He said the Invitational provided him with strong matches before competing in New Caledonia ASB Classic in Auckland. He beat Rai in the final of both those events.
Wellington's Finn Tearney playing in his sixth tournament and has not missed a year and was in the final against Statham in 2017. Finn was disappointed he was forced to withdraw with injury from the match against Kiranpal Pannu of Wellington, as it could have been his year for a crack at the coveted prize. He was replaced by Sky Lovill, professional coach in Te Anau. Sky played Isaac Becroft for 7th and 8th position with Isaac coming away with the win 7-5, 7-5. A big high five to Sky for stepping in at the last minute and playing a couple of exciting matches.
KP Pannu and Olly Sadler had a corker of a game to fight for 3rd place. KP Pannu has come away with the win. KP Pannu 3rd and Olly Sadler 4th.
Wesley's big serve has just helped him along to beat opponent James Meredith 6-4, 6-4. Wesley finishes in 5th place, with James 6th.
Stephen McIvor, commentator from Sky Sport, returned to MC the event which will help add to the quality of the event and hosting the fundraising auction.
Another competition held on the Friday evening, which was held in conjunction with the invitational was the special women's singles match between Lulu Sun, of Switzerland, and Suzy Larkin, of Great Britain and has a NZ ranking of 4. Sun won the match.
Lulu Sun is a 17 year old local who was raised at Takaro Lodge, near Te Anau. Sun was ranked 23rd in the world for junior women's tennis and represents Switzerland at overseas tournaments. Sun won the match and prize pool of $1,000 and Larkin received $500
Te Anau Tennis said they were so pleased these ladies came to Te Anau to show their skills on the Te Anau tennis courts! It's a real inspiration to our local girls to see what they can aspire towards in tennis.
Junior Mixed doubles exhibition match with Tim Willans (Te Anau) and Halle Fahety (Invercargill) and Thomas Hartono (Queenstown) and Emilia Price (Winton) was definitely a crowd pleaser and they totally engaged with this spectacle.
Te Anau was originally home to Julie Paterson CEO Tennis New Zealand, now of Auckland who was watching the action this year to see first hand the success of the tournament. Receiving some of her education at Mararoa School.
Paterson said the invitational was an opportunity for the south's young tennis players to learn from some of the country's best. Paterson has also been Manager of Venture Southland Tourism and Manager of the Southern Steel Netball.
With $20,000 of prizemoney up for grab, it is the country's third richest tournament, behind the men's and women's ASB Classics.
The tournament keeps interest in the sport ahead of the two big international tournaments in Auckland over next fortnight.
Te Anau Tennis Invitational a unique event for the small lakeside town of 2000 residents, with Te Anau Tennis Club now over 120 members, 90+ of those are junior players.
Money raised from the Te Anau Tennis Invitational goes back into the sport in the town.
The junior players receive subsidised coaching, which has helped to boost the number of club members. Te Anau's full time professional tennis coach Danny Baleson from South Africa, his third season with the club is assisted by one other coach, Sky Lovill from USA, who are based in Te Anau. Sky played in the same team as the McLachlan Brothers in Queenstown and has been coaching across Southland along with Pete white, who is based in Invercargill.
An event of this calibre requires a great team of volunteers and the local tennis community helps the event to run smoothly including catering for the corporate facilities on offer during the two-day event.
 - Julie Walls