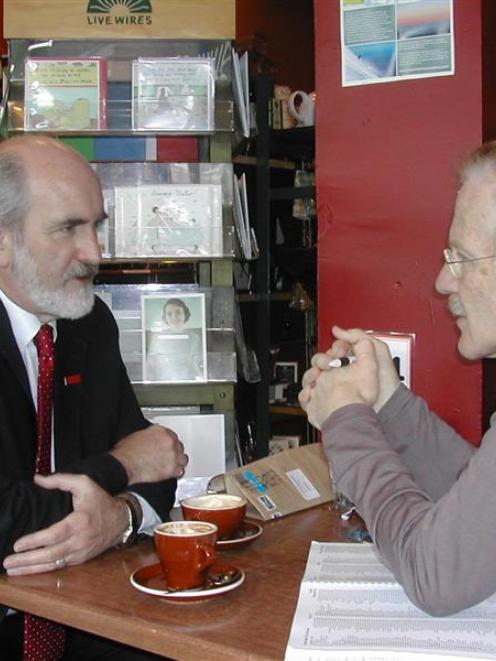 Labour MP Mark Burton is one of Parliament's nice guys, always friendly and with a ready smile.He has a passion for vegetarian Thai food and a liking for Kim Crawford pinot gris.
His parliamentary record in the past nine years is impressive reading.
From defence minister, minister responsible for treaty negotiations, local government and state-owned enterprises, Mr Burton (52) has played a major part in the Helen Clark-led Government since 1999.
But Mr Burton has found himself a victim of Labour's rejuvenation programme.
In 2007, he lost his portfolios and, from being 16th on the list in 2005, he is now 39th and really needs to retain his Taupo electorate seat to ensure a return to Parliament.
Not that you will hear him complain about his treatment, despite some leading questions from Taking the Pulse.
"There is nothing but plan A for me.
''I am aiming to win again," he said in an informal chat in Taupo.
Walking the streets of Taupo, it was impossible to find anyone who had a bad word to say about their local MP.
He has an incredibly high name recognition factor, people from all sorts of backgrounds know him either as an MP attending the prize-giving of their children or in his earlier career as an educator.
Some people were not too keen on Labour, or National, for that matter.
But no-one said anything but good things about their MP.
And that is part of the problem.
The "warm fuzzy feelings" sometimes do not translate into votes and boundary changes have made Taupo a National seat, at least on paper, with the inclusion of the blue belt of Cambridge.
The town has about 50% of the votes, and at the last election Mr Burton polled about half of those votes.
He has a stronghold in Tokoroa but the problem is getting people out to vote.
People expected him to win and sometimes did not bother voting, he said.
A phone campaign had started to ensure people were enrolled and some election day plans to ensure a high Labour turnout was also being finalised.
It really is a two-horse race in the electorate, with Louise Upston standing for National.
There are two independents and a United Future candidate, making the choice for most voters clearer than in many other electorates.
National is pouring huge amounts of resources, people and money into the electorate, as it is in Rotorua.
The party sees both seats as theirs by right and wants them back in the fold.
Conservation Minister Steve Chadwick is battling National's Todd McLay, the son of former National MP Roger McLay.
Both Taupo and Rotorua are seen as being the ground on which the election could be won or lost.
Mr Burton and his wife, Carol, are working as hard as they ever have during the election.
Mrs Burton drives while Mr Burton works on campaign material.
They discuss and attend nearly everything together,On current polling, Mr Burton could return to Parliament on the list but he and Mrs Burton are taking no chances.
On the day Taking the Pulse caught up with them, Mr Burton had attended a multitude of community events which, theoretically, was not campaigning, but was an important part of his job as the local MP, he said.
He and his wife often have to go to the start of one function, leave when the meal is being served, drive two hours to another function and arrive when the meal has just finished.
But such is life for a local MP.
His campaign team is strong and he has secured the support of some new people from Cambridge.
He pulled in a favour from people he had helped.
They ran a cottage meeting in Cambridge and at the end of the meeting volunteered to deliver pamphlets.
Another two people phoned up out of the blue and wanted to help.
With four people working in Cambridge, pamphlet drops could be easily co-ordinated.
Some young campaigners from 2005 have shifted to university and are not available this time, but the team was a mix of long-time friends and supporters and some new people in their 30s.
The new people had brought energy and enthusiasm and excited the rest of the team.
In Rotorua, there has been an increase in the number of people on the Maori roll.
Although it is likely those people will still vote Labour for the party vote, Mrs Chadwick is likely to lose electorate votes to the Maori MP for Waiariki, Te Ururoa Flavell.
It is a fascinating contest in both Taupo and Rotorua.
Voters in Rotorua were not so forthcoming about politics or their MPs.
Maori spoken to feel the Maori Party is their best option for representation in Parliament but they want the MPs to go with Labour in any post-election deal.
That sort of attitude will provide Maori Party co-leaders Tariana Turia and Pita Sharples with some food for thought if, as Mrs Turia indicated earlier this week the party would spend a week consulting Maori roll voters before deciding who to support after the election.
Prime Minister Helen Clark handled well her interview yesterday morning with veteran broadcaster Paul Holmes, who was less adoring of Miss Clark than he was of National Party leader John Key last week.
However, while Mr Key was outlining his party's transitional rescue package to voters in Hamilton, Miss Clark was left explaining to the media that the Labour Party had reimbursed Labour Party president Mike Williams for his dirt-digging trip to Australia.
On Thursday, Miss Clark said Mr Williams had paid for the trip himself.
Mr Key takes the point.