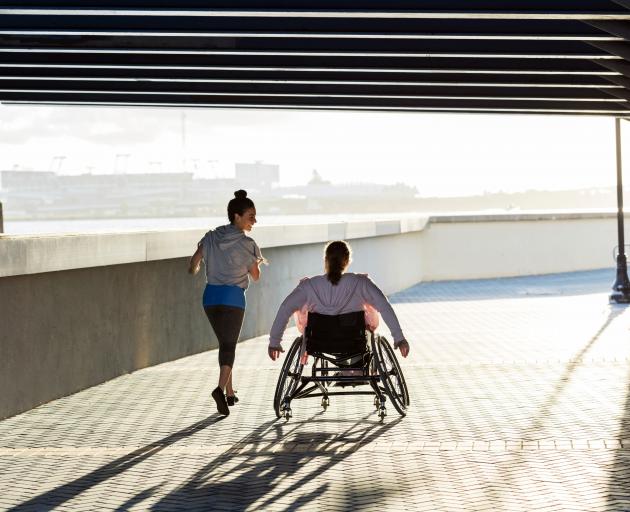 If I had a dollar for every time someone said to me "but you don't look sick!" I would be a rich woman. Unless one encounters me in the morning, before I've put on makeup and had my coffee, I look healthy and hearty. I'm the veritable image of good health; plump and ruddy, proverbially bright-eyed and bushy-tailed.
But I am disabled; I live with myalgic encephalomyelitis or chronic fatigue syndrome (ME/CFS) each day. I need at least 15 hours of sleep a day, and I constantly battle fibromyalgia, brain fog, swollen glands, an aching head and dizziness. I say this not to solicit any sympathy or to bask in the lukewarm waters of self-pity, but only to illustrate the fact that not all disabilities are visible.
It's important that we stop associating disability with the obvious; a wheelchair, a cane, a dialysis machine. There is no one way a disabled person looks. Disabilities range from the visible to the partially visible to the utterly invisible. There are 1.5billion people on this planet with disabilities, both visible and invisible. Allyship is an integral part of community, of rendering the world more accessible, accommodating and inclusive.
What does it mean to be an ally? According to the Anti-Oppression Network, allyship is the "active, consistent and arduous practice of unlearning and re-evaluating, in which a person of privilege seeks to operate in solidarity with a marginalised group of people". There are as many different kinds of allyship as there are marginalised groups — such as women, people of colour, members of the LGBTQIA+ community and so on. Today I'd like to address a few ways by which one might be a better ally for the disabled community.
First, it is important to educate yourself insofar as you can. There are countless brilliant resources out there, from documentaries to books to podcasts to memoirs. Acquaint yourself with the concept of ableism — discrimination in favour of able-bodied people. I recommend the film Crip Camp, Haben Girma's wonderful memoir Haben: The Deafblind Woman Who Conquered Harvard Law and the Sociability app website. There are also myriad disability advocates, activists and influencers on social media, including Annie Segarra, Jillian Mercado and Emmanuel Ofosu Yeboah. Take it from me — as a disabled person, it can be exceedingly exhausting to be asked the same questions over and over again, especially when all the information is already out there.
It's also vital to realise that the disabled community is far from homogenous. As in any community, we are all different. A "one-size-fits-all" approach will not fit all, despite the epithet. Listen to disabled people. Not everyone has the same views and preferences. Moreover, it's important to understand that while a person's disability may not define her, it may be an important and integral part of her identity. My ME/CFS diagnosis is a central part of my existence, but I am so much more: I am a sister, an artist, a writer, a pianist, a friend.
Integral to allyship is the acknowledgement of intersectionality, namely the understanding that different parts of a person's social, economic and political identity coalesce to create different models of discrimination and disability. A black disabled woman's experiences with ableism may be vastly different from that of a white man, for example.
Consider accessibility in everything you do. Is the dinner party you're arranging accessible to your friend who uses a wheelchair? Does the photo album you've just uploaded to Facebook have image descriptions? Have you thought about providing a transcript for your latest podcast episode? Please be aware of the language you use. Some commonly used words, such as ''crippled'' or ''spaz'' or ''lame'', have historically been used as slurs and can be hugely offensive and upsetting to disabled people. In keeping with this, don't be afraid to use the word ''disabled''!
It's also incredibly important to hire and promote disabled people. Don't presume to speak for us; we can speak for ourselves.
But most importantly, be a friend first and foremost. What I appreciate most from my friends is their thoughtfulness, kindness and consideration. Due to my ME/CFS, I'm notoriously ''flaky'' — I frequently am forced to cancel plans due to a fatigue flare-up. But those who know and love me don't take this personally. They continue to invite me to activities and include me in all their plans. They don't scold me, patronise me, or guilt-trip me. Instead, they ask how they can help, and offer to run errands, or change plans to accommodate my waxing and waning energy levels. It means so much to me.
Becoming a good ally to disabled people is an ongoing process. It's something I continue to work on each day. How can I be a more thoughtful and considerate member of the disabled community? I certainly don't have all the answers. I am indebted to so many wonderful disabled activists, advocates, academics and researchers.
This article is by no means an exhaustive list of how to be the "perfect ally". After all, the "perfect ally" doesn't exist. Everyone is human; we all make mistakes and continue to learn and grow. But remember this: it's more important to be an imperfect ally than not to try at all.
■ Jean Balchin, a former English student at the University of Otago, is studying at Oxford University after being awarded a Rhodes Scholarship.