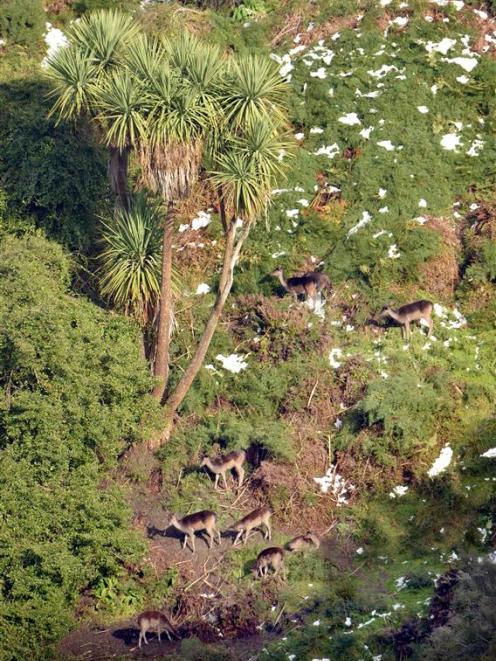 The anti-introduced wildlife dogma needs burying, writes Lewis Hore.
The bias against introduced wildlife species such as deer, trout, even possums and other creatures liberated by the first European settlers needs burying.
There have been pleas in past years to ditch the doctrine.
I recently chanced upon one by none other than former Conservation minister Nick Smith, now Minister for the Environment.
Dr Smith said in an address to the 1996 New Zealand Deerstalkers' Association's annual conference: "It is important to bury the current dogma that exists about introduced species.''
He cited strong feelings against deer and even sports fish such as trout "in some quarters such as the Forest and Bird Society and within the Department of Conservation''.
Dr Smith wisely pointed out the selective hypocrisy in the anti-introduced dogma, saying it was undeniable New Zealand had benefited from introduced species from farmed animals such as sheep, dairy cows, cattle and deer as well as fruit trees and vegetables.
I could not agree more.
Even the demonised possum is accused of browsing vegetation.
But are browsers of foliage simply to be damned because of their diet?
Do browsers such as deer, chamois, tahr, possums and others deserve the sentence of death because they browse snow-grass or Griselinia littoralis, commonly known as broadleaf?
Certainly, one of Landcare Research's more experienced and senior scientists, Graham Nugent, does not think so.
In 1994 at a Doc "Possum Pest'' workshop, he dismissed the oft-quoted figure of 70million possums, was a "back-of-a-cigarette-packet'' calculation.
He told Doc managers, even accepting the highly exaggerated figure, 70million possums would gobble only about a fifteenth (7%) of the new foliage produced every 24 hours by forests.
Doc, after peddling the fictitious 70million possum figure for decades, has recently reluctantly revised that to about 35million - probably still far-fetched.
But accept the 35million figure and possums would consume only 3.5% of new foliage.
Is that a forest pest? 
The"bush'' as we affectionately know it, has been browsed not just since European settlement but for millions of years. Several species of moa and birds such as takahe, kakapo, kokako and pigeon were vegetarian browsers.
Moa were exterminated by intensive hunting and habitat destruction by early Maori.
Following the moa extinction, New Zealand's vegetation entered an "unnatural'' phase (AD1400 to AD1850) as world-eminent New Zealand ecologist the late Graeme Caughley described it.
Dr Caughley said up to "about AD1400 the herbivore component of the plant-herbivore system was dominated by a large number of avian grazers and browsers''.
Following the disappearance of moa, the plant composition would have changed markedly, but "plant-herbivore systems were again established after 1850, this time with mammals as the dominant herbivores''.
Dr Caughley then added, "the only safe guess ... is that the pre-1400 plant-herbivore system was closer ecologically to the post-1850 system, than either was to that existing between those two dates''.
What was the bush like in 1642 when Abel Tasman sailed the coast or 1769 when Captain James Cook landed, or when in 1840 the Treaty of Waitangi was signed?
Almost certainly it was unnaturally dense, because it was largely not browsed as several million moa had done so for more than 60million years.
It is very likely about AD1000 the forests were open with kakapo and moa trails and their browsing opening them up.
The restoration of browsing by early settlers liberating deer and other game animals plus possums for fur and meat, to some extent restored the ecosystem.
Browsing is a necessity for the functioning of the natural ecosystem.
The defensive mechanisms Nature has evolved (e.g. divaricating "basket-weave'' shrubs, thorns - for example bush lawyer, stinging nettle - and even toxins - for example tutu, native orchid, oxalis, dracophyllum, St John's wort) and the aggressive ability of "pruned'' trees to re-sprout, point to heavy browsing in pre-Maori millenniums.
Yet, Doc, urged by irrational extreme green organisations, dogmatically sees the introduced wild animals as ecological pests.
At the same 1996 conference at which Nick Smith decried "introduced dogma'', Doc manager Keith Lewis said "deer by their browsing are a threat to forest health''.
He thus revealed his and his department's total ignorance of ecological evolution and ecological reality.
● Lewis Hore is based in Oamaru and has about 50 years of back-country and wilderness experience. He describes himself as a conservation advocate.