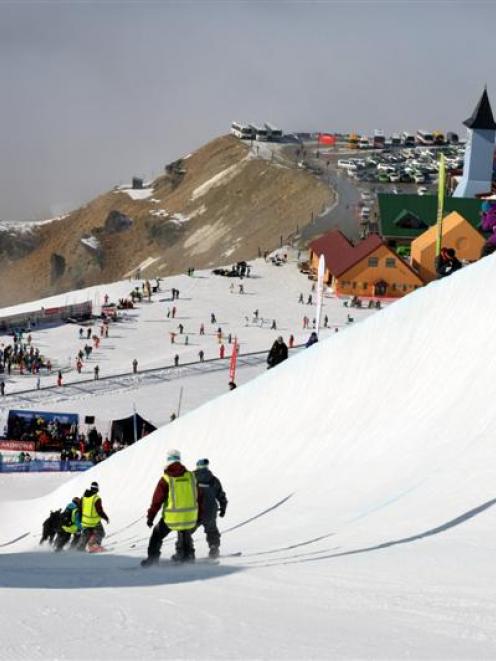 Laura Williamson finds out it's not easy being green when you love the white stuff.
I'M smug about sustainability. I recycle, drive a small car and dry my intimates on a clothesline. These things are good for the environment, and they allow me to sneer at the guy up the road who owns a Hummer.
''Hey buddy, haven't you heard of peak oil?'' I snarl, as I top up my Bokashi bucket. Global warming might do us all in, but when it does, it won't be my fault.
Or will it? It was last year, two weeks into another slow-starting ski season, when I started to wonder. A frightening number of tussocks were poking up through the thin snow cover, and it was giving me climate-change paranoia.
Global warming is scary for everyone, but it's extra scary for someone who loves the snow. It was my fourth trip to Treble Cone road in as many days, and the carbon credits were adding up.
Sure, I was using less fuel than Hummer-guy, but I was chewing through a heck of a lot more than, say, a jogger. It was dawning on me I might be part of the problem, too.
When it comes to being green, skiing isn't the best. Skiers by definition like to hang out in alpine environments, and sometimes it's a big footprint we leave.
Parking lots, lifts and base buildings scar once-pristine landscapes, snowmaking sucks up power and water 24/7, and it's a rare snowsports enthusiast who doesn't love to roar up the mountain road in a gas-swigging four-wheel-drive, after a big dump.
Guilt, and tussocks, aside, I had a fantastic time on the mountain that day. Pockets of chalky powder beckoned in the shadier gullies and the lack of white stuff kept the crowds away. The sun shone bright and high, and the infinite repeating peaks of the Southern Alps were iridescent.
I'm not going to give up skiing. And in New Zealand, skiing means snowmaking, generators and driving up mountain roads. This is my inconvenient truth. So how do I reconcile the conflict between my beliefs and my passion?
To begin, I try to ski as sustainably as possible.
I drive slowly up and down the mountain, and pick up hitchhikers whenever I can. This means less fuel used per person (as well as a spare pair of hands to help with chain duty and gear cartage).
I try to buy, and promote, equipment that is manufactured with the environment in mind; New Zealand's own Kingswood Skis, for example, was the world's first carbon-neutral manufacturer of skis. And the market is awash in green gear, such as reusable heat packs, petroleum-free ski wax and socks made with recycled polyester.
These products don't necessarily cost more - I just do a little research before I kit up.
As for the unavoidable crimes against the environment I commit each winter, I try to make up for them in other areas. In the off-season, I ride my bike for transport, shop with cloth bags, compost, turn my PC off at the wall and grow my own veges. Is it enough? I don't know. But I'm doing my best.
And then there is this: I may burn a few petrol fumes on the way up, but once I'm in the mountains, I know I'd do anything to save them. And so would anyone else who loves to ski.
At the end of the day, for all its infrastructure and machinery, skiing introduces a huge number of people to the outdoors, a lot of whom would never set foot in the wilderness without the aid of chairlift, edges and wax.
On a warming planet, the mountains will be hit first. And because of snowsports, a whole lot more people are going to care.
Laura Williamson is a freelance writer based in Wanaka.