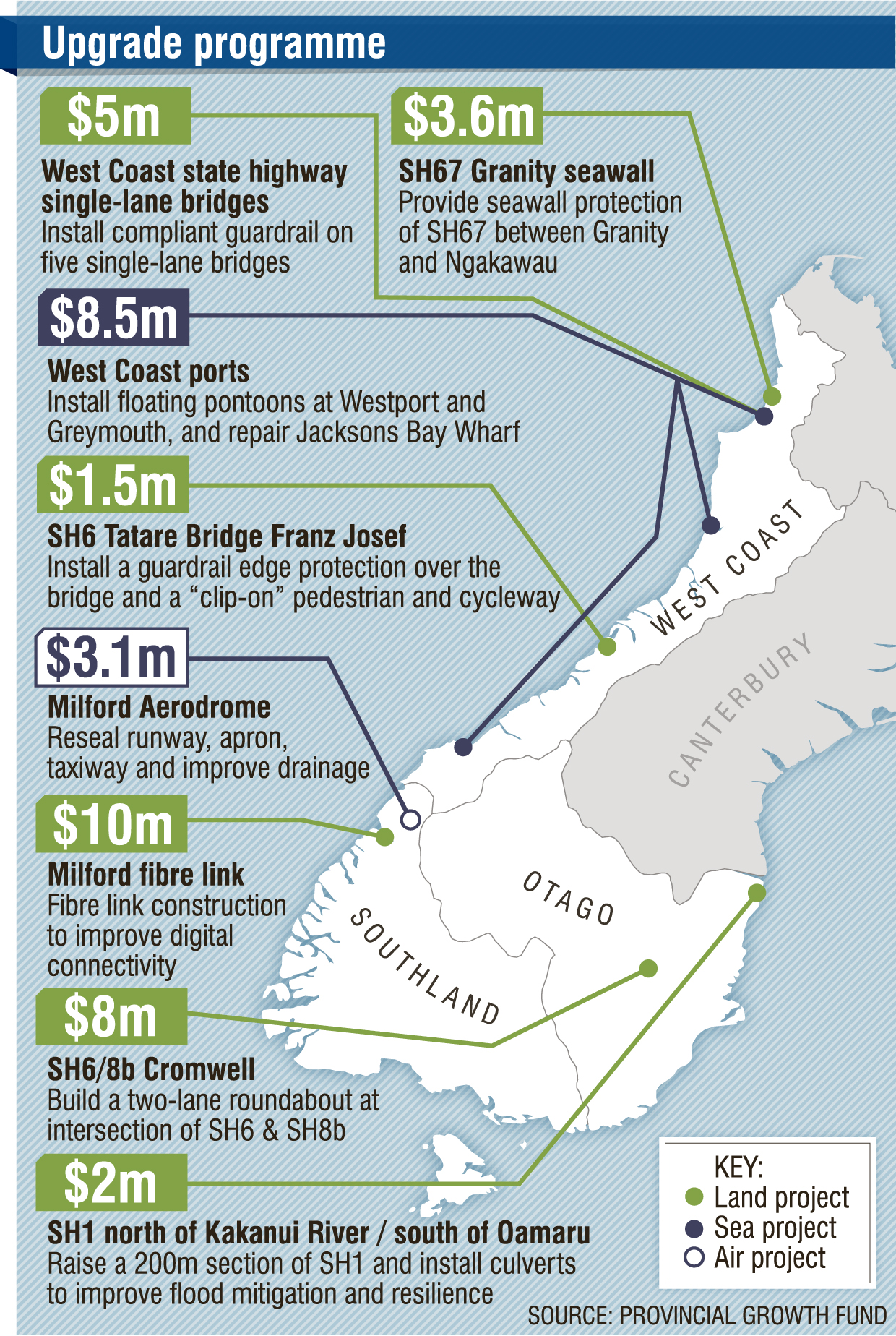 Otago, Southland and the West Coast are in line for a $23million funding injection to help address a range of infrastructure issues, Regional Economic Development Minister Shane Jones announced yesterday.
About $300 million of a $12billion funding pool was allocated for regional investment opportunities, administered by the Provincial Development Unit, when the programme was announced in January this year.
Mr Jones announced $2million will fund flood mitigation work on a 200m-long stretch on State Highway 1 in North Otago.
The area north of the Kakanui River and south of Oamaru is prone to flooding which in recent years has forced the closure of the highway, in some cases for up to two days.
The section of highway will be raised and culverts installed.
Waitaki Mayor Gary Kircher was encouraged to learn of the investment in North Otago, and hoped more would follow.
"It's good news. When these events happen, the issue for Oamaru has definitely been cutting off north and south. With our main hospital in Dunedin, it is critical that road remains open."
"It's not the only place there's an issue, though. There's also an issue just north of Hampden that can be a problem area as well, so it will be interesting to see if that's been proposed to be addressed."
In Central Otago, news of an $8million two-lane roundabout at the intersection of State Highway 6 and State Highway 8B was welcomed by Cromwell Community Board chairwoman Anna Harrison.
She described the intersection as a "black spot" and recalled a serious crash there, involving tourists, about seven years ago.
While describing the Government's decision as "great" she recognised that not all drivers had a good understanding of roundabouts.
"I don't know if a roundabout is the best thing, or what would be better, but I'm hoping they've done their homework because it's a significant amount of money," Ms Harrison said.
Milford Sound will receive $13million for two projects.
The first is a $10million investment in an existing connectivity project announced last June, and $3million will be spent to upgrade to the Milford Aerodrome to reseal the runway, apron and taxiway and provide improved drainage at the aerodrome, a project the Ministry of Transport advised had to be completed within three years to keep it operational.
Fiordland Community Board chairwoman Sarah Greaney said it was positive news for the region, particularly as it did not have to be funded by ratepayers.
"Good infrastructure provides a sound basis from which we can continue to grow our economy. Improving connectivity was one of the key strategic outcomes that the Fiordland Community Board had on its community futures plan ... access to reliable services is critical for most business operations."
On the West Coast, an investment of $18.6million in roads and port infrastructure, including floating pontoons, guardrails on single-lane bridges, and a 1km seawall at Granity was announced.
Westport, Greymouth and Jackson Bay ports will share $8.5million.
Grey and Buller get $4million each to install floating pontoons, and Westland gets $500,000 to repair the Jackson Bay wharf.
A further $10.1million has been devoted to State highway improvements on the Coast.
Greymouth Mayor Tania Gibson said it would be able to replace most of the ageing wharves with floating ones.
The port had been struggling for years, and had become a bit of a burden for ratepayers: "This is huge for us."
It would help existing industry, and also paved the way for any potential new industries, Mrs Gibson said.
Buller Mayor Jamie Cleine, welcomed the Granity seawall, which he said would help not only those who lived here, but tourists passing through.
The port funding would allow it to move the port towards financial sustainability and help stimulate economic development in Buller.