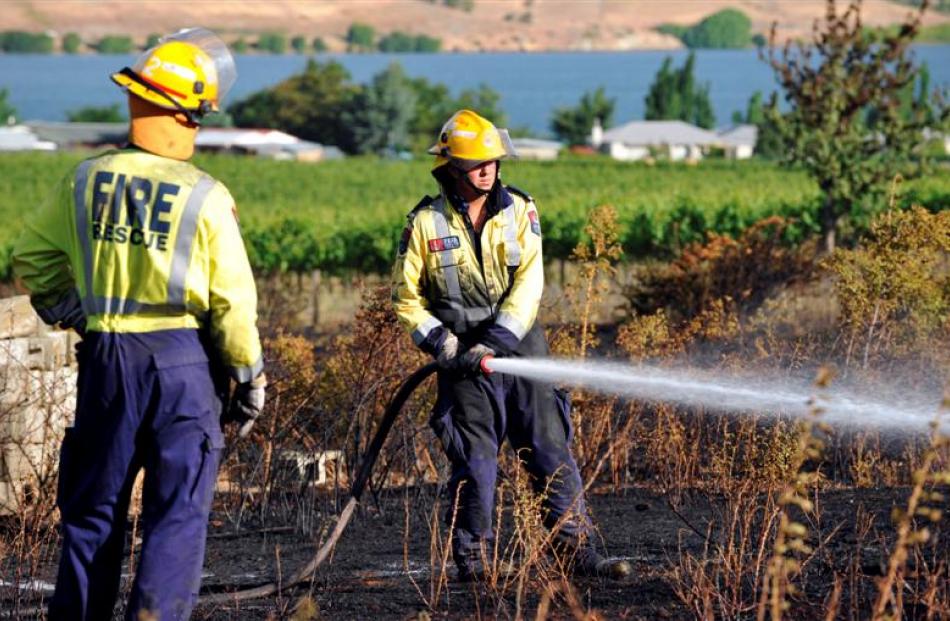 Volunteer firefighters extinguish a blaze which charred about 1.5ha of grass and scrub on a rural Lowburn Valley property north of Cromwell last night.
The fire led to a call for Central Otago residents to beware of ''tinder dry'' conditions and the need for any rubbish or heat source to be disposed of carefully. The Cromwell, Luggate and Tarras volunteer fire brigades were called to the blaze on Lowburn Valley Rd just before 5pm and about 25 firefighters spent three hours bringing the fire under control and dampening hot spots.
Cromwell senior station officer John Searle said it appeared the fire had been caused by burning rubbish or the ''bad'' disposal of ashes.
About 1.5ha of land was charred on a rural section, which was beside a vineyard.
No grapes were damaged.
''The big warning is it's tinder-dry out there and people need to be careful with the disposal of any heat source or burning rubbish in the open,'' Mr Searle said.
A helicopter with a monsoon bucket was placed on stand-by ready to fight the blaze, but was not needed.