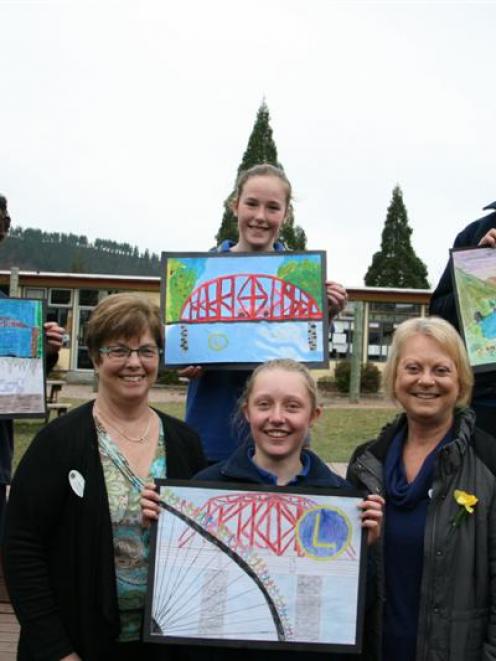 The winner of the Clyde and Districts Lions Club banner design competition was announced at Clyde Primary School's assembly on Friday.
The winning design was created by Neave McHugh Smith (12, front), flanked by club president Mavis Thornton (left) and club youth director Heidi Birgel.
Second place went to (back left), Emily Hecht Wendt (11). Esta Sharman (12, centre back) was highly commended, and Kathryn Smit (12) finished in third place.
The winning design features Clyde Bridge behind a large cycle wheel, with people linking hands to represent visitors and residents on the Otago Central Rail Trail.
It will be used as the club's official banner. Mrs Birgel said 66 pupils from the school had entered the competition to design a banner to ''capture the spirit and environment of Clyde''.
Mrs Thornton said the pupils produced some ''amazing'' art work.
The Lions Club began in June last year with 18 members, and has since grown to 44.
The club recently donated $1500 towards the purchase of a new bike trailer for the school.