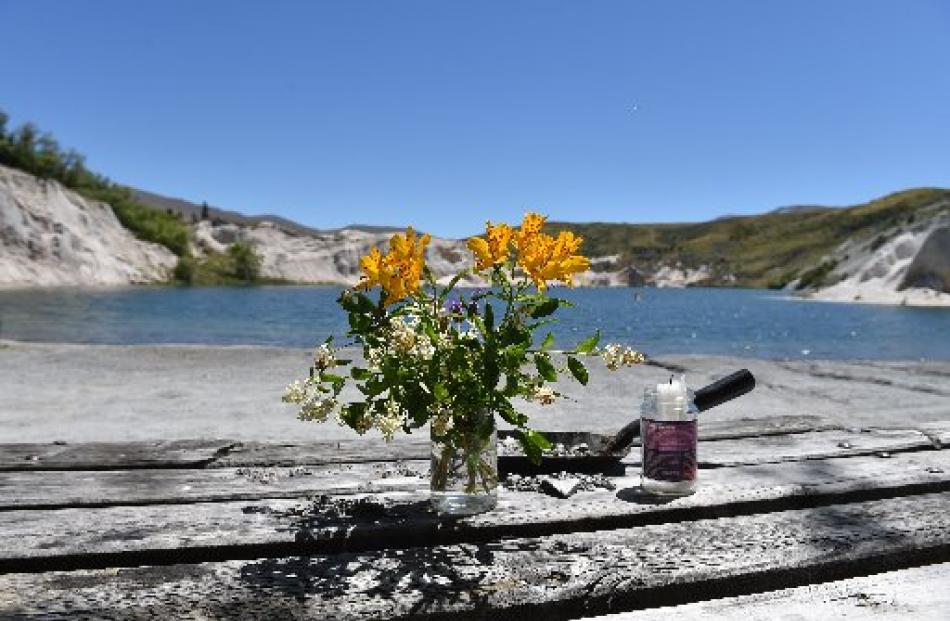 The St Bathans community remains in shock after the death of a 12-year-old boy in a boating accident on Blue Lake, with some calling for a ban on all boats.
The boy, whose name has not been released, is understood to have been struck by a passing boat after falling from a sea biscuit in the small lake on Saturday evening.
He and his mother were flown to Dunedin Hospital but the boy later died of his injuries.
Lorraine Bennett, who was speaking ''on behalf of many, many people'', said the man-made lake, which dates back to 19th-century gold-mining operations and is popular for swimming, fishing and boating, was not big enough for boats and an accident was waiting to happen.
''The community has been really concerned about the lake.
''It [an accident] could have happened at any time in the last few years because it's so small.
''It's no longer a small community with a couple of boats [at the lake], it's a Pandora's box.''
The Otago Regional Council met residents several years ago to discuss changes to boat rules on the lake and a compromise was agreed.
It was decided no boats would be allowed to exceed five knots at the southern end of the lake and the same rule would apply to the rest of the lake between 10am and 3pm, ORC harbourmaster Jeff Donaldson said.
A maximum of three boats would be allowed to exceed five knots on the rest of the lake outside those hours.
The lake was also governed by general rules under the Maritime Transport Act, Mr Donaldson said.
But Ms Bennett said not everyone had been comfortable with the outcome of the meeting.
''There were compromises made but they haven't worked, have they?
''There shouldn't have been a death and now there has been, and that's not right.''I'm speaking for a lot of people and sticking my neck out here.
''We always thought it would be a swimmer [involved in an accident], but it's actually ended up being the boats themselves.''
Visitors to the lake did not feel safe swimming there and there was a blind spot behind corners at one end, Ms Bennett said.
Another resident, who did not want to be named, said she felt too sick to talk about the accident.
''I'm just very, very pleased there's no boats on the lake today.''
Many people took to Facebook to voice their support for banning boats on the lake.
''We go camping at this lake every summer and it is way too small for motorboats,'' one person said.
Another Facebook user agreed.
''We used to go there as kids and I can't see how it could be safe on a hot and busy day, with boats boosting around.''
However, some people opposed a ban, saying it would be a ''kneejerk reaction'' and calling for boat users to take more responsibility.
Mr Donaldson said the council had been asked by Maritime New Zealand to oversee the compromise between the boating fraternity in St Bathans and recreational users such as swimmers and kayakers.
''It was a community-based initiative, and we were a mediator. Those rules have been in place for about six years and this is the first incident we've had.''
Mr Donaldson would not be drawn on whether the rules needed to be reviewed as a result of the ''very sad'' incident.
''Until the investigation is completed, we don't know whether the rules were compromised in any way.
''We'll make comment on that with Maritime NZ after the investigation is completed.''
Central Otago police and a Maritime NZ representative were continuing a joint investigation into the incident yesterday.
A scene examination was being completed and further inquiries over the next few days would determine what caused the accident, police said in a statement.