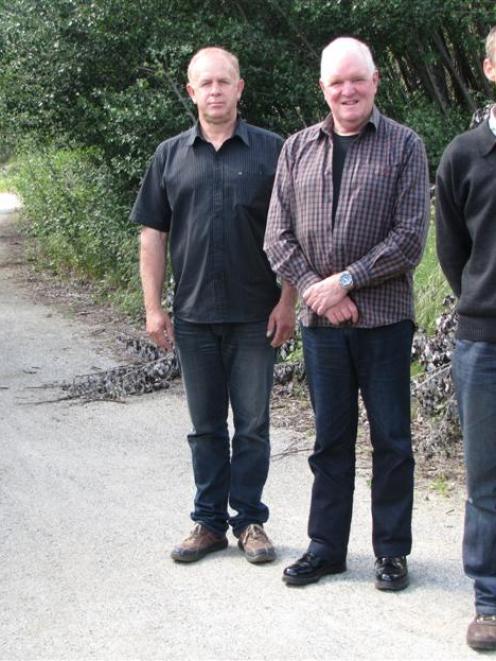 Construction has begun on the first 10km of the controversial Roxburgh Gorge cycle trail but the trail trust has already hit the first snag.
The trust yesterday announced construction had begun last Tuesday, but they recently discovered they were in the wrong as to the exact whereabouts of the marginal strip they had intended building on around Bruce and Leigh Johnston's property.
Previously, trust chairman Stephen Jeffery had said he was confident in the survey the trust had done with old cadastral maps and GPS to determine where that part of the marginal strip lay.
However, the Johnstons disputed that and commissioned their own formal survey.
"It wasn't in the trust's favour," Mr Jeffery said.
"It means it was hard to get past before and is even harder now."
Project manager Tim Dennis estimated the track had to be shifted "by a metre or two" as a result of this new information.
Mr Johnston said they were happy they had commissioned the survey which "has confirmed our concerns".
The work that has so far taken place is between 1km and 1.3kms out of Alexandra, from the edge of the Johnstons' property back towards Alexandra.
Though Mr Jeffery declined to give the exact cost of this section, he said it was about $900,000 which was coincidentally the same amount the trail was expected to directly contribute to the local economy in its first year. This is expected to rise to $2 million in year five.
On Monday, the trust met river users including members of the Alexandra Boat Club, Contact Energy, Clutha River Cruises operator Steve Toyer and Lake Dunstan harbourmaster Shayne Hitchcock to discuss safety issues arising from the blasting work which needs to be done to clear rocks.
Mr Toyer had previously spoken out about how dangerous the blasting would be for anyone using the river at the time it occurred.
In order to mitigate this the health and safety policy of the contractor had been "beefed up" Mr Jeffery said.
Signs will be placed at Clyde, Alexandra and Roxburgh warning people about blasting, also buoys would be in the water and any blasting activity would be advertised in newspapers and with commercial operators.
People, in radio communication with those doing the blasting, will be specifically assigned to keep an eye out for anyone on the water.
Mr Hitchcock said while it could "never be foolproof", he was confident those measures would work provided people read the signs and adhered to warnings.
Mr Toyer said while he thought this issue should have been discussed long before now, he was also confident in the measures and the "meeting had achieved a result".