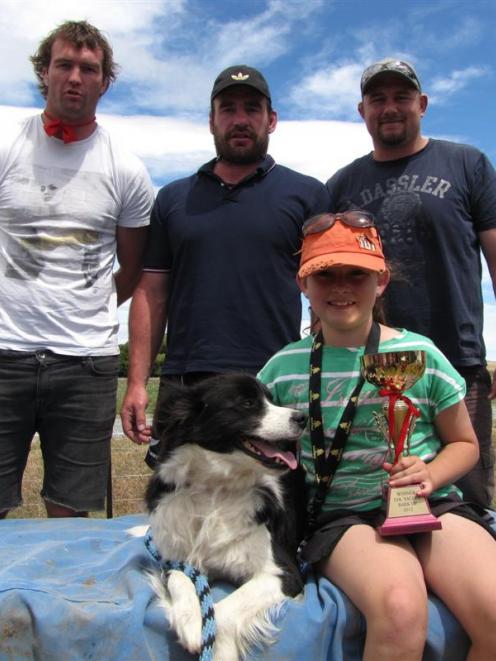 Obedience, a loud bark and the way a dog holds itself were the things Ida Valley Bark Up judges Andrew Hore and Tony Woodcock were looking for at the Poolburn Hotel yesterday.
The All Blacks were back for their second year as judges for the Poolburn School fundraiser and had roped in a few friends - Hurricanes lock Jason Eaton, David Johnson, of Auckland, and Hore's fiance Frankie Lister - who were tasked with judging the children's section.
About 20 children and their dogs entered the competition which started with the dog jumping on to a table and barking, then running up a plank, across some hay bales, through water and finally weaving through some fence posts before running back to the judges.
Shaye Scott (11), of Poolburn, was declared overall winner of the children's section for her dog Jazz's ''great bark'', Eaton said. Second and third places went to Dominic (13) and Frano (11) Flannery, also of Poolburn, with dogs Faberge and Coco.
Soon after the children's competition, it was time for the parents to strut their stuff, judged by Hore, Woodcock, Hore's dad Jim and Ms Lister.
Winner of the adults section was Elliott Heckler, of Omakau, with dog Brin.
Rounding off the day was a mystery bottle auction.
Poolburn School principal Craig Hickford said the whole day, which began with a market, was organised by the school's 30 pupils, including market testing their products and an advertising campaign. It was the culmination of seven weeks of studying a ''trade and exchange'' topic, he said.
An early tally was a ''spectacular'' $5500 which would go towards a refurbishment of the school pool.