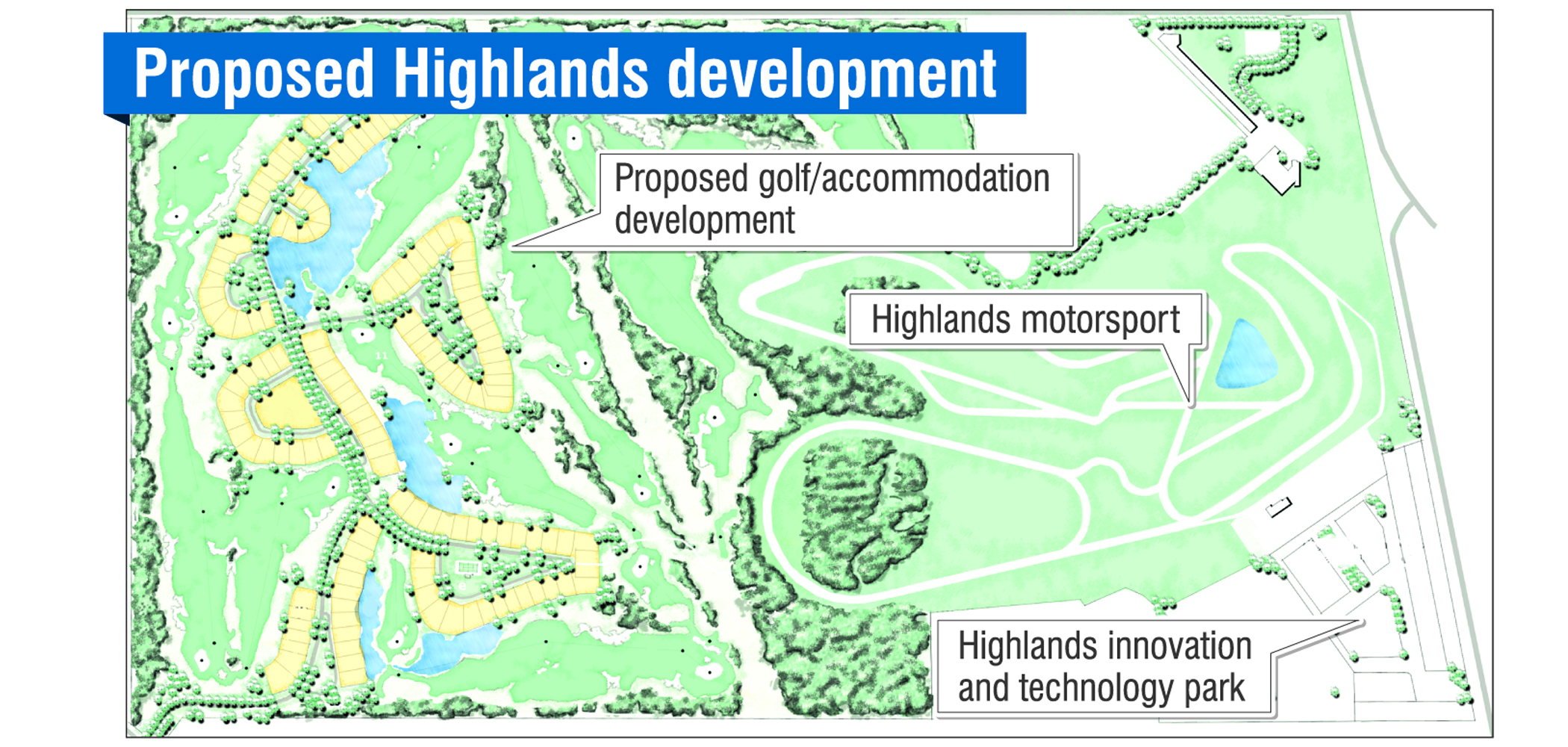 The owner of Cromwell motorsport park Highlands is planning to develop a  multimillion-dollar world-class golf resort.
Owner Tony Quinn wants to build a landmark 18-hole course and 100-section property development — an estimated $40 million project.
"There are 58ha of forest down the back of the racetrack," Mr Quinn said.
"If we can buy the land and get consent from the council, then the plan is to build a world-class golf course and residential development next year."
Mr Quinn, who built his racetrack facility in  18 months and opened it  in  2013, has  drawn up a masterplan  in conjunction with  New Zealand golf course designer Brett Thompson and former Kiwi golf pro Phil Tataurangi.
Mr Thompson managed the design of Jacks Point, Clearwater Resort, The Hills and Windross Farm in Auckland.
The plan is to showcase the natural environment with an inland links-style course.
Mr Quinn said Grant Aitken, of Queenstown, convinced him it would be a good thing for Cromwell and Highlands members.
"It wasn't my idea," Mr Quinn said.
"I've never been interested in golf. It doesn't help that I'm useless at it.
"It's succession planning. When our members get too old to drive cars, they can hop in a golf cart and play 18 holes."
Mr Quinn said when he first visited Cromwell to view the motorsport park land, the mountains reminded him of the Scottish Highlands in his home country, where golf originated.
Highlands is  a major Central Otago tourism attraction.  Its track experiences, museum, go-karts and other offerings draw motorheads, tourists, tour groups and conference and incentive groups.  Mr Quinn said the course  would complement the motorsport park and  be a "beautiful spot" to build a home.
"Golf tourism has overtaken the ski business in Central Otago and people come to Queenstown for a week and they play at Millbrook, The Hills and Jacks Point.
"Golfers like to play a different course every day and we can offer something very special.
"They can come to Highlands and play golf in the morning. They can have lunch in the cafe, have a drive around the track and do the wine-tasting experience in the museum in the afternoon.
"We can offer them the full package."
The course is aimed at the high-end tourist dollar,  and  the 100 residential sections will offer fairway views in the foothills of Bannockburn.
All residents will get golf course membership while existing Highlands members, and those of Auckland's Hampton Downs, also owned by Mr Quinn, will enjoy the benefits of the golf resort.