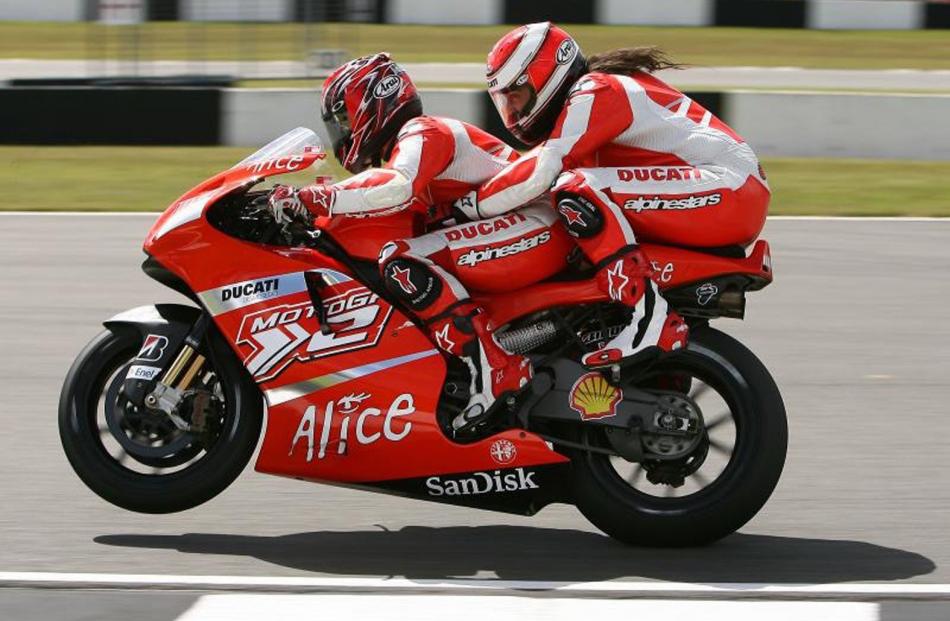 A philanthropic American motorcycle racer who so impressed Princess Anne that she became patron of his charity has returned to the country where his career began. Peter Donaldson caught up with Randy Mamola in Arrowtown.
Randy Mamola's first visit to New Zealand was back in the mid 1970s. As an unknown 15-year-old - freckle-faced with a crop of red hair and an easy smile - the brash upstart from California made his mark and went on to post an impressive international record.
The brashness has long been replaced by charismatic charm. And though the red hair has gone, the familiar smile remains.
In the past week, he has caught up with old friends, ridden the back roads of Wairarapa with Belgian-born wife Barb and this weekend will be the star guest at the Mike Pero MotoFest at Hampton Downs, in Waikato.
Over 13 years in 500cc world championship racing, Mamola was runner-up four times and finished in the top 10 11 times, making making him one of the most talented riders never to have won a world title.
He was also one of the most popular, his full-on riding style and entertaining demeanour winning fans worldwide.
Earlier this year, motorcycling's world governing body named him a ''Grand Prix Legend''.
But it is his commitment to Riders for Health (RFH) of which the 58-year-old is most proud.
The charity he helped found now has more than 1700 motorcycles in seven African countries delivering medical support to more than 20million people.
Mamola began his philanthropy work in 1986, while still racing, when he became involved with Save the Children, giving 20% of his income.
As a co-founder of RFH with Barry and Andrea Coleman, he worked within the Save the Children framework.
''We raised more than 100,000 ($190,000) over the next couple of years.
''That's when Princess Anne found out I was a giving person and asked me to visit Africa.
One of the biggest problems Save the Children had in Africa was accessing remote villages to immunise children.
''Barry and I went to Somalia. As motorcyclists, we noticed the state of the bikes, broken down, or abandoned by earlier aid workers.
''Bikes were my tools of trade and that's where the structure of Riders for Health came about.''
Working with Save the Children and local governments and using money raised at bike events in England, they set up pilot programmes in Uganda and Gambia, and helped acquire motorcycles and train riders and technicians.
They built a fleet of 47 bikes in Lesotho that were used by doctors, nurses and medical providers to deliver healthcare services. Backed by a technical support team, from 1991 to 1996 not one bike broke down.
Mamola was also responsible for Princess Anne making appearances and several high-profile motorcycle events.
''That was cool, having a member of the Royal Family coming to bike racing. She also noticed how close-knit the bike racing community was.
''I mentioned only 40% of the money riders and fans were raising for Save the Children in Lesotho ever went to Riders for Health.
''That's when she told me to make it our own and she would become our patron. She wanted all our fundraising to go to Riders for Health programmes.''
As an independent organisation, RFH then expanded into Ghana, Zimbabwe and Nigeria.
''We now have support programmes in place in seven African countries.
''Riders for Health employs more than 400 people in Africa and it is not uncommon for our bikes to go for 150,000km without a breakdown.''
Mamola said typically a technician would go into the bush and check a bike every month or 1000km.
''We go to the bikes. That way they are never out of service.''
The organisation also services about 200 United Nations vehicles.
RFH has also diversified its fleet to include refrigerated trucks, minivans and ambulances and introduced a motorcycle fitted with a sidecar that can be used as a mini-ambulance.
RFH programmes have made a huge impact.
Now, no child immunisation clinic in the Gambia is cancelled because of transport failure. The child immunisation rate in the Gambia is about 97%.
In Lesotho, anyone tested for HIV, however remote the clinic, with get a result within six days. Previously, it often took up to three months.
In Liberia, 78% of suspected samples of the Ebola virus will now be at a laboratory within 24 hours. In the past, 75% of samples took more than 24 hours to reach a test facility.
Mamola remains the organisation's figurehead at motorcycle events across the globe, helping raise money by cajoling racers to give their helmets, clothing and other items for auction.
His fundraising activities also include taking members of the public for a fast lap around a race track aboard a special two-seater 300kmh Ducati MotoGP bike.
''Last year, at the Day of Champions at Silverstone, we raised more than 40,000 ($76,000) from the rides. Some people bid up to 5000 ($9500) for a ride.''
The total raised at the event was nearly 240,000 ($456,000).
His appearance at Hampton Downs will also be an opportunity for a catch-up with his one-time Suzuki team-mate and bitter rival Graeme Crosby.
They first clashed in New Zealand back in the 1970s when Mamola disrupted Crosby's pool game. But by the 1980s it was much more serious.
''That was a long time ago. We are great friends now,'' Mamola said.
''Back then I was young, maybe 20 or 21, but with the maturity of a 16-year-old. Graeme was a little older.
''But we were team-mates and the first person you ever want to beat is your team-mate. You do almost anything to achieve that.''
Mamola is looking forward to some friendly sparring again with Crosby, especially during the Saturday night gala dinner when old racing stories will be recalled and no doubt embellished.
-By Peter Donaldson