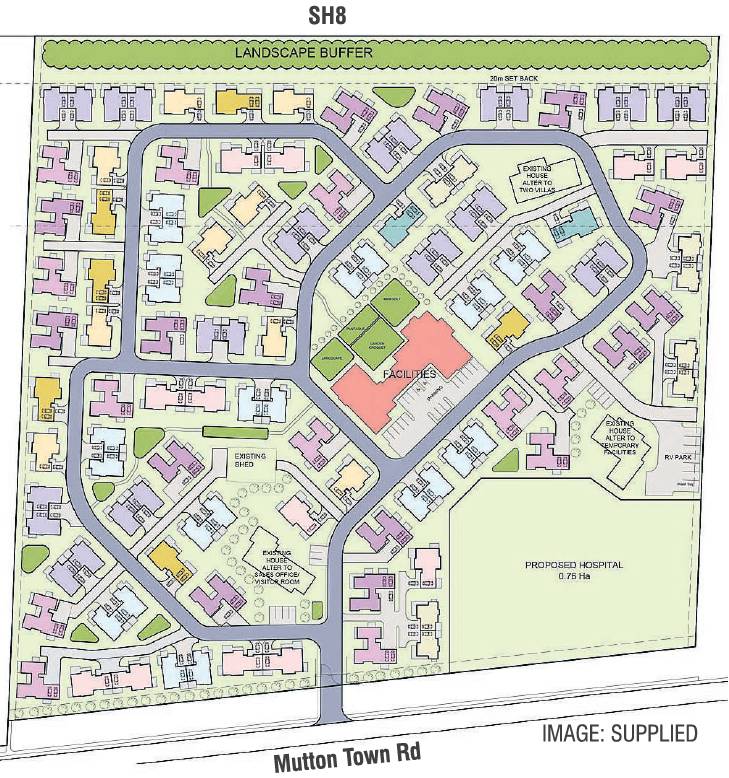 A 120-villa retirement village and 60-bed aged-care hospital at Clyde will go ahead after part of the land originally tagged for the development has been listed for sale.
More details are set to be released soon as developer Pat Houlahan yesterday allayed concerns the development was off the table.
Those concerns came after a 6.14ha parcel of land bordering Muttontown Rd, Sunderland St and State Highway 8 originally tagged as part of the plan was listed for sale.
Instead, Mr Houlahan said plans for an updated vision of the development, which will include the 120 retirement villas and a 60-bed hospital comprising 20 dementia beds and 40 general beds on 7.8ha of land between State Highway 8 and Muttontown Rd were being finalised and further details such as a name for the village would be released next month.
He would not be drawn on a price for the development but said an estimate would be made available when further details were announced.
Originally, the plan was wider in scope and covered about 12ha of adjoining land owned by Mr Houlahan and Mark Laing and had an estimated price tag of $200million.
Mr Laing's block is listed for tender as a subdivision opportunity with Property Brokers Alexandra and the tender closes on September 22, unless sold prior.
Despite the decision being straightforward, the listing had raised some questions, Mr Houlahan said.
''I received a lot of texts and calls but we're still going ahead and we have enough land to go ahead.''
The original plan was for 164 retirement homes, an 80-bed dementia care unit and a subdivision of 36 sections and it required the Central Otago District to rezone the rural resource area land to residential resource area land, known as plan change 15.
The requested plan change was accepted by the council in June 2020 and publicly notified in August, which drew 22 submissions.
The CODC's Hearings Panel considered the plan change in November and released its decision recommending the council accept the change the next month.
An appeal period ended in February and with no appeals, the council accepted plan change 15 in March.
Mr Houlahan said he and Mr Laing had parted amicably and access from the development to Sunderland St would still be provided across Mr Laing's land.
That accessway would hopefully progress a resource consent application for the updated proposal to be lodged with the CODC next month.