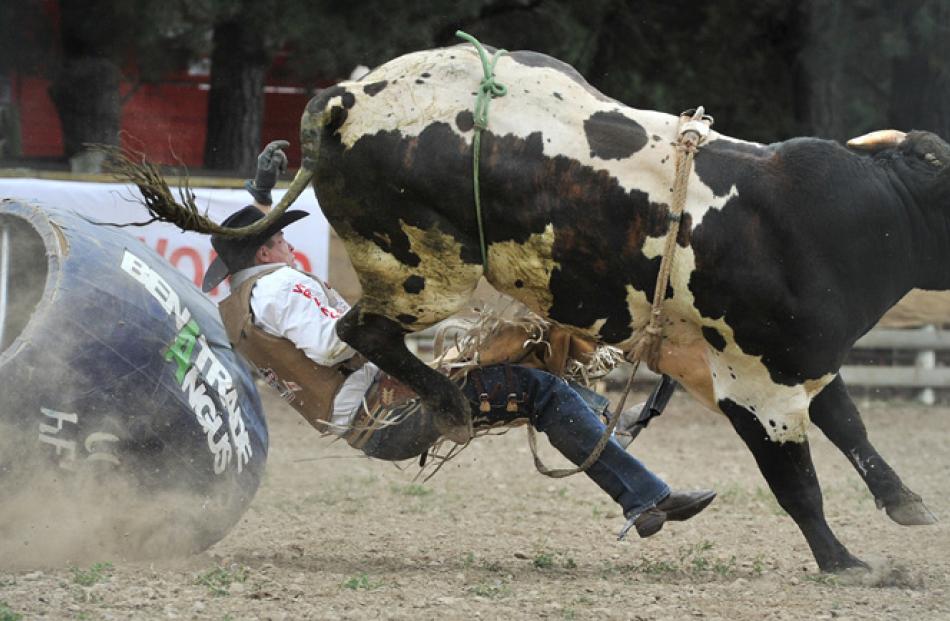 There were cowboy hats aplenty in Millers Flat yesterday, as well as woolly hats, blankets and winter jerseys and jackets.
It was the 49th annual Millers Flat Rodeo and in stark contrast to the sweltering Christmas Day the region experienced, it was overcast and chilly.
Rodeo club president Blair Johnston blamed the weather for the lighter than usual audience which he estimated to number 1800, about 200 less than last year.
However, the weather did not dim the enthusiasm of the almost 200 cowboys and cowgirls - or the rodeo clown, Festus.
Richard ''Festus'' Robinson, of Dunback, said it was his job to ''make a spectacle of myself and stop people getting bored''.
He has been ''in the sport since I was a wee nipper'', starting off riding the sheep and moving his way up to bullfighter.
For the past 20 years, though, he has donned the bright clothing and face-paint because '' I'm a bit fragile now''.
''It's just something to keep me in the sport ... it's good to come and catch up with everyone. Rodeo is like a big family, really.''
For Brendon Johnston, of Ashburton, yesterday was just his third rodeo, competing in the youth (under 15) steer riding event.
He said his mother, Angela Laing, had brought him to a rodeo when he was 3 years old and he had been hooked ever since.
Although he admitted he was not so sure about one day riding the big 900kg bulls, he was going to continue in the South Island circuit.
First place in the youth steer-riding went to self-confessed ''adrenaline junky'' Libby Bent, of Tai Tapu.
While she was happy with her win, it was bittersweet.
''I'm not allowed to move up to the second division [the next level up in the event] 'cause I'm a female ... it's quite gutting.''
She said she was allowed to ride in that class at practice and training days, but not on competition days, although she was determined to do so one day.
''My aim is to get in the open [class].''
No-one the Otago Daily Times spoke to yesterday seemed to know why bull riding was a male-only sport.
Some thought it was a traditional rule that went back quite some time, while others thought maybe it was because of the risk involved.
Not even Mr Johnston knew the answer, although he did agree the risk to both male and female would surely be the same.
He said he thought if a woman wanted to compete in that class, she could make a special application.
The winner of the main event, the open bull ride which Miss Bent hopes to compete in, was Andrew Jamison, of Blenheim. He took home almost $500 in prize money.
St John Te Anau paramedic John Lambeth said there were no serious injuries throughout the day. All were ''consistent with a rodeo''.
He said one cowboy was taken away with two broken wrists and another with a broken collarbone, ''but those guys are all pretty tough''.
Otago SPCA chief inspector Virginia Pine was on duty to ''ensure that codes of [animal] welfare are adhered to''.
She said while SPCA policy was ''against use of animals for entertainment, full stop'', she did not see any breaches of standards yesterday.
Senior Constable Jacqui Lambeth said it was a well-behaved crowd. No arrests were made.
The event was the first of a circuit which will continue in Waimate today.