Weather is continuing to cause problems in the South after the region was lashed by wild winds yesterday.
In Southland, the district council advised tonight that Mimihau School Rd is closed due to surface flooding and Frazer Rd, at Waiarikiki, was also closed.
Elsewhere, there was widespread minor surface flooding across the Southland District roading network - particularly in the Thornbury and Ermedale areas - and Edendale-Wyndham.
Care needed to be taken when travelling in these areas. 
There is surface flooding on West Plains Rd in Taramoa, which will be monitored during high tide, the council said.
In Central Otago, the NZ Transport Agency this afternoon issued a wind caution for State Highway 8 between Alexandra and Roxburgh, saying extra care was required especially for motorcyclists and those driving high-sided vehicles.
Earlier in the day, the Dunedin City Council warned of minor surface flooding in some places, and urged drivers to take care on roads.
The council said on its Facebook page contractors were checking road conditions, gutters, mudtanks and pumping stations and are responding as needed. There were no rain-related road closures in the city.
There was flooding on Dunedin's Southern Motorway early this morning but shortly after 9am NZTA advised this had cleared. 
Police attended one non-injury crash on the motorway near Green Island, and a fallen tree blocking a road in Mosgiel.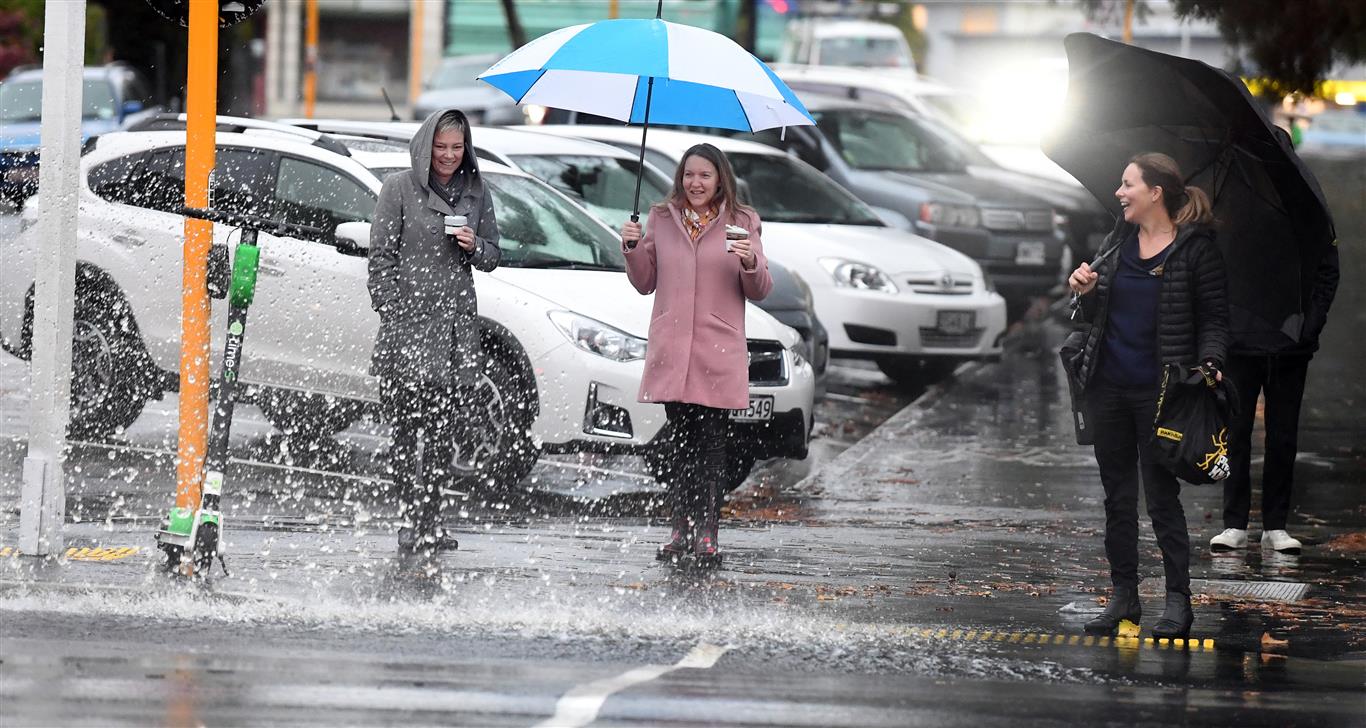 The rain comes after high winds yesterday knocked out power to parts of the South - including some Dunedin suburbs - and toppled trees in Clutha.
The wild weather resulted in the MetService issuing a warning for severe south-to-southwest gales reaching 120kmh in coastal Clutha, and a watch for similarly strong gusts in Dunedin and North Otago.
The strong winds may continue in exposed places through to this afternoon.
In Dunedin yesterday, homes in Andersons Bay, Highcliff, Waverley and on Portobello Rd lost power about 8.30pm.
Inland, there were outages in Hawea, the Teviot Valley and Waitahuna.
Fire and Emergency New Zealand crews in Dunedin were also kept busy with callouts to secure roofing iron.
The wind also felled trees further south, the Clutha District Council posting online it had received multiple calls about downed trees blocking roads, and asked locals to avoid non-urgent travel.
At South Port in Bluff, several containers were blown off a stack, some falling into the container yard and berth yesterday.
South Port chief executive Nigel Gear said the container terminal was closed until wind conditions improved and could not say how many had fallen.
He said the containers, which were empty, were blown off a five-high stack but by mid afternoon had been "pretty much all secured".