Police and the NZ Transport Agency are calling on southern motorists to delay or avoid travel as the region is deluged by heavy rain which has flooded dozens of roads.
State Highway 8 is this evening closed between Milton and Alexandra, following an earlier closure and reopening around Roxburgh today. The NZTA says there are multiple slips between Raes Junction and Clarksville,
The NZTA has a caution in place on State Highway 1 from Milton through to the Waitaki district, and says due to surface flooding road users are advised to take extra care.
The agency said strong winds were bringing down branches in many places making driving hazardous. It is urging travellers to avoid any non-essential travel today and tonight.
Gordon Rd in Mosgiel (State Highway 87),  was closed for a time between Cargill St and Bush Rd, but has reopened.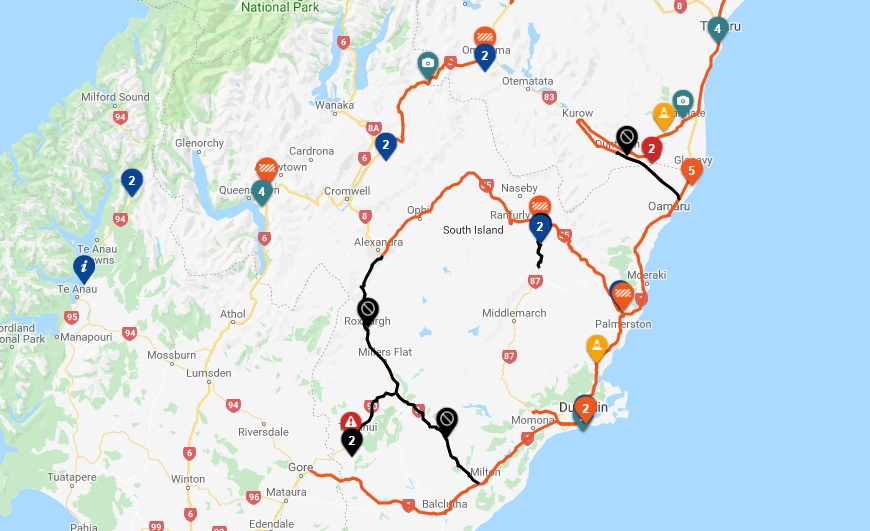 SH90 is closed between Raes Junction and Tapanui owing to a drop-out, and at the Pomahaka River Bridge south of Glenkenich, owing to flooding.
In North Otago, SH83 is closed between Pukeuri and Peebles, due to flooding between Seven Mile Rd and Pukeuri.
There are multiple warnings in place owing to rain and, in some places, snow.
Amid the warnings, fire crews were called out after a man became stuck in floodwaters near Kaitangata this afternoon.
Crews from Balclutha and Kaitangata were alerted to the incident about 4.50pm, following a day of continual heavy rain and overflowing waterways.
The man was believed to be trapped in his vehicle in about 1.5m of water near the intersection of Lakeside and Station roads, Lovells Flat.
A tractor was also attempting to reach the vehicle to tow it to safety. 
The Clutha District Council this afternoon said it was continuing to monitor the rain, and Lawrence was being hit the hardest with flooding and road closures.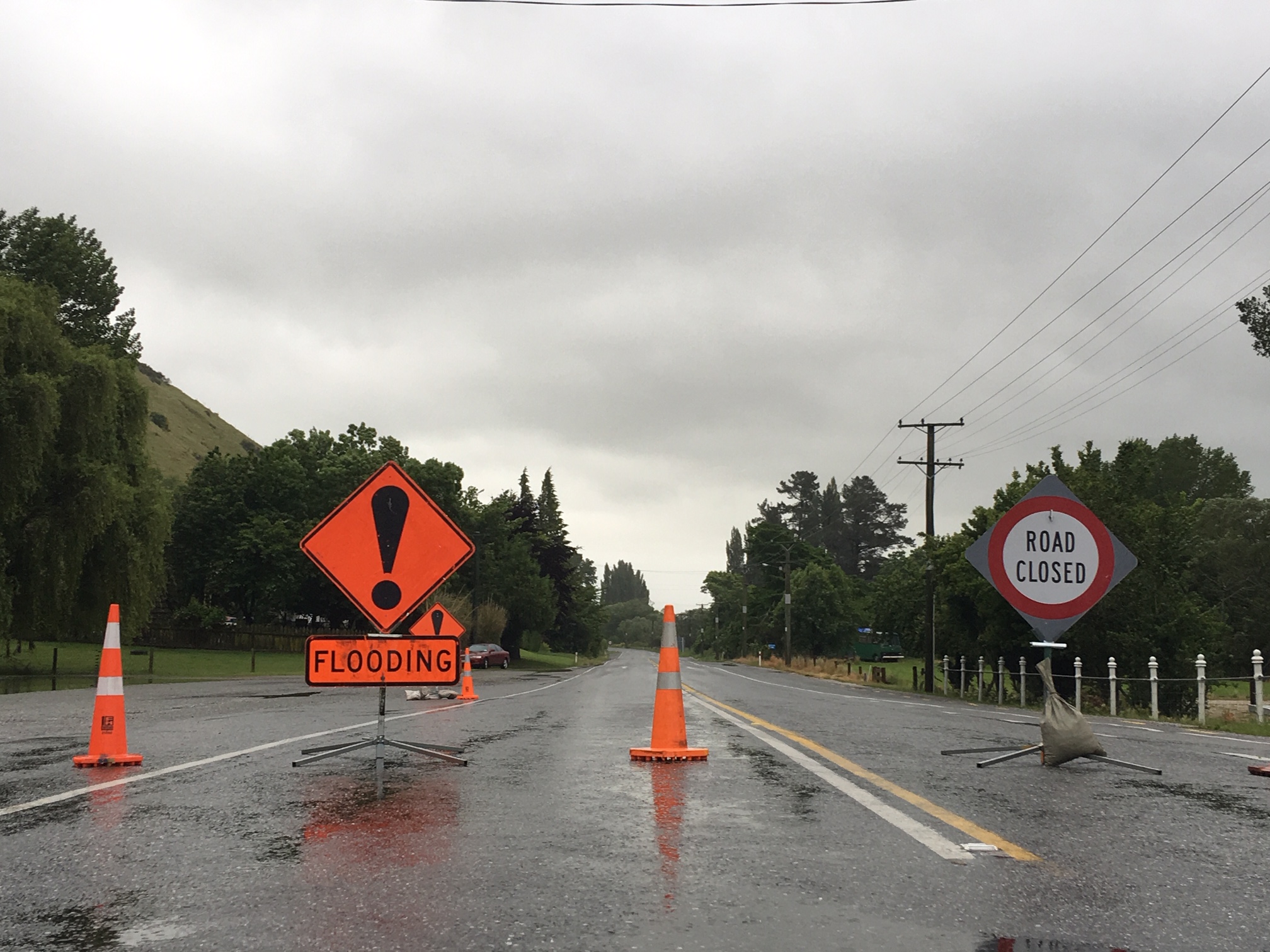 Surface flooding and slips were also possible across the network, and the council was advising all Clutha residents to avoid unnecessary travel and stay off the roads if possible.
North of Dunedin, the Shag river rose this afternoon to a flow of 192 cumecs from a low of five cumecs on Sunday. 
Switchback Rd and Craig Rd were both closed by floodwaters, and there is considerable surface water on SH85 between Palmerston and Dunback.
Earlier, MetService meteorologist Ravi Kandula said between 40mm and 60mm of rain had fallen in Dunedin and North Otago in the last 24 hours and 30mm to 40mm in parts of the Clutha District.
A warning remained in place for eastern Otago until 7pm today and steady rain was expected to get heavier this afternoon when "significant" falls were expected, Mr Kandula said.
The heaviest rain was expected to fall about 4pm in Dunedin.
Meanwhile, the Otago Regional Council issued flood warnings for rivers and streams across the region, as the Taieri River began to flood.
Rainfall overnight was higher than forecast, and water was spilling into the upper pond of the lower Taieri Flood Protection Scheme.
Landowners in the area had been contacted by ORC. 
The Clutha River at Balclutha was continuing to rise, and while there were no major effects at the moment, ORC continued to monitor the situation.
The Tokomairaro River was  still rising, and an emergency management team is monitoring this and also SH1 through Milton.
In Dunedin, the Water of Leith, Lindsay Creek and Silver Stream were coping well with water volumes butwere  being closely monitored.  
For the latest information on river levels around Otago visit this site.
The MetService said the rain had been heavy and persistent from Southland to South Canterbury.
SH8 through Roxburgh  was earlier closed due to flooding, but had reopened with stop/go traffic management after 12pm. However, this evening the road was closed again, owing to flooding.
The Lindis Pass on SH8 (Omarama to Tarras) is closed to heavy and towing vehicles due to heavy snow.
A slip on SH6 between Cromwell and Gibbston had been cleared.
In the Waitaki District 34 roads are closed or under caution due to flooding.
The NZTA has issued a surface water caution for SH1 between Oamaru North and Pukeuri and SH83 between Kurow and Pukeuri.
​​In Central Otago, heavy rain caused flooding at two culverts just north and just south of Roxburgh overnight. SH8 through Roxburgh was closed at its southern end. A police statement said the flooding had caused damage to a culvert.
Diggers were out overnight and early this morning to clear debris from a creek beside Quail Haven and another near the Roxburgh Golf Course. The golf course also has some flooding.
The Central Otago District Council is asking road users to drive carefully through Roxburgh as large equipment was on site.
Fulton Hogan this afternoon advised that in Millers Flat, School Rd was closed because of flooding, as was Ovenhill Rd, at the Timaburn Rd intersection. They would stay closed overnight. 
It is only six days to November 26, the anniversary of the severe flooding causing significant damage to Roxburgh township, several evacuations and loss of power and water.
There's also been flooding in Beaumont and Lawrence, where fire crews worked to clear drains this morning.
Fire crews from Lawrence and Waitahuna were called out to surface flooding on State Highway 8 in Lawrence about 6.35am. 
About 40cm of floodwater had covered the highway at the corner of Whitehaven St and Ross Pl, causing traffic to slow, Lawrence station chief Jason Hodgson said.
The flooding was caused by "backed up" drains in the area, and was cleared after pumping by about 8am.
The crews then attended a second call-out, to a flooded boiler room at Lawrence Area School. The school was closed today. 
Both incidents were dealt with by about 9.30am, Mr Hodgson said.
He said recent remedial drainage work in the town's Hospital Creek - which followed serious flooding of Lawrence's main street in June last year - appeared to be working well at this stage.
"Provided there's no big downpour, hopefully we're on top of it now. But only the weather can determine that."
A fire crew from Milton was sent to deal with a tree after it fell across Glenledi Rd, blocking both lanes about 5.30am today.  The road has been cleared.
SOUTHLAND
In Southland, drivers are being advised to take care around several flooded roads in the north of the district.
No roads are currently closed but surface warning signs have been placed on Riversdale-Waikaia Road, Piano Flat Road, Block Road, Pyramid-Waiparu Road, Felton Road, Roy Road, Dipton-Castlerock Road and Castlerock Road.
Southland District Council advised that all roads are currently passable with contractors currently monitoring the situation with updates continuing.
Meanwhile, Environment Southland have issued several flood warnings for the district.
Current warnings are in place for the Mataura River (at Cattle Flat, Pyramid, Gore, Wyndham and Seaward Downs), the Waikaia River (at Waikaia and Mahers beach), the Oreti River (at Lumsden Cableway), the Irthing Stream (at Ellis Road) and the Waikawa River (at Biggar Road).
Environment Southland flood warning duty officer Stacey Stuart advised people to stay vigilant.
- By Pam Jones, Yvonne O'Hara and ODT online