The New Year Honours 2019 Southern recipients.
OFFICER OF THE NEW ZEALAND ORDER OF MERIT
Dr Jenny McMahon
Dunedin
For services to Red Cross
A Red Cross stalwart says she is astounded and surprised to have been appointed an Officer of the New Zealand Order of Merit.
New Zealand Red Cross national president since 2012, Dr Jenny McMahon, of Dunedin, has been involved with the organisation since 1983, when she served as a surgical nurse on the border between Thailand and Kampuchea (now Cambodia).
She has extensive experience as an aid worker, and has also served with the New Zealand Forces Hospital in Singapore, and as a nurse in the Australian Outback.
In 1991, she received the Florence Nightingale Medal for nursing, before being appointed a Member of the Order of the British Empire in 1993.
She gained a PhD in human nutrition from the University of Otago in 2006.
Dr McMahon is also patron of the Dunedin Red Cross branch and the Red Cross Choir, while serving as a member of the advisory board to the international department of the University of Otago.
She has worked for the Red Cross in numerous countries, including work focusing on assessing nutritional needs as a former International Committee of the Red Cross Africa regional nutritionist.
Speaking via email while on holiday in Mexico, Dr McMahon said she was feeling ''astounded and surprised'' to have been appointed an ONZM.
''For the Red Cross it isn't something one does alone, it is a collective and collaborative effort by many thousands of members, supported by staff domestically and a small international team working for New Zealand Red Cross under the umbrella of either the International Committee of the Red Cross or the International Federation of Red Cross and Red Crescent Societies.
''I enjoy volunteering for NZRC. The people I associate with are inspiring and work hard for their communities.''
Prof Adrianus van Rij
Dunedin
For services to health, particularly vascular surgery
University of Otago professor Andre van Rij has changed thousands of lives, not only as a surgeon but as an educator and researcher.
Named an Officer of the New Zealand Order of Merit for services to health, Prof van Rij has been at the forefront of bariatric and vascular surgery for decades.
With New Zealand's population becoming heavier and older, he chose good areas to specialise in.
''When I was in America I trained with some of the early proponents of bariatric surgery, which was good,'' he said.
''Obese people do tend to get more heart disease, so there was that link there, but it was just the interests that I picked up and where my early research was heading as well.''
Prof van Rij has been a staff member at the Dunedin School of Medicine since 1981, and has taught surgery to a generation of medical students.
''It would be a few hundred surgeons, both general and vascular, whom I would have done hands-on training with,'' he said.
''Dunedin is a unique environment which has allowed me to nurture the interests I have had, and for us to play a leadership role internationally, which we do in both fields, but especially in vascular.''
Prof van Rij is also an acclaimed author with a wide range of books, chapters and journal articles to his name and a Dean's Medal for research excellence.
''Academia keeps me driven, being with the young people and learning alongside them. If I said I had pride in anything it would be in my role as professor of surgery and in research.''
MEMBER OF THE NEW ZEALAND ORDER OF MERIT
Rosalie Maria Goldsworthy
Moeraki
For services to wildlife conservation
After learning of her nomination in October, Rosalie Goldsworthy says she gave serious thought as to whether to accept the honour of becoming a Member of the New Zealand Order of Merit, but ''in a way it's a thank-you to the family, who let me do this work'', she said.
Since 2002, she has been manager of the charitable trust Penguin Rescue at Katiki Point - her summers are busy helping to save yellow-eyed penguins from extinction and she cannot visit her three adult children, and four grandchildren, at Mount Maunganui and Hahei.
''I feel that it's an acknowledgement of the contribution the whole family has made, as well as all the awesome volunteers that are working here - because they all bring their own skills and talents and we are a team.''
As a result of her efforts, the Moeraki peninsula is one of the best places in the world to see yellow-eyed penguins in the wild.
''My belief is, being a New Zealander is taking responsibility for your environment - and we do that willingly - but it's nice to know that activity is acknowledged as important,'' she said.
''I just feel like the country is really starting to value conservation and understand that these precious species are not going to be here forever if we don't change how we behave.
''I feel very proud - I know that it's a traditional acknowledgement of effort, but my parents, if they were still alive, would be proud, and my brothers and sisters will be proud, and so I feel really proud.''
Sgt Arthur John (AJ) Harris
Invercargill
For services to New Zealand Police and the community
The police commissioner says a long-serving Invercargill officer made a Member of the New Zealand Order of Merit is an inspirational leader who has made vital contributions to the local armed offenders squad and preventing alcohol harm.
Sergeant Arthur John Harris, of Invercargill, known as AJ, has been in the police since 1973 and serves as the city's officer in charge of alcohol harm prevention.
He was made an MNZM for his services to New Zealand Police and the community.
One of the longest-serving armed offenders squad (AOS) officers in New Zealand, he has been a member of it since 1982, attending the 1990 Aramoana massacre and heading the squad since 1993.
Sgt Harris said he was ''blown away'' to receive the honour.
''It took some time to register and get it through my noggin what it meant.
''It's a team effort and I'm just one of the team. Whether it's in alcohol harm prevention or AOS, I'm only as good as my team.''
He had also served as the face of Southland police at major events across the region, including the Burt Munro Rally, the World Shearing Competition and the Bluff Oyster and Food Festival.
Commissioner Mike Bush said he was pleased to see the veteran officer's service recognised.
''He's an inspirational leader who is hugely respected within police and by the many partner organisations he works with.
''His commitment to preventing harm in our communities is absolute, both in the most demanding of response roles with the AOS and through his dedicated service in the crucial field of alcohol harm prevention.''
Daphne Annette Hull
Alexandra
For services to tourism and recreation
Daphne Hull says the enjoyment she gains from her public and community service is a reward in itself.
The long-serving Otago Central Rail Trail Trust volunteer said she ''immediately wondered why'' she was named in the New Year Honours, when ''it's always a team thing. No-one achieves anything on their own''.
Mrs Hull was a founding member of the trust when it was formed in 1994 and its chairwoman from 2003 to 2012. She remains an honorary trustee and continues to represent the trust on many projects.
She has facilitated economic stimulation for small towns situated on the trail route, and under her leadership more than $2million has been raised for upgrading trail bridges, culverts and surfaces; adding toilets and shelters along the trail; and developing promotional materials.
Mrs Hull was also a key driver of the construction of an underpass to extend the trail from the Clyde railhead building under State Highway 8 to the Clyde township. The underpass, opened in 2016, bears her name.
Mrs Hull received a Queen's Service Medal for public services in 2000.
She also led the development of Alexandra's new swimming centre in 2003, and spent 18 years with local government, during which time she became Central Otago deputy mayor.
Mrs Hull also received a New Zealand Suffrage Centennial Medal in 1993.
Roberta Laraman
Cromwell
For services to tourism and heritage preservation
Roberta Laraman has been a member and chairwoman of the Otago Goldfields Heritage Trust (OGHT) and a driving force behind the annual cavalcade for many years.
After moving to Cromwell in 1982, Mrs Laraman became Cromwell's first promotions officer.
Mrs Laraman said around this time tourism was merely a ''fancy word that belonged overseas''.
She would later play a major role in the committee which organised the first cavalcade event in 1991, in which 220 people travelled from the east coast to Cromwell on horseback or in wagons.
The aim was to re-enact aspects of the gold rush era of Central Otago and create more awareness of Otago's goldfield heritage.
Mrs Laraman ensured all supply needs were met with donated sponsors' goods and the delivery of these goods to the appropriate trail locations.
''It took over my life. The phone never stopped.''
As an organiser of the event until 2009, her fondest memories were of the people, Mrs Laraman said.
''The cavalcades are a great leveller. You get people from all walks of life.
''It's magic to see.''
She has remained involved with the OGHT as a part-time volunteer. Mrs Laraman is also a long-time volunteer with Old Cromwell Town and has delivered meals on wheels in the community.
Terry Isobel MacTavish
Dunedin
For services to theatre and education
The idea of receiving a New Year Honour for a career that was ''an absolute gift'' seems absurd to Terry MacTavish.
Ms MacTavish said she was ''of course honoured and thrilled'' to be recognised.
''I think it's wonderful it's for education and theatre, because those are the two things that I believe in with all my heart.
''I grew up believing theatre meant everything, and to express oneself and share that activity was paramount.''
That New Zealand recognised it was important to contribute to those disciplines was ''really fantastic''.
''I've been so fortunate - I've just been so lucky - and the thought that I'm honoured for this, in a way, is absurd.''
Ms MacTavish has taught drama at Queen's High School in Dunedin for more than 45 years, 20 as head of the aesthetics faculty.
She directed annual productions and inspired pupils from diverse, often disadvantaged backgrounds to aim for professional careers and international success at events such as the World Championships of Performing Arts.
Three of her casts have represented Otago at the Shakespeare Globe Centre New Zealand Nationals, five pupils have been chosen for National Shakespeare Schools Production, and four selected for the Young New Zealand Shakespeare Company.
Ms MacTavish has been drama adviser to the Ministry of Education, serving on national panels to revise the arts curriculum and develop drama for NCEA.
She has continued to act, dance and direct in New Zealand and overseas, in Dunedin for the Fortune, Globe and Playhouse Theatres, was a founding member of the Dunedin Reviewers' Collective and co-sponsor of the Dunedin Theatre Awards.
William Hugh (Bill) Moran
Queenstown.
For services to the state, sport and youth
William (Bill) Moran believes collective knowledge is key to making New Zealand a better place.
He also wants to leverage taxpayers' investment in him to ''get a better outcome'' for others.
His 20-year career with Treasury culminated in his appointment as Strategy, Change and Performance deputy secretary, through which he engaged New Zealanders in processes such as the long-term fiscal statement and tax reform.
After leaving Treasury in 2016 he became chairman of Sport New Zealand and High Performance Sport New Zealand, Otago Polytechnic's deputy chairman and a Youthtown director.
He was on the New Zealand Football board for eight years, chairman of the 2015 Fifa Under-20 Men's World Cup organising committee and a member of the Fifa organising committee for Confederations Cups in 2013 and 2017.
The co-founder of the Play It Strange Trust was also its chairman from 2003 to 2005 and this year became a trustee of Turn Up The Music in the Queenstown Lakes.
Mr Moran said he was ''shocked'' to receive the honour.
''Nobody had talked to me at all about being nominated ... It's gratifying.
''What I'm doing, in all the roles I've got, there's economic, social, cultural, civic [focus] ... A certain extent of what I do is voluntary.
''That's a thing that's really motivating - you can actually apply some of your experience and expertise to enable people to have a better life through the organisation you're on.''
Philip Newbury
Invercargill
For services to glass art
Philip Newbury's dream career has brought him a variety of praise but being recognised in the New Year Honours has him ''chuffed''.
The Invercargill glass artist said an ''artistic flair'' led him down his career path and it was a proud moment to receive his award.
Mr Newbury specialises in stacking glass, a process akin to pottery.
Through stacking various pieces of art together and moulding them in a kiln, he is able to create a variety of different pieces, which he says are unique.
A passion for outdoor work has resulted in Mr Newbury developing a wide variety of pieces that have been put on display in places as far afield as Japan and Saudi Arabia.
''My thing for the last 30 years has been to take it outside. You fly over any city you like, look out the window and 99% of people have a boring backyard. Let's take it outside, let's make it chunky.''
He listed career highlights as creating the world's first glass headstone as well as being Waiheke Island's first artist in residence and receiving a special letter from the mayor of Kumagaya in Japan after one of his items was featured in more than 1000 wedding photos outside the city's council chambers.
And after more than 30 years of creating incredible art for around the world, he has no plans in stopping.
''You can make it, enjoy it and do your best with what you're doing with it. And I am,'' he said.
Thomas Michael O'Connor, JP
St Andrews
For services to seniors, local government and journalism
Author, journalist and political commentator Tom O'Connor says he was ''gobsmacked'' to learn he was to become a Member of the New Zealand Order of Merit.
''It came out of left field really, and to some degree I feel like a bit of an imposter because there's so many people who have done, in all those fields, more than I have,'' Mr O'Connor (74) said.
''I think for me it means people have assumed that I'm a better man than I am - that's a huge compliment - but I'm just an ordinary person with no special talent at all other than having a lot of valuable opportunities fall on my lap over the years. But in all of those things, if I have achieved anything at all, I've always been a member of a team.''
The award ''really belongs to my wife Joy'', he said, for the support she had given him over the years.
Mr O'Connor is the immediate past president of the Grey Power New Zealand Federation; he has been a Waimate district councillor since 2013; he served on Fish & Game Councils and acclimatisation societies for nearly 40 years; and is a former communications officer with the Department of Conservation.
''I suppose by today's standards my background is something of a kaleidoscope, but we grew up in the best of times. In that, in my young years there was no unemployment here. So you could try your hand at anything and everything. And some of us made all sorts of decisions about careers and some of them were good decisions, and some of them weren't. But you pick up a lot of stuff along the way. I was very, very lucky to have some wonderful mentors in all those professions who taught me a whole lot of stuff, which you don't learn at school or polytech or even at university - they were life lessons.''
Prof Tom Prebble
Palmerston North
For services to tertiary education
Emeritus Prof Thomas (Tom) Kenneth Prebble was ''surprised and honoured'' to be made a member of the New Zealand Order of Merit, after a career spent in education.
The former Massey University principal, international and extramural, and head of extramural studies between 1986 and 2002, Prof Prebble went on to become a professor of higher education at the university.
He has also spent about four years on the Otago Polytechnic board in Dunedin, as well as serving on the board of the Universal College of Learning in Palmerston North.
Prof Prebble's original area of expertise was education administration, essentially ''teaching school principals how to do their job''.
Massey offered principals the opportunity to study extramurally part-time, and when an opportunity to run the extramural studies programme came up he took it.
''It's always difficult to figure out how many New Zealanders have done extramural studies,'' he said.
When he started working at Massey as a professor in 2003 more than 100,000 students had already done extramural studies through the university.
The choice to study via distance learning was ''largely lifestyle-dependent'', and distance study tended to attract people who were about 10 years older than the average school leaver, Prof Prebble said.
Between 2007 and 2014 he was a member of the Teaching and Learning Research Initiative advisory board of the New Zealand Council for Education Research.
He has also been a member and deputy chairman of the Institutes of Technology and Polytechnics quality board, as well as advising on distance education for Australian tertiary institutes and institutions in Canada, Fiji, Vanuatu, Malawi and China.
Prof Prebble is also a life member and the past national president of the Flexible Learning Association of New Zealand.
Anne Patricia Rodger
Dunedin
For services to women
With privilege comes a responsibility to those less fortunate.
That is the guiding philosophy of Anne Rodger (75), who has been made a Member of the New Zealand Order of Merit for her services to women.
In the past 30 years, Mrs Rodger has made a significant contribution to community service, particularly in Dunedin.
She has been a member of the National Council of Women (NCW) since 1983 and served as president of the Dunedin branch.
She was also instrumental in establishing the NCW's Alexandra branch.
At Catholic Social Services in Dunedin she established a birth support group for young mothers and co-facilitated a postnatal programme for women raising infants alone.
She initiated a group to address issues for grandparents responsible for the upbringing of their grandchildren, which is now a nationwide service run by Presbyterian Support.
''I've been very lucky in life and it's important to give back and I'm honoured to be recognised for services to women in the 125th anniversary year of women's suffrage in New Zealand,'' she said.
Mrs Rodger has held numerous voluntary executive and committee roles, including with the Dunedin Childcare Association, Dunedin Maori Women's Welfare League, Otago Co-ordination Committee for the Disabled, the Young Women's Christian Association, the Council for Equal Pay and Opportunity, the Help Sexual Abuse Foundation, the Mosgiel University of the Third Age, the Dunedin University Club and SeniorNet Otago.
Georgina Salter
Oamaru
For services to netball
For Georgina Salter, netball was about developing strong women rather than getting recognised for her long list of achievements, which now includes being made a Member of the New Zealand Order of Merit.
Mrs Salter sadly passed away on November 28, a day after accepting her honour.
She was involved with netball as a player, coach and administrator for several decades.
A Southland Country and Otago representative, she first represented New Zealand on an under-24 tour of Australia in 1972, then as a Silver Fern.
Her coaching career began when she moved to to Oamaru, initially with North Otago, then as regional coaching co-ordinator with the Southern club in Dunedin and Otago.
She famously led the Otago Rebels to two national titles and twice coached the New Zealand under-21 team to the Netball World Youth Cup, in 1992 and 2000.
Mrs Salter coached the Auckland Diamonds for two seasons and took the Cook Islands national team to the Netball World Cup in 2003.
She mentored provincial and international umpires and encouraged and coached primary and secondary school netball for more than 40 years.
Her husband, David, said ''Georgie'' deserved the honour.
''Netball for Georgie was a way of developing girls and women and giving them confidence and strength. Netball was much bigger than a game for her ... certainly not getting recognition.''
Mrs Salter was appointed to the Hillary Commission from 1996 until 2002. She received the Otago Polytechnic Services to Sport Award in 2012, the Netball New Zealand Service Award in 2001 and was named Maori Sports Coach of the Year in 1995 and 1998 and Coaching New Zealand Coach of the Year in 1993.
QUEEN'S SERVICE MEDAL
Barbara Joan Brinsley
Dunedin
Services to art curation
Barbara Brinsley says working to bring art to users of the Dunedin Hospital has been a privilege.
Mrs Brinsley is a long-standing member of the Healthcare Otago Charitable Trust's art advisory committee (AAC) and also manages the hospital art collection voluntarily.
The collection was established in 1972 after research showed original contemporary art in hospitals could benefit wellbeing.
The AAC was dissolved in the 1990s but was re-established in 2002, after concerns about the care of the valuable artworks.
Mrs Brinsley (80) restored the collection from a vulnerable and neglected state.
Spread throughout the Dunedin and Wakari hospitals, it has since grown to more than 2200 works by prominent national and local artists.
She has initiated fundraising activities for major purchases and repairs.
Since 2003, in her role as aesthetics co-ordinator for the Southern District Health Board, she has taken on additional responsibilities concerning the hospital's decor.
As a passionate supporter of Dunedin and New Zealand fashion designers, Mrs Brinsley sponsors the Barbara Brinsley Carpe Diem Award, which was established at the iD International Emerging Designers Awards this year.
Mrs Brinsley said she was ''very excited'' about the honour.
She said after her career in nursing, it was a privilege to have been involved with ''such an extraordinary collection'' of art available for patients, staff and the public.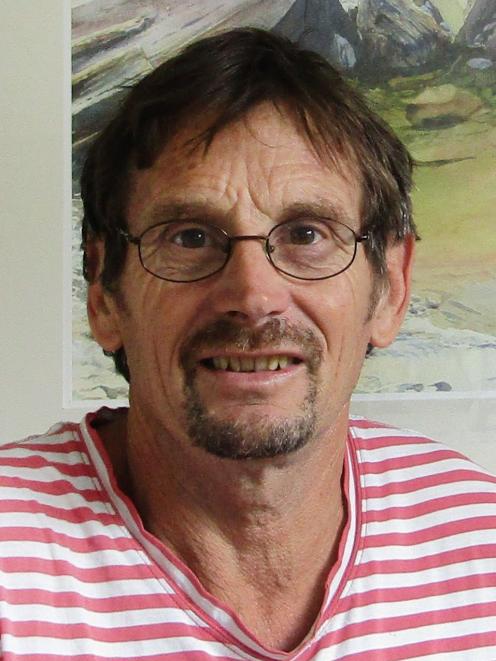 Andrew Buglass
Hokitika
For services to outdoor recreation and conservation
It began with a ''dog box with a couple of tiny bunks'' in the Taipo Valley on the West Coast and has spread from there.
It is the movement to preserve back country huts and tracks, and it has led to Andrew Buglass (61), of Hokitika, being awarded the QSM.
Through the Permolat Trust, which Mr Buglass chairs, 40 remote West Coast huts and tracks are maintained for public use. Mr Buglass said when his group started ''lots of people got on board ... because they really love these old huts.''
Permolat's success led the Department of Conservation to fund a consortium to encourage more volunteers.
While Doc maintained the more popular routes, Mr Buglass said his group was busy in the ''lesser-used valleys''.
He described the old huts as ''very rudimentary but wonderful little places to be, especially in a storm, and often where they are sited, the scenery is incredible.''
The emphasis at present was on ''getting people interested in adopting tracks.
''They grow over pretty quickly; there's slips and washouts and things like that happening all the time.''
If the weather is good, Mr Buglass expects he and partner Joke will be somewhere in the mountains over New Year.
Geoffrey Robert Crutchley
Puketoi
For services to water management
Geoff Crutchley says he is ''privileged'' and ''humbled'' after being awarded a Queen's Service Medal for services to water management.
Mr Crutchley (68) was instrumental in the formation of the Taieri Trust in 2002 - New Zealand's first large-scale integrated catchment management project.
He served as chairman while the trust looked at practical implementation and relationships between researchers and the community, platforms for sharing knowledge, environmental education, and taking action on addressing water issues, all of which earned the trust several awards.
In 2006, Mr Crutchley became chairman of the newly established Upper Taieri Resource Management Group, which addressed the issue of historic permits for water use which are due to be phased out by 2021.
He has brought together water users to form community-managed allocation groupings for new Resource Management Act consents.
As well as his water management contributions, he also helped establish the Maniototo Pest Management Company in the 1990s, which is now one of New Zealand's most successful locally owned pest management groups.
He was a founding director and served on the board for nine years.
Mr Crutchley was also a past member and chairman of the Patearoa School Board of Trustees.
Mr Crutchley was humble about the honour, saying he did it for the greater good of his community.
''It's quite a privilege and I'm thankful to the people who nominated me.''
Paul Ernest Gay
Invercargill
For services to outdoor education
Paul Gay has a long history of service to outdoor education, but receiving a Queen's Service Medal for it was the last thing he expected.
Between 1971 and 2014, the 84-year-old was the Deep Cove Hostel committee convener and chairman, and Deep Cove Outdoor Education Trust chairman.
The Deep Cove Hostel committee was formed in 1971 to represent the Southland Education Board, intermediate and secondary schools, Department of Education and Fiordland National Park Board.
Mr Gay said the facility aimed to promote interest in natural history and the Fiordland environment.
''That's been one of my driving forces. I believe it's part of our world that children should get to know.''
He has worked tirelessly to further the goals of the trust, and in particular, ensure its financial success and wide uptake of the use of its facilities by schools throughout Southland.
The award-winning complex now houses a marine laboratory and accommodation, and has accommodated about 120,000 children, parents and teachers.
It has become an invaluable educational resource for school children, and undergraduate and post-graduate students.
For his continuing work, the Honorary Trustee for Life has received a Queen's Service Medal for services to outdoor education.
''It was a bit of a surprise because I'm just part of the Deep Cove Outdoor Education team, and a lot of other people have put a lot of time in as well.
''I think it's great for Southland and the national parks system that this venture has been recognised.''
William (Bill) John McLachlan
Invercargill
For services to Fire and Emergency New Zealand and the community
Bill McLachlan describes his New Year honour as more of ''a bombshell'' than a surprise.
''I couldn't believe it.
''I still can't believe it.''
The 70-year-old spent 40 years as a volunteer firefighter for the Wallacetown brigade, which he helped form in April 1977, and was chief fire officer for 18 years, until he retired in 2017.
Fittingly his daughter, who organised his nomination, was visiting when he found out he was being considered.
''She ... started crying.''
The brigade was formed over a few beers ''because we kept burning down houses and there was no-one coming to help put them out''.
''We had no water in Wallacetown, in the streets, and we were making a lot of car parks [because] the buildings were getting burnt down.''
The highlight of his career was when the brigade raised enough money to ''put a water tanker on the road''.
''We ... bought an old truck with a water tank on the back of it and over the years we just got it better and better and better.''
He wrote a book on the brigade's first 25 years; was heavily involved with the biennial Operation South training camp; the training officer for the Alliance Lorneville Fire Rescue Squad; the Western Southland Fire Brigade Sub Association president; and a life member of the Wallacetown brigade.
He was also part of the Wallacetown Community Fundraising Committee for 14 years, helping raise funds to build the town's community centre.
Graeme Smith
Tapanui
For services to the community and theatre
Queen's Service Medal recipient Graeme Smith has paid tribute to the ''go-ahead'' spirit of his West Otago community in helping attain the honour.
The Tapanui resident said his service to the community began in the 1960s, as a result of his involvement with service club Jaycees.
''We helped build the local swimming pools, and projects like the playground at Black Gully.
''Many of us enjoyed the personal development the club offered and went on to do what we could for our community.
''I'm a bit taken aback, really.''
Early projects were just the beginning of a lifetime of service, encompassing building and maintenance of community facilities, contributions to theatre both backstage and in the spotlight, administration of his local Presbyterian church and, latterly, the founding of a Tapanui Blokes' Shed.
A joiner by trade, Mr Smith's contributions have often been of a practical, material nature.
''I was on the building committee for the West Otago Community Centre from 1984 to 1992, and helped construct its kitchen and theatre. It made sense, as I was also involved in establishing the West Otago Theatrical Society in 1982.''
Having undertaken set design for 35 the ensuing annual productions, since 2014 Mr Smith and fellow Blokes' Shed members had also put their practical skills to use in a wide range of community projects requiring ''hands-on'' input.
''This is a beautiful, inspiring area to live in, where people have a go-ahead, get-involved community spirit.
''Receiving this wonderful acknowledgement simply reflects that spirit.''
THE NEW ZEALAND ANTARCTIC MEDAL
Prof Patricia Jean Langhorne
Dunedin
For services to Antarctic science
Each time Prof Pat Langhorne returns from a scientific trip in the Antarctic she brings back more questions about the frozen continent than she left with.
That's not because New Zealand's foremost sea-ice scientist has not been successful but rather it is because of the complexity and size of what is still unknown about the world's southernmost continent.
''What you find, the more you know, the more you realise you don't know, so it is difficult to stop.''
For her services to Antarctic research, specifically focusing on ice physics, Prof Langhorne (63) has been awarded the New Zealand Antarctic Medal.
For more than 30 years she has been travelling to the Antarctic on research visits, primarily through the New Zealand Antarctic Programme in the Ross Dependency.
Her research has helped shape the understanding of sea ice formation and strength which is a key element in the scientific understanding of the impact climate change is having.
''You used to be able to ask all the sea ice scientists to afternoon tea and they would fit in your living room and now there are big international conferences which attract hundreds of sea ice researchers.''
She has also published extensively on other aspects of sea ice and ice shelves and was previously the head of physics at the University of Otago.
''There's plenty to keep me going and if my conscience allows me, because there are young people who might be able to to a better job ... but I'd be down there like a shot.''