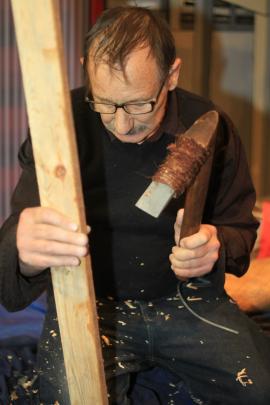 New Zealand's leading expert on stone tool production says he is not nearly as good at making stone tools as the people who produced the circa 14th century ''state of the art'' adzes in the North Otago Museum's collection, which were found near the mouth of the Waitaki River.
Dante Bonica (66) has been practising his craft since his fascination with stone tools began when he was about 8 years old.
He gave a stone tool-making demonstration in Oamaru this week as part of ongoing research into the museum's Willetts Collection, being headed by University of Otago head of anthropology and archaeology Prof Richard Walter.
Prof Walter said Mr Bonica was ''the best in the country by a long shot'' at creating the traditional tools of New Zealand's first generations of people.
But he accepted his assessment.
The tools in the museum's collection had been ''worn down and reworked and reworked, but they are state of the art'', he said.
''There's nothing better in the world than the stuff coming out of these [early Maori] sites.''
Mr Bonica, a former tutor of Maori material arts papers at Auckland University, said he still had much to learn about the ''not quite lost art''.
And while he had followed a passion, the people who made the archaic stone tools, recovered about 50 years ago in a 30ha area north of Oamaru, were superior - they were ''being trained from 5 years old and being aware that they had to be as excellent as possible for the serious function they had to fulfil - building canoes, for food gathering, for trading, for house building ...''
Mr Bonica took about 45 minutes to rough out an adze using round ''hammer stones'', but the grinding to perfect the tool could take days.
Mr Bonica's work and insight were ''incredibly important'', Prof Walter said.
He collected the flakes left behind after Mr Bonica's demonstration.
But importantly, Mr Bonica's work reminded people the stone tools of New Zealand's Maori were not simply artefacts, Prof Walter said.
''These are tools - they're not taonga in the sense of being 'treasures' ... They're always seen on display - and people forget they're tools.''
North Otago Museum curator Chloe Searle said the more than 500 adzes and roughly 9000 associated artefacts in the Willetts Collection were ''definitely the jewel of the crown of our museum''.
And while the collection was largely kept out of sight at the museum, it would be far more visible once the museum had moved to the redeveloped Forrester Gallery.
''Definitely, we have been working on how this collection is going to look and how we are going to be interpreting it in the new facility.''