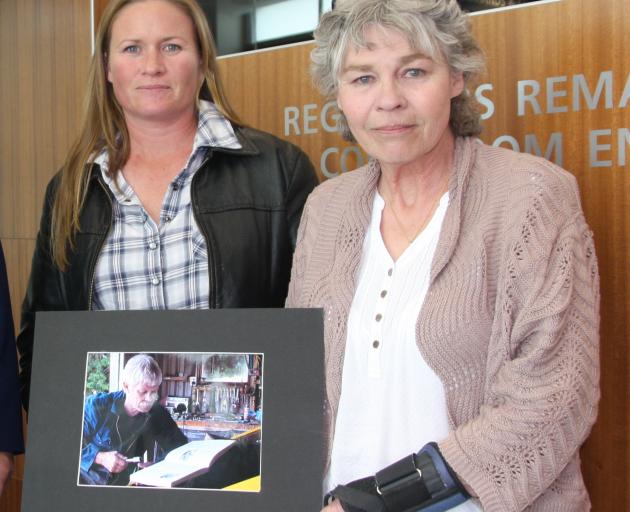 The family of a man killed when an 88-year-old driver mounted the footpath and ploughed into three pedestrians say they are devastated about the length of time it took the man to plead guilty.
The family of Waikouaiti man Gerald James Cowley (67) also say they are appalled William Arthur Lee decided to drive when he knew he was unwell.
Lee killed Mr Cowley, seriously injured Valerie Booth (70) and moderately injured a 13-year-old girl when the car he was driving mounted the footpath outside the Lagonda Tearooms in Thames St, Oamaru, on January 11 last year.
He was due to stand trial in the Timaru District Court this week on one charge of operating a motor vehicle carelessly causing death and three charges of careless use of a motor vehicle causing injury.
He pleaded guilty to all four charges yesterday.
He was convicted, disqualified from driving for three years and ordered to pay a total of $10,000 to Mr Cowley's partner and Ms Booth.
The court heard Lee had been having dizzy spells for an extended period before the crash and had reported them to a GP in December 2015.
Lee's vehicle also did not have a warrant of fitness.
Yesterday, Mr Cowley's partner, Midge Henderson, told the court how angry she was that Lee had not pleaded guilty earlier.
She said she lost one of the most loving and trustworthy people she had ever known.
She broke down and a court staff member read the final part of her statement.
Outside the court after the hearing, she said a letter of apology from Lee written last week should have been written in 2016, and was too late.
The sentence was far too short and made life seem cheap, Ms Henderson said.
She was one of six to read victim impact statements, or have them read out, in court.
Lee stood and watched each person as they read out the impact the incident had had on them.
One of Mr Cowley's sons, Bodean Cowley, of Gore, who described his father as being the rock of the family, said he only got to enjoy two years of retirement.
Recovery had been harder for the family because of the ``long, drawn-out'' court process, which could have been aided by Lee pleading guilty when the charges were first laid.
Forgiveness could have come if Lee had apologised much earlier.
All a taxi ride would have cost him to go to his Oamaru home was $5, he told Lee.
Mr Cowley's daughter, Penny Cowley, of Alexandra, said the crash struck at the heart of her family and altered the way her family behaved around roads.
She said she had post-traumatic stress from having to help identify the body of her father.
She was appalled by Mr Lee's decision to drive when he knew he was not well, she said.
``You were at the doctor's 11 days before you killed our father.''
Ms Booth, of Oamaru, told the court she had been on holiday when she was hit by Lee's vehicle.
She required several operations and suffered short-term memory loss.
''I never had a sorry or an apology. This is totally wrong.''
Lee's counsel, Michael de Buyzer, told the court his client was remorseful.
In December 2015 Lee's GP referred him to a specialist, but made no notes about his fitness to drive.
Prosecutor Andrew McRae said at the time of the crash Lee had been suffering from an undiagnosed medical condition, which caused dizzy spells about which he had seen his doctor at least four times in 2015.
On December 7, 2015, he reported to his GP episodes of dizziness which, by his own admission, were increasing in frequency and occurring weekly.
Judge Joanna Maze told Lee she agreed that all it would have taken was a $5 taxi fare or a call to someone for help if he wanted to go somewhere.