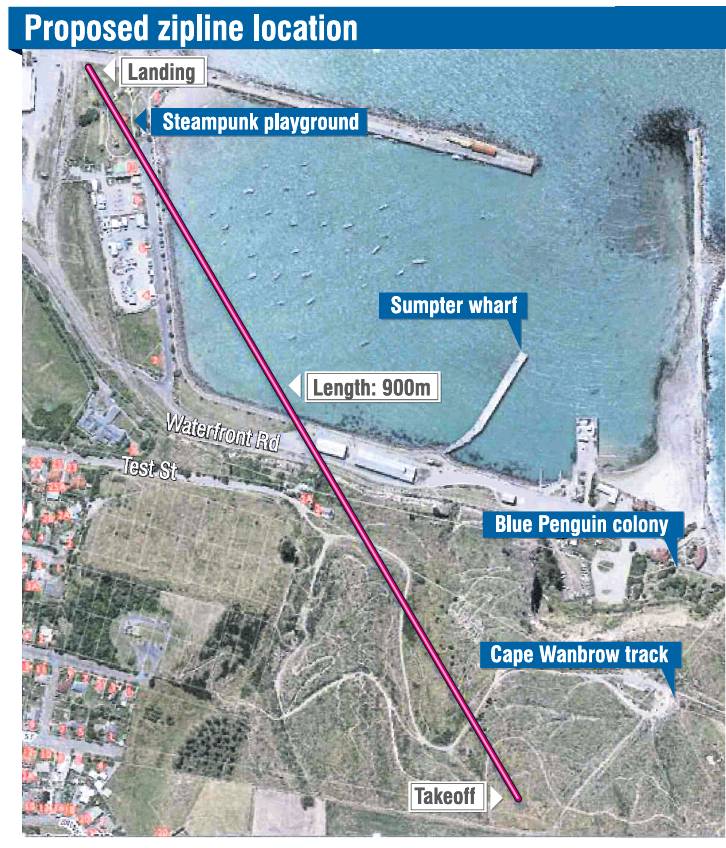 The company proposing a zipline for Oamaru Harbour has taken its next step towards developing the long talked about tourist attraction for the harbour.
Next week, the Waitaki District Council will formally consider a request to lease land at the takeoff and landing areas for the zipline.
Council assets group manager Neil Jorgensen said no resource consent had been lodged with the council.
But his report, to be tabled on Tuesday, recommends the council accepts in principle the request to lease the land "subject to meeting concerns raised by the community" through a publicly-notified resource consent application.
Mr Jorgensen outlines five options for councillors to consider: decline the request to negotiate a lease; request the applicant wait 12 months until the council completes a proposed harbour strategy; seek feedback from the public before making a decision; ask the company to go through the resource consent proposal before a lease is considered; or, the recommended option, to accept the request in principal.
Since the winter of 2015, a zipline in Oamaru Harbour has been a talking point in the community. But community concerns - especially about the impact a zipline would have on Oamaru's abundant birdlife, notably the rare Otago shag - caused the company to redesign its proposal.
A plan for a zipline over the old quarry at Cape Wanbrow and across the harbour to land on the Category 1 breakwater was scrapped, and in June a new proposal was promoted by the company.
The proposed 900m-long dual-line zipline would launch from Cape Wanbrow and land in possibly "an old rusty ship" as a piece of Steampunk art to complement the Steampunk Playground at Friendly Bay and the other public art pieces in the area.
Select Contracts regional director Darron Charity said at the time the company would survey the community to find out if the tourism venture would be embraced.
At the same time, an online petition opposing a zipline in the harbour area was launched. Last week it had attracted 761 signatures.