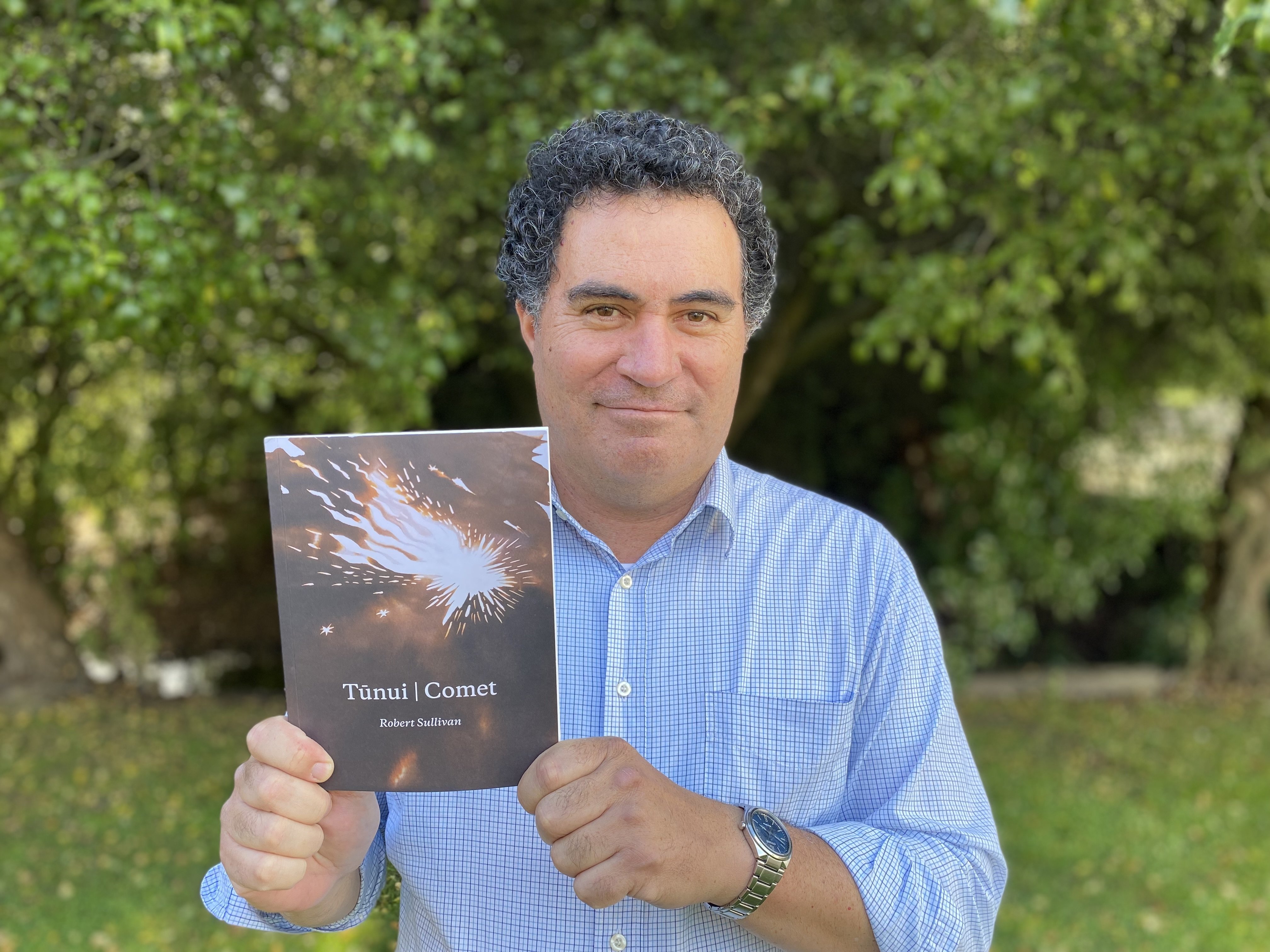 Poet Robert Sullivan describes his latest book Tunui/Comet as a hikoi, a journey, through Aotearoa. He talks to

Ashley Smyth

 about the inspiration for his poetry and what drew him to  Oamaru.
For Robert Sullivan, poetry is a haven which provides him the opportunity to be a "bit braver" politically, than he is in person.
"It's almost like a persona for me, my poetry.
"I'm not saying I'm a superhero in my poems, but at times I'm a bit braver on the page than I am in the flesh."
The Waitaki Boys' High School English and te reo Maori teacher last week released his first poetry book in 10 years, Tunui/Comet - which he described as a hikoi, or journey, through Aotearoa.
"I guess I've been on a journey through Aotearoa. I have family ties in Northland, I have family ties in Karitane, south of here, family in Wellington - and so you could say a lot of my interests are to do with the places that matter to me, and the family connections."
Sullivan moved to Oamaru three years ago from Auckland, where he taught creative writing at the Manukau Institute of Technology for 10 years, after seven as associate professor at the University of Hawaii.
He had since retrained and had been teaching at Waitaki Boys' for two years.
"It's been great, it's been very good for me to dive into the community here ... There's a closeness here in our community, it's something very special that you've got."
A writers' tour years ago with such familiar names as Tessa Duder and Witi Ihimaera was Sullivan's first experience with Oamaru, and he remembered being shown some of the heritage buildings by a local.
"He was so enthusiastic about the town, it stuck, and when it came to move to another centre in Aotearoa, I thought, 'Oamaru, I remember that place'."
Tunui/Comet was one of several poetry books Sullivan had written, along with an award-winning book on Maori legends for children, and a graphic novel.
While the poet is of Ngapuhi and Ngai Tahu descent, he mainly writes in English. He began learning te reo at university aged 18 and has always used "snippets" in his poetry.
Because English remained his first language, there were only about three poems in the book which were entirely in te reo.
"I have to be sure that it's up to the same standard." he said.
"Because it's so special to me, poetry, it's something that comes from your heart and your soul.
"It's the sort of stuff that you wake up after a sleep or in the middle of the night, or something that just catches you on the hop, and you have a thought, and if you are lucky you've got a pen next to you and you can write it down. Something that just grabs at you from the world, because it's like that, I really want my te reo Maori poetry to be doing the same stuff."
The time it took him to write a poem was the necessary time, he said.
"I believe in drafts and redrafting - it can take years to write a poem, it can take, you know, minutes, as well."
Some of the poems in the book were written 10 years ago, others last year.
Sullivan described his grasp of the Maori language as "intermediate to senior" and said being able to teach it at NCEA level was a privilege.
"There's this concept of ako, where you're learning from the students, as well as them learning from you.
"I really am learning about community from being at this school, and it's through our students."
While completing his masters degree and doctorate in English at Auckland University, Sullivan's studies had a focus on indigenous literature, in particular the works of Alistair Te Ariki Campbell, Hone Tuwhare, Albert Wendt, Keri Hulme and also Hawaiian poet Haunani-Kay Trask.
"So all of these people in some way expressed sovereignty, some kind of agency, about being indigenous, and that always is part of my poetry," he said.
"Sure it might be personal agency, and I might be hamming up the - you know I talked about being a superhero before ... a kind of decolonisation superhero, and I know I'm not, and I hope the poetry's funny enough that people can see that too. I've always believed in having the odd joke."
His masters was focused particularly on the poetry of Campbell, with whom Sullivan connected before Campbell's death in 2009. Sullivan paid tribute to him in the book with Homage to Alistair.
"His poetry spoke to me, because he was a love poet, he really put his heart on his sleeve. I really admire that."
Sullivan said the title Tunui/Comet came from one of his Ngapuhi ancestors on his mother's side, based in the Hokianga, who was the first Maori prophet. On his father's side, he had ties to Ngai Tahu at Puketeraki marae, in Karitane.
"This prophet was based in the Hokianga, and was the founder of the first prophetic movement in Aotearoa. So I wanted to include my tupuna, my ancestor, in the name of this book, and in the final poem in English in this book, called Comet."
Through his work, Sullivan was trying to show what it was to be a Maori person with an "interwoven family tree or whakapapa", which included his pakeha ancestors as well.
"All of that contributes, not just some of it, and it's to get away from stereotypes."
The cover art for Tunui/Comet was a watercolour completed by another Oamaru-based artist, Rachel Fenton, under the pen-name Rae Joyce.
"I asked Rachel to do it in the spirit of William Blake, and she did a great job. She's the real deal."