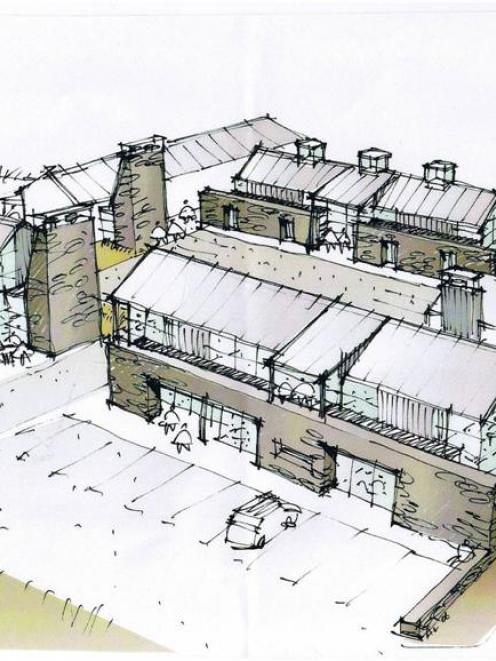 An Auckland company is proposing a $3 million commercial development for Cardrona, which would include a general store, fuel pumps, a cafe and accommodation.
Makaraka Estate Ltd bought a 5000sq m piece of land on the Cardrona River side of the Crown Range Rd from Mt Cardrona Station Ltd, about six months ago. General manager, Aaron Coupe, confirmed yesterday the Auckland-based company was finalising design plans for a large commercial development at the site, and preparing a resource consent application for the proposal to be lodged within the next six weeks.
The proposal features six fuel pumps, with petrol supplied by Gasoline Alley Services Ltd (GAS), to which Makaraka Estate Ltd has the rights, a cafe with a museum and wine loft above it, a general store, a 16-room budget accommodation lodge and a commercial hire and retail centre for snow equipment and mountain bikes.
Car parking, hitching posts for horses, a courtyard and picnic area would also feature. The general store - the most visible part of the development from Cardrona Valley Rd - would be based on an old schoolhouse design.
Mr Coupe said Makaraka Estate Ltd had already had a "huge response" from prospective tenants for the development, including two Auckland-based companies interested in setting up additional operations in Cardrona.
It was possible a separate consent application would be lodged for the fuel component of the project to "get the gas up and running quickly", but ideally, the company hoped to gain permission for the development in its entirety.
Makaraka Estate Ltd is also behind a $1.6 million proposal to reinstate petrol to Arrowtown after Mobil fuel pumps were removed from the town in 2007.
The company has applied to the Queenstown Lakes District Council for land-use consent to establish a fuel service station, a service station shop, an office and a new commercial activity in Arrowtown, at the site of the former petrol station in Berkshire St. The proposal attracted strong support during a public consultation period earlier this year and will be the subject of a consent hearing on August 4 and 5.
Cardrona Hotel proprietor, Peter Byrne, said the proposed development at Cardrona would be beneficial for existing businesses in the area.
"There are a huge amount of consented developments and projects in and around Cardrona and maybe it would be good to see these move from the planners' tables to fruition," Mr Byrne said.
"The council may finally take it seriously to get in behind essential services for a growing community, such as providing one sewerage system for all local residents and businesses."
However, too much change could be a bad thing, he said.
"[Cardrona is] one of the last frontiers, but not quite the wild west, and we are maybe at risk of losing that character."
Cardrona Residents and Ratepayers Association chairman, John Scurr, welcomed the prospect of further commercial development in Cardrona, which he hoped would be in keeping with the area's historic character.
"We've got our own sort of idea of what Cardrona should look like," Mr Scurr said.
The Cardrona community was generally in support of further retail development, particularly that which "fits aesthetically with how the town should grow".