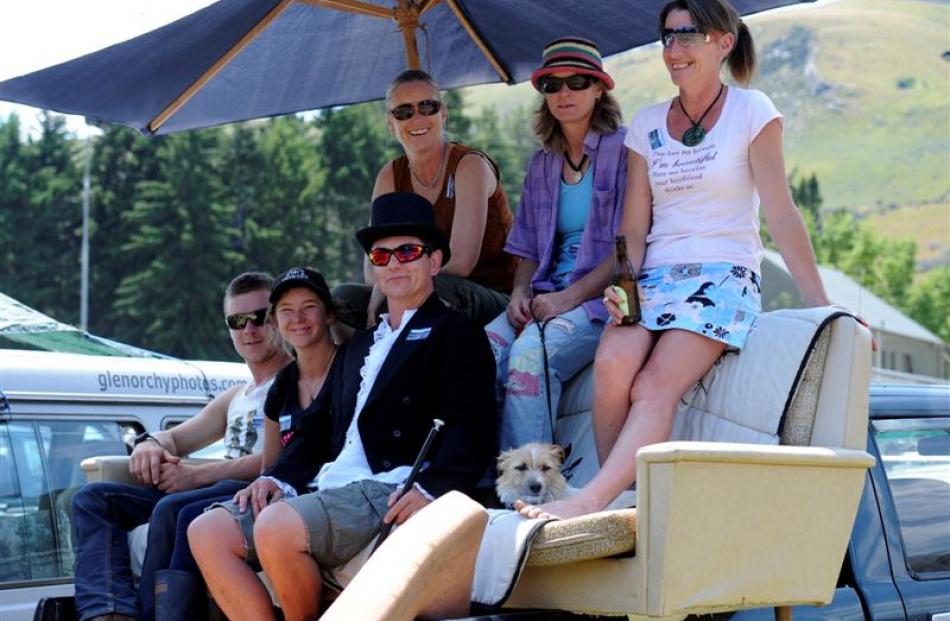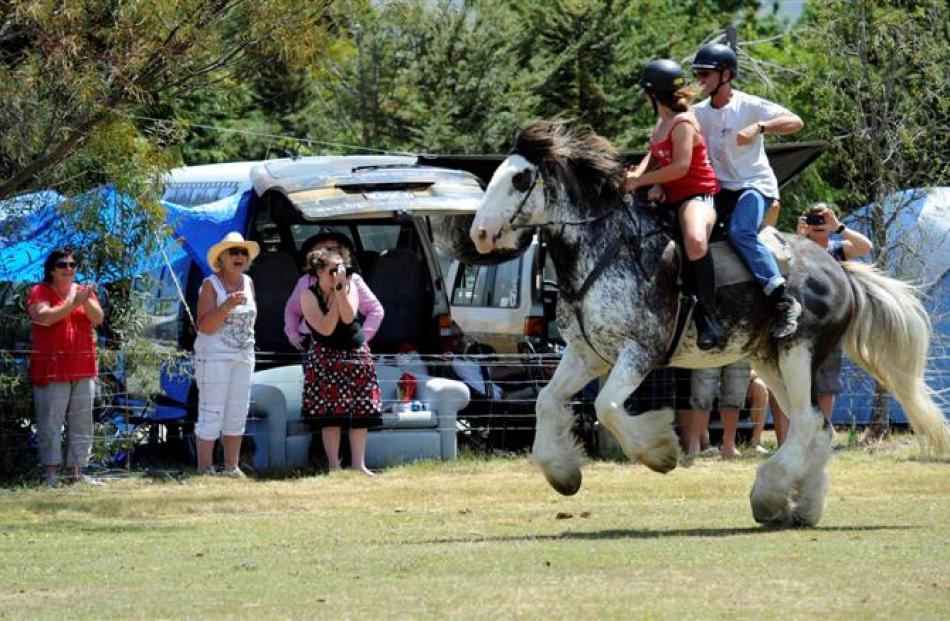 An event ''more religious than Christmas'' for Deana Irvine, of High Country Horses, was held in scorching temperatures amid thousands of spectators on Saturday.
The 51st Glenorchy Races was one to remember - children were kept cool in a makeshift pool on the back of a truck, many brought their own couches to the event and strawberries and cream were the meal of choice for many.
Ms Irvine said High Country Horses entered 10 to 20 riders - staff and former staff - every year and the business was closed for the day.
''We would be shunned if we didn't show up.''
This year 15 women, all wearing matching black shirts emblazoned with ''Ride it like you stole it'' on the back competed under the High Country Horses name.
The races were a social staple of the Glenorchy calendar and allowed the village to both show off its talent and to fundraise.
Ms Irvine said it was just ''one of the things we can do to bring in some revenue''.
Many of the company's horses were ex-racers or rescue horses which did not quite make the cut, and they enjoyed the challenge, she said.
Naomi Taylor, of High Country Horses, won the trotting cup on Odin. She won the race three years ago on the same horse.
Ms Taylor had entered the races every year for the past six years and said on Saturday there were ''a lot of very good people to beat''.
In total there were 10 races, including the double banking, the specialty of everyone's favourite, Clydesdale Drum Major.
Drum, as he is affectionately known, prefers to show off his character rather than his sprint.
''You are not going to win on him,'' Olivia Matthews of Dart Stables said.
''It's a major highlight of his year.''
The 14-year-old purebred Clydesdale is used as a trekking horse at Dart Stables and is especially good with novices, Ms Matthews said.
Glenorchy Community Association president Pete Reid said more than $20,000 was raised from the races, though running costs would need to come out of this.
The money was not yet earmarked for anything in particular and community associations could apply for funding throughout the year.
---
Results
Walk Trot and Gallop: Joe McStay on Jack; Saddling Race: Nicole Wallace on Katie; Trotting Race: Naomi Taylor on Odin; Relay Race: Precipice Team - Callan Grimmer on Sam, Joe McStay on Burgler, Joe Rosieur on Sammy; Ladies Gallop: Casey Irvine on Hemi; Double Banking: Grace Percy and Andrew Green on Sienna; Galloping Cup: Bruce Sarginson on Porshe; Stockmans Race: Grace Percy on Red; Quarter Mile Sprint: Grace Percy on Sienna; Local Gallop: Grace Percy on Spider; Aggregate: Grace Percy.
---